Dirty Projectors add 2 more NYC shows @ Bowery & MHOW – updated 2009 Tour Dates (and Letterman appearance)
Dirty Projectors @ Williamsburg Waterfront in July (more by Chris La Putt)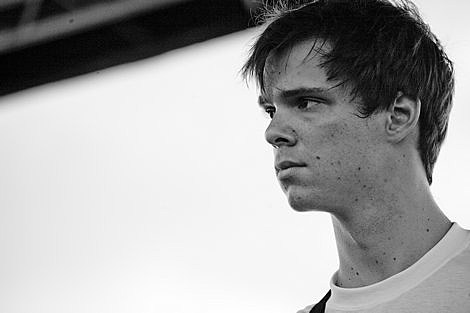 Dirty Projectors' two scheduled NYC shows, November 18th at Bowery Ballroom and November 19th at Music Hall of Williamsburg, have sold out. Luckily the band has announced two more shows at the same venues, happening just days later. The new dates are November 21st at MHOW and Nov. 22nd at Bowery Ballroom. Tickets for the new shows go on sale Friday, August 28th at noon.

UPDATE: These NYC shows are part of a much larger tour that was announced a few hours after this post went up. Those dates are now below. DP will also be appearing on the Late Show with David Letterman next Monday, August 31st.
They'll spend September in Europe. They've also got a new EP on the way.
Clips of Dave Longstreth in conversation, and playing acoustic in March at Minneapolis's Walker Art Center, and all dates, are posted below...

The Dirty Projectors demonstrate the process of 'hocketing'

David Longstreth discusses his musical influences

David Longstreth talks about his early music experiences

The Dirty Projectors perform and discuss "Temecula Sunrise"

DIRTY PROJECTORS - 2009 TOUR DATES
10/20 - BALTIMORE, MD - Ottobar
10/21 - PHILADELPHIA, PA - Trocadero
10/22 - WASHINGTON, DC - Black Cat
10/24 - ATLANTA, GA - Masquerade
10/25 - LAFAYETTE, LA - Nitetown
10/26 - AUSTIN, TX - Antones
10/28 - PHOENIX, AZ - Rhythm Room
10/30 - SAN DIEGO, CA - North Park Theatre
11/01 - SAN FRANCISCO, CA - Bimbo's
11/03 - PORTLAND, OR - Aladdin
11/04 - SEATTLE, WA - Neumo's
11/07 - SALT LAKE CITY, UT - In The Venue
11/08 - DENVER, CO - Bluebird
11/09 - LAWRENCE, KS - Granada
11/11 - MINNEAPOLIS, MN - Cedar Cultural Center
11/13 - CHICAGO, IL - Bottom Lounge
11/14 - TORONTO, ON - Opera House
11/15 - MONTREAL, PQ - National
11/17 - BOSTON, MA - Paradise
11/18 - NEW YORK, NY - Bowery Ballroom
11/19 - BROOKLYN, NY - Music Hall
11/21 - BROOKLYN, NY - Music Hall
11/22 - NEW YORK, NY - Bowery Ballroom