Dirty Projectors, Wye Oak and Purity Ring played Prospect Park (pics, setlist); Purity Ring playing LPR, have a new video
Dirty Projectors, Celebrate Brooklyn! 7/10/2012

It was a gorgeous evening in Prospect Park last night for one of the more anticipated Celebrate Brooklyn! concerts of the season: Dirty Projectors, Wye Oak and Purity Ring. Having just played the much more intimate Music Hall of Williamsburg the night before, David Longstreth and company peformed basically the same set at Prospect Park, just with the song order switched up a little. Setlist is below. Despite opening the show with her band and having sung with them recently (like on Jimmy Fallon), Jenn Wasner from Wye Oak did not join DP this time at Prospect Park, but Olga Bell did a great job completing the trio of female voices, from behind her keyboard stage right where she stayed all night.
Even though they are playing bigger and bigger places, Wye Oak remain a duo and were great as usual. Jenn and Andy Stack wrote some new songs for the tour, and told the crowd they were really excited to be touring with Dirty Projectors. There was a whole lot of Mutual Appreciation Society happening onstage throughout the night, actually.
Purity Ring, also still a duo, seemed to impress the crowd with their early 7PM set. Corin Roderick has retired the plumber's acid trip instrument he was using last year (like at our CMJ-week day party) in favor a baroque arrangement of flower lights that lit up and triggered xylophone/marimba sounds when struck. (It probably looks really cool when in a fully dark envoirnment.) Also: they were selling their new album, Shrines, at the merch table that doesn't actually hit stores for two more weeks. So look for that if you're going to see them before July 24.
Purity Ring will be back in NYC on their record's release date, July 24 for an in-the-round show at Le Poisson Rouge. Tickets for that show go on sale Friday (7/13) at noon. It's $15 for a ticket or $25 for a ticket plus a copy of Shrines. If you order tickets through their website, you get a limited edition screenprint poster as well. They've also got a new video out for album track, "Fineshrine," which you can watch below, along with an updated list of Purity Ring tour dates, and more pictures from last night's Prospect Park show.

---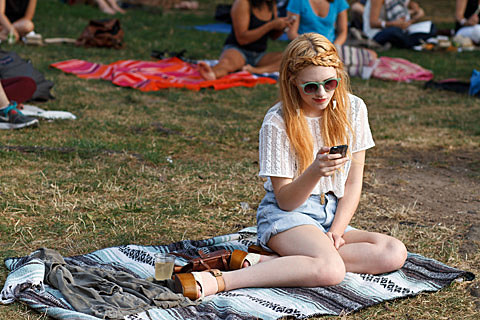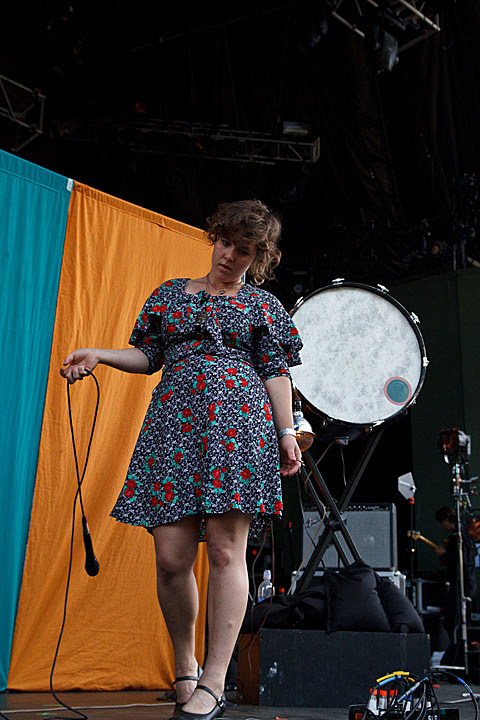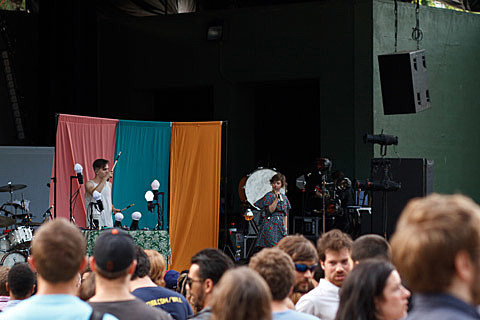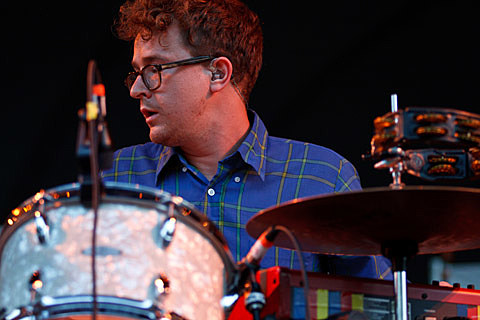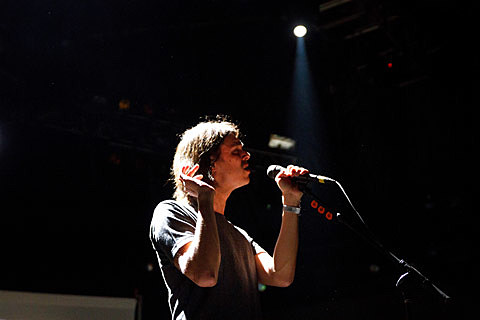 setlist - Dirty Projectors at Prospect Park, Brooklyn, NY - 7/10/12
Swing Lo Magellan
About to Die
Gun Has No Trigger
See What She Seeing
The Socialites
Offspring Are Blank
No Intention
Beautiful Mother
Dance for You
Just From Chevron
Maybe That Was It
Useful Chamber
Unto Caesar
Encore:
Stillness is the Move
Cannibal Resource
Impregnable Question
Purity Ring -- 2012 Tour Dates
7/11 Millvale, PA Mr. Smalls Theatre #
7/12 Louisville, KY Forecastle
7/13 Chicago, IL Pitchfork Music Festival
7/14 Milwaukee, WI Pabst Theatre #
7/15 Minneapolis, MN First Avenue #
7/16 Madison, WI High Noon Saloon
7/17 Pontiac, MI Crofoot Ballroom
7/18 Rochester, NY Bug Jar
7/24 New York, NY Le Poisson Rouge
8/24 Cleveland, OH Beachland Ballroom $
8/25 Cincinnati, OH Mayday $
8/26 Saint Louis, MO Firebird $
8/27 Lawrence, KS The Jackpot Saloon $
8/29 Denver, CO Larimer Lounge $
8/30 Santa Fe, NM Santa Fe Sol Live $
8/31 Phoenix, AZ The Crescent Ballroom $
9/3 San Francisco, CA Bottom of the Hill $
9/5 Seattle, WA Neumos $
9/7 Vancouver, BC The Biltmore $
9/8 Nelson, BC The Royal $
9/9 Calgary, AB The Republik $
9/10 Edmonton, AB The Starlite Room $
9/12 Saskatoon, SK Amigos Cantina $
9/13 Winnipeg, MB Lo Pub $
9/17 Columbus, OH Ace of Cups $
9/19 Washington, DC Rock and Roll Hotel $
9/20 Philadelphia, PA First Unitarian Church $
$ with Evian Christ and Headache