Dirty Three release new LP; ATP NJ tickets on sale
In 2012, the sagacious Australian instrumental trio Dirty Three are awakening after seven years of inactivity. But that isn't to say Warren Ellis, Jim White, and Mick Turner have sat and idled since releasing their 2005 effort Cinder. While Ellis lent his searing violin work and gutteral, post-industrial guitar squelches to Nick Cave's Bad Seeds and Grinderman, repsectively, White and Turner continued recording moody jams as the Tren Brothers, also lending their rustic virtuousity to the touring lineups and records of artists like Cat Powers, Bill Callahan, and PJ Harvey.
Which brings us to Dirty Three's latest album, Toward the Low Sun. The record is out officially this Tuesday (2/28) via Drag City, and will be supported by a slew of Australian dates throughout March (including the band's first visit to the Sydney Opera House).(Whether Ellis will shave for the fancy gig or not is to be seen). NPR is streaming the full album. Download the first single, "Rising Below" above. The cover art is pictured below.
The band also announced their participation in a premier UK musical event, No Direction Home Festival, a spiritual counterpart to England's End of the Road Festival (which the Dirty Three are also playing this year that was developed by the same creative team. Situated on the fringes of Sherwood Forest, No Direction Home hopes to provide a relatively subdued and intimate alternative to mega-fests like Glastonbury, and features a cinema, literature venue, and various hands-on workshops for invidiuals and families alike in addition to their two sound stages.
But before Dirty Three tackles those English festivals, they're slated to play All Tomorrow's Parties' I'll Be Your Mirror UK event in May, the first of two ATP sets on their schedule. Curated by Mogwai (who just announced their own festival appearance), the London gig will also include performances by Slayer playing the entirety of Reign in Blood, The Afghan Whigs, Melvins, Sleep, Mudhoney, Codeine, and Yuck.
The recently reunited Afghan Whigs will then head to Asbury Park, NJ in September for frontman Greg Dulli's curated I'll Be Your Mirror, with Dirty Three in tow. The Whigs will headline the event, which also features The Roots, Jose Gonzalez, The Antlers, and Sharon Van Etten, among others. These two shows aren't Dirty Three's first foray with ATP, having curated their own lineup in 2007 with Nick Cave & the Bad Seeds headlining. Cave returned the favor with his own 2009 curation, having the trio perform their 1998 Steve Albini-produced LP Ocean Songs at an ATP in Australia. They also played it at ATP NY the same year.
Tickets to ATP I'll Be Your Mirror in NJ are ON SALE NOW.
Dirty Three dates are listed below...

--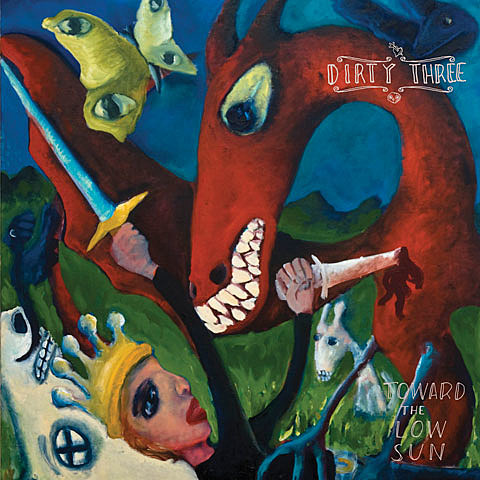 Dirty Three - 2012 Tour Dates
March 9-- The Astor, Perth, Australia
March 14 -- The Powerstation, Auckland, Australia
March 16 -- The Palace, Melbourne, Australia
March 17 -- One Perfect Day Festival, Mossvale, Australia
March 18 -- Theatre Royal, Castlemaine, Australia
March 21 -- Sydney Opera House, Sydney, Australia
March 22 -- The Tivoli, Brisbane, Australia
May 25 - 27 -- Alexandra Place (Mogwai/ATP I'll Be Your Mirror), London, England
June 8 - 10 2012 -- Welbeck Abbey, Nottinghamshire, England
August 31 - Septemeber 2 -- Larmer Tree Gardens, Dorest/Wilshire, England
September 21 - 23 -- Asbury Park (Greg Dulli/ATP I'll Be Your Mirror), New Jersey, USA