Disma, Coffinworm, Unearthly Trance & Oak played Saint Vitus (pics, video & setlist)
Gregory R. Cristman
Disma

Disma headlined Saint Vitus on a rainy Saturday night (8/6) in Greenpoint. They were celebrating the release of Towards The Megalith, their debut LP out which is now via Profound Lore Records. The show, which originally featured an exclusive Northeastern appearance from Loss, instead saw opening performances Coffinworm (who ripped), Unearthly Trance (back from the live-grave!), and Baltimore's Oak (fantastic). Pictures and video are in this post, including virtually all of Disma and Unearthly Trance's sets, a new/unreleased Coffinworm track ("Instant Death Syndrome"), and footage from the dimly-lit Oak set.
Coffinworm

The show was one of only two Coffinworm shows on the East Coast, Disma's only NYC date, Unearthly Trance's first NYC date in more than six months, and was one of two Oak dates in two days. They also played Stolen Sleeves on Friday (8/5) with Convulsions and Grudges (who also play The Acheron on 8/28 with Victims).
We interviewed Daryl Kahan of Disma before the show. Check that out if you missed it.
More pictures, the videos and the Disma/Unearthly Trance set lists from Saint Vitus, below...

--
Oak | NYC @ St.Vitus Bar | 06 Aug 2011

Unearthly Trance @ Saint Vitus Bar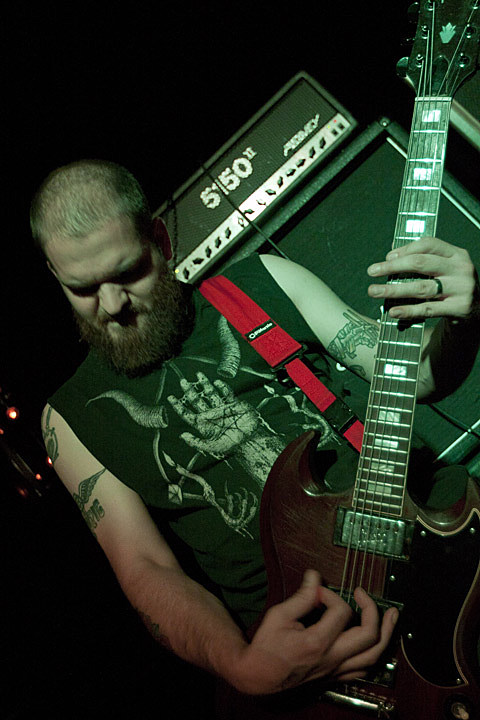 Coffinworm - "Instant Death Syndrome" - Live at Saint Vitus Bar, 8/6/2011