Dive, Caged Animals, Ladytron, Taste of the Seaport, Psychic Paramount & more in This Week in Indie
Toys & Tiny Instruments

It's a fairly quiet post-ATP weekend, which is fine. And the big stuff (Jens Lekman, James Blake) is sold out. CMJ is coming up in less than two weeks, and I plan on taking it (fairly) easy until then. (More than anything else, I'm stoked for the Breaking Bad finale on Sunday!) But there is, as always, stuff going on that's worth your time and coin. So this week I'm just going to do an extended version of the day-by-day picks.
Dive, the new band from Beach Fossils dude Cole Smith, is easily the hardest working group in Brooklyn right now. You can see them tonight at Death by Audio on a pretty stacked bill of locals. I've caught Dive a couple nights now and am really impressed with their energy -- dark and motorik (not totally unlike Captured Tracks labelmates Soft Moon) -- and Smith's ability to spin around and play in clothes six sizes too big for him.
Dive also plays tomorrow (10/7) at 285 Kent with Night Manager and ex-Sweetbulbs band Heaven's Gate (who have a new MP3 to download at the top of this post) and Friends.
Over at Cake Shop are the Toys and Tiny Instruments Band who do not play live very often. It's exactly as it sounds, seven or eight folks playing songs on kazoos, melodicas, penny whistles, plastic guitars and other toys and tiny instruments. (Not unlike Pianosarus for those whose memories go back to '80s obscurities.) They are way better than you think they're going to be.
continued below....

---
Dinosaur Feathers

I was a little underwhelmed with Ladytron's new album, Gravity the Seducer, but there's enough good songs ("Ace of Hz" and "Mirage" in particular) to mix in with chilly bangers like "Destroy Everything You Touch," "Seventeen" and "Blue Jeans" to justify seeing them at Terminal 5 tonight. (You're may disagree entirely. Stream the whole album at the bottom of this post.) They're with VHS or Beta and Sonoio.
Erika Spring

This week's shameless plug:Taste of the Seaport happens this afternoon, where you can sample signature dishes from some of South Street Seaport area local restaurants and the proceeds going to Spruce St. School, PS 397. I booked the bands for the event: Erika Spring of Au Revoir Simone who I've written about before and whose new single "Six More Weeks" is worth picking up -- hopefully she'll have some with her on Sunday. You can watch the video for the single below.
Also playing are The Wisconsin Dells, an all-star cover band (members of Adam Green and Lightspeed Champion's band, and others) who doing spot-on renditions of Laurel Canyon-era rock and some '80s songs as well. They usually only play birthdays (and friends' weddings) so it's a treat to have them.
I'll be DJing from 1PM on, with The Dells at 2PM and Erika Spring at 3PM. The music is free, the food is not.
And that's it this week. Flyers, videos, streams are below.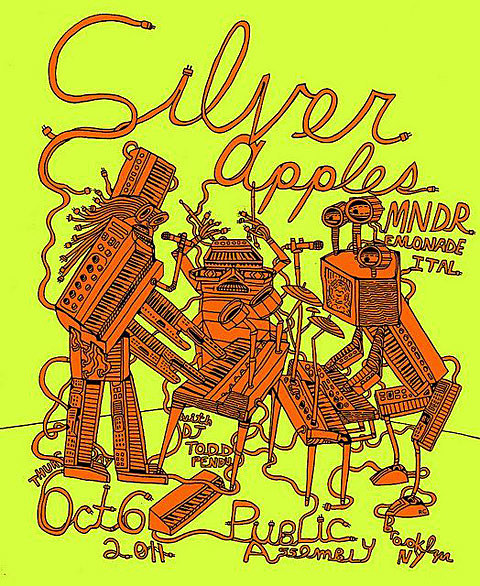 Spanish Prisoners - Gold Fools

Caged Animals - Eat Their Own

Dinosaur Feathers - Please, Please George

Psychic Paramount - Live at Union Pool

Erika Spring - Six More Weeks