DJ EZ, Todd Edwards, Ramona Lisa, Maxmillion Dunbar and J-Cush played Warm Up at MoMA PS1 (pics)
Ramona Lisa / crowd with beach balls / DJ EZ @ Warm Up - 7/6/14

Among the many things going on in NYC over the July 4 weekend was the continuation of this summer's Warm Up series in MoMA PS1's courtyard. Luckily, Saturday (7/6) was a nice sunny day (unlike the two previous), so it was great timing for this outdoor show which included the NYC debut of UK garage vet DJ EZ, American house vet Todd Edwards, RVNG's Maxmillion Dunbar (who was joined by the Flex Is Kings dancers), Charlift singer Caroline Polachek's solo set Ramona Lisa, and Lit City Trax's J-Cush. The NY Times caught DJ EZ and Todd Edwards and wrote:
Mr. Edwards went first, and stayed resolutely in the present for much of his set, playing songs by young producers like Dosage and NVOY. The best garage has the feeling of being made on toy instruments: sweet and ecstatic, with moist, slippery synths and sugared soul vocals serving as anchor. Mr. Edwards did a commendable job linking the sound of now to yesterday, eventually coolly slipping into older music. He was also a ham, singing along to his own songs, especially "Shall Go" and "Face to Face," his 2001 collaboration with Daft Punk, and taking endless videos of the crowd and himself.

DJ EZ, whose series of "Pure Garage" compilations were the genre's most definitive, took on more of the historical burden in his show-closing appearance, billed as his first D.J. set in New York. He showcased some of garage's biggest pop crossover moments, including "Re-Rewind," by the Artful Dodger and Craig David, and Daniel Bedingfield's "Gotta Get Thru This," as well as songs by M-Dubs and a garage remix of Sisqo's "Thong Song." (Garage remixes of American R&B songs were some of the most inventive of the day.)

...And yes, they both played Disclosure, whose 2013 album "Settle" has become the new movement's standard-bearer, even if it's sometimes a dry tribute to music that is resolutely wet.
After Warm Up, DJ EZ played NYC again at Output. Anyone catch that? Meanwhile, Ramona Lisa's set, which you may call the odd one out on the bill, was quite a spectacle with Caroline and her dancers in matching white outfits in front of the venue's eccentric backdrop. Pictures of the whole day are in this post, though unfortunately none of the inside of the "Hy-Fi" art installation which was closed that day (there's a few shots of it from the outside though).
Warm Up continues this week (7/12) with Mister Saturday Night, a live set from Cibo Matto (who also play Summerstage with Bonobo the next day), Archie Pelago, Gabriel Garzón Montano, and Auntie Flo (tickets). Get ready for that one with the new Mister Saturday Night compilation which you can stream, along with more pics of the last Warm Up and J-Cush's mix for that one, below...

---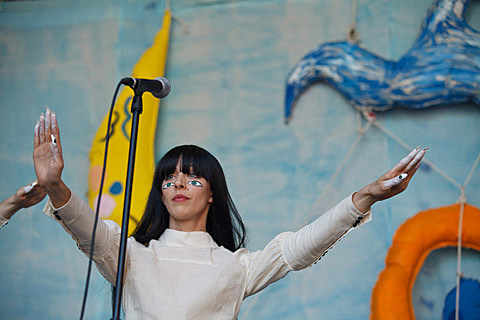 Maxmillion Dunbar (with the Flex is Kings dancers)
J-Cush Warm Up Week 2 Mix

Tracklist:
1. Shunji Moriwaki - Shirushi o Chodai (Neana Edit)
2. Massacooramaan - Exu Drumz
3. Hyserics - Code Switch (Georgia Girls Hollow Nose Edition)
4. Acre - Physically
5. Visionist - I Don't Care
6. DJ NA - Cellar Anthem
7. Dark0 - Chaos
8. Visionist - Still Searching
9. August Alsina - I Luv This Shit (DJ Tray Remix)
10. James Nasty - Them Do It Horns
11. Drippin & Neana - IDONO
12. Youngstar - Formula 3
13. Saga - Flight Risk
14. Bossman x Treble Clef - Bongo Eyes x Ghetto Kyote
15. Youngstar - Bongo VIP
16. Prince Rapid - Top 3 Selected VIP
17. T2 ft Jodie - Heartbroken (UNiiQU3 remix)
18. Inkke - Ho Ai Ai Ai
19. DJ Deeon - Groove Mode
20. Tyree - Hit It Then You Lick It
21. Saga - Grains
22. Jon E Cash - Cash Combo
23. Footsie - Merked Again
24. Yelaboi & Lil Dave - No More
25. DJ Marfox - Bora LA
26. DJ Salez - Nu Kre Brincá
27. Drippin - Kyoto
28. Visionist First Love
29. Danny Weed - ??? dubplate
30. Menta - Sounds Of Da Future
31. Jammin Gerald - Move It
32. DJ Deeon - EXTA-C
33. DJ Mondie - Straight
34. DJ Rashad - Baby I Need This
35. DJ Rashad - 404 (No Love)
36. DJ Rashad - Change 4 Me
Mister Saturday Night - Brothers & Sisters

Tracklist:
A1. Archie Pelago - Cinema Club
A2. Dark Sky - Clear
B1. General Ludd - C
C1. Boya - Dawn Corner
C2. Archie Pelago - The House of Haab
D1. Dark Sky - IYP
E1. Gunnar Haslam - Kenosha (Amytal)
E2. Keita Sano - Ingram
F1. Keita Sano - Drummer Trix