Domino radio, Glasslands A/C, Ume, Foxes in Fiction, Natural Child, Miracle Fortress & more in This Week in Indie
Happy Summer everybody. Before we get into this week's recommended shows, I hope you've been spending the week, like I have, listening obsessively to Domino Radio which has put together an incredible all-star lineup of presenters for this seven-day experiment. All the shows are archived, so go back and listen to Felt/Denim mastermind Lawrence, Primal Scream's Bobby Gillespie (who appears on the new CSS record), Mute Records founder (and former Silicon Teen) Daniel Miller, Franz Ferdinand's Alex Kapranos spin tunes, among other notables. Upcoming DJ slots include Radiohead's Colin Greenwood on Friday, Robert Wyatt and Alfie are on Saturday, and The Pastels on Sunday. Here's hoping they bring it back at a later date.
Ume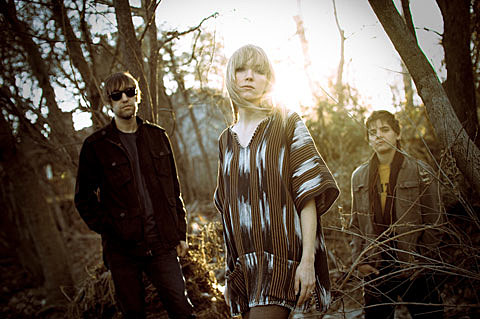 Ok, let's get into what this weekend and beyond has in store. Austin powerhouse trio Ume's current tour hits the city this weekend for two shows: tonight (6/9) at Pianos and Saturday (6/11) at The Rock Shop. As previously reported, the band just signed to Modern Outsider records who will release their debut album, Phantoms, in August. Pretty much everybody here at BV are Ume fans. They write great songs and, yes, they are a bundle of energy on stage with some serious guitar heroics provided by singer Lauren Langer Larsen. After NYC the three of them head north to the NXNE festival. All Ume dates are at the bottom of this post.
Memoryhouse

As you may have heard the Toronto duo are now signed to Sub Pop and should have something out on the label by year's end. Memoryhouse is also now a full band, including a drummer, which make the likelihood of their music remaining Eno-ambient less likely. I'd probably have more of a clue if I'd caught their set at our SXSW party this year. Reports I could find from Austin were positive, though not especially descriptive. Anyone got a firsthand report? Personally I"m hoping this more traditional band format pulls them into Slowdive territory. We shall see.
Both shows have their individual draws. Glasslands also has personal faves North Highlands whose debut album is in the can, apparently, and now we just have to wait for someone to release it. They will definitely be the most energetic live band on the bill, unless all the other groups have radically changed. Well, I've never seen Wonder Bear live but judging by the chill sounds on their album Avalanche (a free download) but I have to imagine it will be a mellow affair.
Speaking of chill, you may remember the sweatbox that was Glasslands last summer, well with the new club's new makeover they also finally got A/C. Certainly the 90 degree heat of this week will be a good test for it's power.
Meanwhile the Pianos show on Saturday has Foxes in Fiction which is, on record, basically Warren Hildebrand who is now also a member of the Memoryhouse live touring unit. At SXSW he was backed by Memoryhouse so I'd expect the same here. Last year's Swung from Branches mixed soundscapes with more structured songwriting (he gets compared to Bradford Cox a lot) and his most recent FiF release, Alberto (download the whole thing for free HERE), finds him moving into even more pop territory. It's a packed Pianos bill, including Eastern Conference Champions and Suns (not Suuns).
Natural Child

Let's keep going, shall we? Nashville party rock trio Natural Child are here for a two-night stint at Death By Audio, playing Sunday (6/12) and Monday (6/13). The band's debut album is out now on JEFF the Brotherhood's Infinity Cat label which should give you a good idea of what you're in for. An even better indicator are the two tracks from it at the top of this post from the album. If you like Thin Lizzy, honky tonk side of the Stones and JEFF the Brotherhood, you'll probably dig Natural Child too. These shows are bound to be packed and sweaty (and smokey) so be prepared for that, as well as for having a good time.
Laetitia Sadier

Miracle Fortress

And lastly this Tuesday (6/14) is a swell double bill of danceable Canadians at Webster Hall: Junior Boys and Miracle Fortress. Junior Boys' fourth album, It's All True, is out that same day on Domino and is another fine example of their lithe, breezy style. Miracle Fortress -- aka Graham Van Pelt of Think About Life -- just released its second album, Was I the Wave, which finds him setting aside the first LP's guitars in favor of electronics with a decidedly Eno-esque slant. You can download album track "Miscalculations" at the top of this post. It's a really nice record. When I caught him at SXSW, Van Pelt performed solo surrounded by tons of equipment and a few vintage table lamps. Not bad for a one man show.
That's it for this week. A few more day-by-day picks follow.
Did you know The Cloud Room was still together? They are and play Mercury Lounge tonight. Of course they're going to play local hit "Hey Now Now," no need to shout for it.
If you missed them at Cake Shop, you can see Gross Relations, along with Shark? and Dinosaur Feathers, at Shea  Stadium.
OK, that's really it. Next week will be the Northside Festival edition of TWII. Tour dates and flyers are after the jump.
Memoryhouse - 2011 Tour Dates
Thursday, June 9, 2011 Johnny Brenda's, Philadelphia PA
Friday, June 10, 2011 Glasslands, Brooklyn NY
Saturday, June 11, 2011 Pianos, New York NY
Sunday, June 12, 2011 Gordon Square, Cleveland OH Weapons Of Mass Creation Fest
Saturday, June 18, 2011 Lee's Palace, Toronto Canada
Ume - 2011 Tour Dates
June 9 - New York, NY @ Piano's
June 10 - Asbury Park, NY @ The Saint
June 11 - Brooklyn, NY @ The Rock Shop
June 12 - Cambridge, MA @ TT The Bears
June 13 - Philadelphia, PA @ Kung Fu Neck Tie
June 14 - Rochester, NY @ The Bug Jar
June 15 - Toronto, ON @ NXNE Festival - Drake Hotel
June 16 - Chicago, IL @ Memories
June 17 - Chicago, IL @ Threadless Warehouse - Live Video Stream
June 18 - Denver, CO @ Westword Festival w/ Yo La Tengo, Chromeo, The Sword
July 1 - Springfield, MO @ The Outland
July 3 - Milwaukee, WI @ Summerfest
July 22 - Austin, TX @ Mohawk w/ Mission of Burma
August 27 - New Braunfels, TX @ Dia De Los Toadies Festival w/ The Toadies, The Sword, The Black Angels
August 28 - St. Louis, MO @ Loufest w/ The Roots, TV on The Radio, Cat Power, Deerhunter
Junior Boys/Miracle Fortress - 2011 Tour Dates
06/09 Phoenix Concert Theatre, Toronto, ON, Canada
06/10 Mavericks, Ottawa, ON, Canada
06/11 La Sala Rossa, Montreal, QC, Canada
06/12 Middle East, Cambridge, MA, USA
06/14 Webster Hall, New York, NY, USA
06/16 Black Cat, Washington, DC, USA
06/17 Johnny Brenda's, Philadeplhia, PA, USA
06/18 The Earl, East Atlanta, GA, USA
06/18 Jefferson Theater, Charlottesville, VA, USA
06/21 Mercy Lounge, Nashville, TN, USA
06/22 Headliners, Louisville, KY, USA
06/24 Metro, Chicago, Michigan, USA
06/25 The Pike Room, Pontiac, MI, USA