Don Giovanni showcases begin tonight — videos, LP streams, tour dates and other related news
by Andrew Sacher
The Don Giovanni Records showcases at Knitting Factory Brooklyn begin tonight, and here's a rundown of what they've got going on:
NIGHT 1 (February 6)
Tonight's headliners are '70s-style power pop trio Nude Beach, who put out their newest album, 77, on the label last year, followed by a new single this year (listen below). They've been playing around a lot lately (maybe you caught them at Bowery Ballroom last month), and they have two NYC shows coming up after this: Bowery Electric on 3/5 (free with RSVP) and The Bell House with White Hills in April.
Also of note tonight is The Hamiltons, a punk trio inspired by the Ramones and the film Dirty Work, who may actually be The Ergs. Listen to a couple tracks below.
Brooklyn's Mal Blum, one of the label's newer signees, has been a singer/songwriter in the local folk punk/anti-folk scene for a few years now. Maybe you've caught her with Noun, Allison Weiss, Worriers, Chris Gethard, Stephen Brodsky or at Tinderbox Fest. Her first Don Giovanni release should be out later this year, but meanwhile you can stream her 2013 album, Tempest In A Teacup, below.
Crow Bait, the Iron Chic-related alt-country/punk band who put out their solid debut LP on Don Giovanni last year, returned a few weeks ago with the Separate Stations 7" EP on Drunken Sailor Records. If you like jangly '90s alternative rock with a little twang in it, you should check this out. Listen below.
Tonight's bill is rounded out by one of NYC's longest-running DIY scene duos, Shellshag, NJ indie rockers Black Wine and host Chris Gethard. Tickets are still available.
photo: California X at DbA in 2013 (more by Vladislav Grach)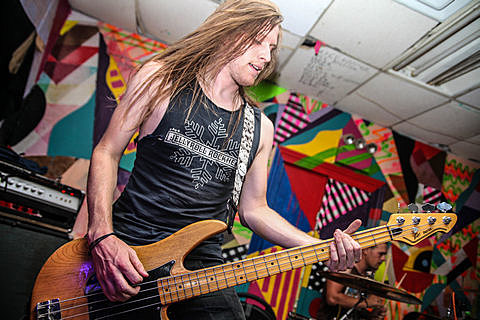 NIGHT 2 (February 7)
Saturday's lineup is headlined by the great Amherst, MA band California X, who recently dropped their sophomore album, Nights in the Dark. The sludgy Dinosaur Jr-isms of their debut are still here, but this time they're a little overshadowed by a handful of '70s influences, pulling from that decade's hard rock, power pop, punk, and a love of twin leads. Stream the whole thing below.
Downtown Boys, another recent addition to the label, are a band you have to see live to fully experience. And if you haven't seen them, it's highly recommended. Head HERE to see what we've said about their shows in the past. They'll also be on tour with Screaming Females soon.
Nuclear Santa Claust have a new album, Je Ne Sais Claus, coming out on DG next week (2/10), and they'll have it on sale at the show too. Like their last album, lead single "Sayonara Baby" is indebted to early hardcore with a good dose of Ramones worship. Check it out below. You can catch them in NYC again at the Nate Gluck benefit with Night Birds in March.
Opening Saturday's showcase is the label's newest band Alice (who count music writer/Silent Barn booker Liz Pelly as a member). They announced their signing this week, and will release their debut album, Revenge Pop, later this year. You can listen to the reverb-ed out "Nightmare" below.
The rest of Saturday's lineup is noisy punk duo Pinkwash (mem Hume, Bleeding Rainbow), Lauren Measure's current band Worriers, NJ punks Brick Mower, and host Chris Gethard. Tickets are still available.
photo: Screaming Females @ DbA in 2014 (more by Gretchen Robinette)

NIGHT 3 (February 28 -- early and late shows)
The third and final showcase has a 6:45 and a 10:45 show, both with the same lineups. Screaming Females are headlining, and these are the record release shows for their upcoming sixth album, Rose Mountain, which a few great singles have already come out from. If you haven't heard them yet, check those out below with a recently-released live video (dir. Lance Bangs) of another new song, "It's Not Fair." Screaming Females also have many other tour dates, including Asbury Park in April.
The openers at both shows are political DC post-punks Priests, '90s-inspired melodic punks Tenement, and the garage-y Vacation. Those bands have a bunch of other dates together without Screaming Females, including a Hoboken show on 2/25. All dates are listed below.
Tenement are releasing a new rarities collection, Bruised Music Volume One, on March 10 via Grave Mistake Records, and Toxic Pop Records. You can check out the ripping "Spaghetti Midwestern" from that, below.
The early Knitting Factory show is sold out, but tickets for the late show are still available.
--
In other Don Giovanni news unrelated to their showcase, the label is putting out a collection from The Lookouts, the band that included Lookout! Records founder Larry Livermore, and drummer Tre Cool before he joined Green Day. The collection features guest appearances from Green Day singer Billie Joe Armstrong and Rancid/Operation Ivy's Tim Armstrong. Stream a track below.

---
Nude Beach - "Been Waitin'"

The Hamiltons - "Don't Be Dummies"

The Hamiltons - "Hello Ice Cream"

Mal Blum - Tempest In A Teacup

Crow Bait - Separate Stations 7" EP

California X - Nights in the Dark

Nuclear Santa Claust - "Sayonara Baby"

Alice -"Nightmare"

Screaming Females - "It's Not Fair" (live)

Screaming Females - "Criminal Image"

Screaming Females - "Ripe"

Screaming Females - "Wishing Well"

Tenement - "Spaghetti Midwestern" (via Impose)

The Lookouts - "Story"

Screaming Females -- 2015 Tour Dates
Feb 21 San Francisco, CA - Hemlock Tavern (Noise Pop Festival)
Feb 26 Allston, MA - Great Scott w/ Priests, Tenement, Vacation
Feb 27 Philadelphia, PA - First Unitarian Church w/ Priests, Tenement, Vacation
Feb 28 Brooklyn, NY (2 shows) - Knitting Factory w/ Priests, Tenement, Vacation
Mar 07 Baltimore, MD - Windup Space w/ Downtown Boys
Mar 08 Richmond, VA - Strange Matter w/ Downtown Boys
Mar 09 Durham, NC - The Pinhook w/ Downtown Boys
Mar 10 Asheville, NC - The Mothlight w/ Downtown Boys
Mar 11 Athens, GA - Caledonia Lounge w/ Downtown Boys
Mar 12 Orlando, FL - The Social w/ Downtown Boys
Mar 13 Gainesville, FL - The Atlantic w/ Downtown Boys
Mar 14 Tallahassee, FL - All Saints Cafe w/ Downtown Boys
Mar 15 New Orleans, LA - Sisters in Christ Records (Gasa Gasa) w/ Downtown Boys
Mar 16 McAllen, TX - GALAX Z FAIR IV w/ Downtown Boys
Mar 17 Houston, TX - Walter's Downtown w/ Downtown Boys
Mar 18-21 Austin, TX - SXSW
Mar 22 Dallas, TX - Club Dada (Spillover Fest)
Mar 24 Kansas City, MO - The Riot Room
Mar 25 St Louis, MO
Mar 26 Bloomington, IN - The Bishop
Mar 27 Chicago, IL - Empty Bottle
Mar 28 Ferndale, MI - Loving Touch
Mar 29 Pittsburgh, PA - Brillobox
Apr 04 Asbury, NJ - Asbury Lanes
Apr 05 Providence, RI - Spark City
Apr 06 Worcester, MA
Apr 07 Portland, ME
Apr 08 Montreal, QC - House of TARG
Apr 09 Ottawa, ON
Apr 10 Toronto, ON
Apr 11 Rochester, NY - Bug Jar
Apr 17 Haarlem, NL - Klikofest
Apr 18 Brussels, BE - Madame Moustache
Apr 19 Brighton, UK - The Hope
Apr 20 Leeds, UK - Brudenell Social Club
Apr 21 Manchester, UK - The Roadhouse
Apr 22 Glasgow, UK - Broadcast
Apr 23 Bristol, UK - The Stags and Hounds
Apr 24 London, UK - The Lexington
Apr 25 Utrecht, NL - dB's
Apr 27 Berlin, DE - Kantine am Berghain
Apr 28 Copenhagen, DK - Loppen
Apr 29 Stockholm, SE - Lilla Hotellbaren
Apr 30 Oslo, NO - Crossroad Club
May 01 Aalborg, DK - 1000Fryd
May 02 Hamburg, DE - Astra-Stube
May 04 Krakow, PL - Klub Re
May 05 Vienna, AT - Fluc
May 06 Muenchen, DE - Kafe Kult
May 07 Duedingen, CH - Bad Bonn
May 08 Lyon, FR - Sonic
May 09 Paris, FR - Batofar
--
Priests / Tenement / Vacation -- 2015 Tour Dates
2/22/2015 Milwaukee, WI Cocoon Room
2/23/2015 Columbus, OH Ace of Cups
2/24/2015 Ithaca, NY Community School of Music and Arts
2/25/2015 Hoboken, NJ Stevens Institute of Technology
2/26/2015 Allston, MA Great Scott*
2/27/2015 Philadelphia, PA First Unitarian Church*
2/28/2015 Brooklyn, NY Knitting Factory* (TWO SHOWS)
3/01/2015 Washington DC The Dance Institute of Washington
3/02/2015 Durham, NC Pinhook
3/03/2015 Atlanta, GA 529 Bar
3/04/2015 Nashville, TN The East Room
3/05/2015 Cincinnati, OH Franklin Church
*w/ Screaming Females
--
Nude Beach -- 2015 Tour Dates
2/06: Brooklyn, NY @ Knitting Factory - Don Giovanni Records showcase
2/21: Seattle, WA @ Black Lodge w/ Divers
2/22: Vancouver. BC @ Alf House w/ Divers
2/23: Olympia, WA @ Obsidian w/ Divers
2/24: Portland, OR @ The Know w/ Divers
2/26: San Francisco, CA @ Noise Pop Festival, Rickshaw Stop w/ Tony Molina, Cold Beat
2/28: Long Beach, CA @ Alex's Bar
3/01: Los Angeles, CA @ Jewel's Catch One w/ Milk Music, Destruction Unit
3/05: New York, NY @ Bowery Electric
4/03: New York, NY @ Bell House w/ White Hills
--
Nuclear Santa Claust -- 2015 Tour Dates
SATURDAY FEBRUARY 7th - Brooklyn, NY - Knitting Factory (Don Giovanni Showcase)
FRIDAY FEBRUARY 20th - Richmond, VA - Wonderland
SATURDAY FEBRUARY 21st - Charlotte, NC - The Milestone
FEBRUARY 22nd - Chattanooga, TN - Sluggos
FEBRUARY 23rd - Nashville, TN - Towers 2
FEBRUARY 24th - Bloomington, IN - Madison Square Garden
FEBRUARY 25th - Milwaukee, WI - Cocoon Room
THURSDAY FEBRUARY 26th - Chicago, IL - Burlington Bar
FRIDAY FEBRUARY 27th - Cleveland, OH - Now That's Class
SATURDAY FEBRUARY 28th - Pittsburgh, PA - Howlers Coyote Cafe
SUNDAY MARCH 29th - Brooklyn, NY - Acheron (Nate Gluck benefit w/ Night Birds)
--
Worriers -- 2015 Tour Dates
02/07/2015 Brooklyn, NY Knitting Factory (Don Giovanni Showcase)
02/10/2015 Louisville, KY Mercury Ballroom w/ Against Me! and Creepoid
02/11/2015 Atlanta, GA Terminal West w/ Against Me! and Creepoid
02/13/2015 Gainesville, FL The Wooly w/ Against Me! and Creepoid
02/14/2015 Gainesville, FL The Wooly w/ Against Me! and Creepoid
02/16/2015 Tallahassee, FL Cactus House
02/17/2015 Pensacola, FL Vinyl Music Hall w/ Against Me! and Creepoid
02/18/2015 Tampa, FL The Ritz w/ Against Me! and Creepoid
02/19/2015 Orlando, FL The Beacham w/ Against Me! and Creepoid
02/20/2015 Fort Lauderdale, FL The Culture Room w/ Against Me! and Creepoid
02/21/2015 Birmingham, AL Spring Street Firehouse w/ Mikey Erg
02/22/2015 Nashville, TN Exponent Manor w/ Mikey Erg
02/23/2015 Cincinnatti, OH Tacocracy
--
Alice -- 2015 Tour Dates
february 07 - don giovanni showcase w/ downtown boys, pinkwash, etc.
february 21 - suny purchase w/ fleabite, malportado kids, the meltaways, etc - up yours fest
february 22 - silent barn w/ fleabite, shellshag, katherine - matinee fundraiser for smash it dead fest
april 2 - silent barn w/ fleabite, earth girls, aye nako, arm candy