Doveman played a show w/ Sean Lennon & Co. (pics), playing some more (Mercury Lounge, Joe's Pub, The Kitchen)
Thomas Bartlett aka Doveman

On November 1st, Doveman opened up at Mercury Lounge for The Ghost of a Sabre Toothed Tiger, a project that features Sean Lenon, his model girlfriend Charlotte Kemp Muhl (who, as announced from the stage, had only learned to play bass a few months prior), Cibo Matto's Yuka Honda and mi-gu drummer Yuko Araki. A week prior, both bands performed at Doveman's loft CD release party for The Conformist with different lineups.
The headlining Ghost of a Sabre Toothed Tiger is a relatively new project (with no records out) that plays tightly composed psychedelic pop. They also dip into Sean Lennon's previous catalog, like for an extended Maggot Brain-esque jam on his 2006 song "Dead Meat." Drummer Araki in particular hit all the fills and accents as if the songs were familiar jazz charts. Doveman came back to guest on GOASTT's last song, "Richard Brown," a jokey tune from an unfinished musical. The whole band (minus Kemp Muhl) is touring Japan right now with Yoko Ono Plastic Ono Band in support of her latest Between My Head and the Sky.
Doveman was also joined by a stellar band that included National drummer Bryan Devendorf and guest singer Martha Wainwright. Bartlett is currently on tour opening for Swell Season. He'll be playing at Joe's Pub on December 2nd as part of the Happy Ending music and reading series with Amanda Stern, Hedwig's John Cameron Mitchell and Jonathan Caouette. Tickets are on sale.
Doveman will also be returning to Mercury Lounge for an as-of-now unannounced bill on January 12th. Then he and frequent collaborator Nico Muhly will be doing two nights (of TBA) at The Kitchen on March 18th and 19th.
More pictures from Mercury Lounge and tour dates are below...

Doveman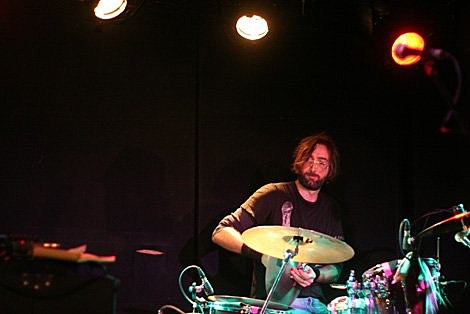 The Ghost of a Saber Tooth Tiger
Doveman - 2009/10 Tour Dates
Nov 24 Crystal Ballroom Portland, OR $
Nov 25 The Center Vancouver $
Dec 02 Joe's Pub New York City, NY #
Jan 12 Mercury Lounge New York City, NY
Mar 18 The Kitchen New York City, NY !
Mar 19 The Kitchen New York City, NY !
$ w/ Swell Season
# w/ John Cameron Mitchell
! w/ Nico Muhly
Nico Muhly - 2009/10 Tour Dates
Nov 25 Muziekcentrum Frits Philips Eindhoven
Nov 27 Muziekcentrum Enschede (Grote Kerk) Enschede, Overijssel
Nov 28 Muziekcentrum Vredenburg Utrecht, Utrecht
Nov 29 Luxor Live Arnhem
Nov 30 Concertgebouw Amsterdam, Noord-Holland
Nov 30 Concertgebouw Amsterdam, Noord-Holland
Dec 01 De Oosterpoort Groningen
Dec 02 Concertzaal Tilburg Tilburg
Jan 24 Roundhouse London
Mar 18 The Kitchen New York City, NY !
Mar 19 The Kitchen New York City, NY !
Apr 14 Southern Theater Minneapolis, Minnesota
Apr 15 Southern Theater Minneapolis, Minnesota
Apr 16 Symphony Space New York, New York
! w/ Doveman