Dr. Dog sign to Anti, playing Bethlehem Musikfest (lineup) & other places – 2009 tour dates & more Prospect Park pics
Timothy S. Griffin
photos by Tim Griffin
Dr. Dog has signed to Anti-Records (home of Os Mutantes), which will release the band's fifth record in early 2010. What does Dr. Dog guitarist-vocalist Scott McMicken have to say about that?
"Each album we've made was the best one we could have made at the time and I don't have any regrets," McMicken says. "But something has changed. We've never really recorded as a band before. We started as a recording project but over the years we've become a real band. We tour all the time and we have this certain place we fall into. And I think we're ready to use that as a reference point now"
This fall Dr. Dog will go on an extensive North American tour, with a select number of dates opened by NYC's own Jeffrey Lewis. No NYC dates yet though, but there are two in the band's hometown of Philly, and one pre-tour gig in Bethlehem, PA.
Bethlehem Musikfest is a music festival that runs from July 31st to August 9th and consists of more than 300 performances, most of which are free (Dr. Dog on August 3rd included). Pay shows at the fest include a stop on the Pat Benatar/Blondie/The Donnas tour (which has a free Coney Island show on August 13th) and a show with the B-52s (also playing NYC) and Joan Jett & The Blackhearts.
Dr. Dog's last NYC show was also a free one. It took place at the Prospect Park Bandshell in Brooklyn. We already posted a set of pictures from it. Now here's another one, along with the full lineup for the Bethlehem Musikfest and all tour dates, below...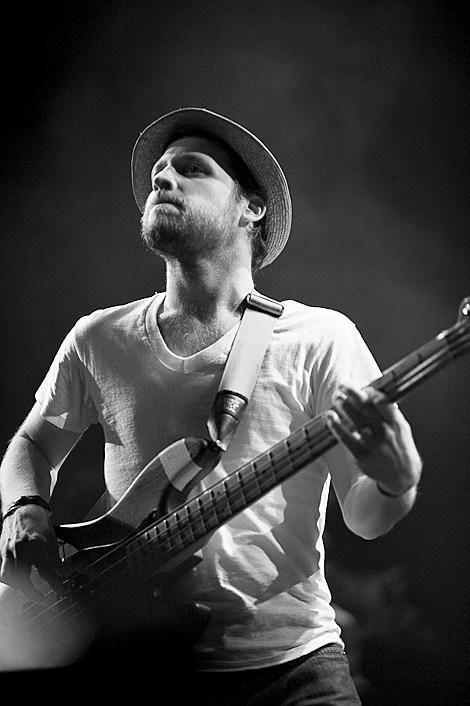 Dr. Dog - 2009 Tour Dates
July 31, 2009 - Pickathon - Portland, OR
August 01, 2009 - Pickathon - Portland, OR
August 03, 2009 - Bethlehem Musikfest - Bethlehem, PA
September 18, 2009 - Nightfall Concert at Miller Plaza - Chattanooga, TN
September 19, 2009 - Bristol Rhythm & Roots Reunion - Bristol, VA
September 20, 2009 - Bristol Rhythm & Roots Reunion - Bristol, VA
September 28, 2009 - The Orange Peel - Asheville, NC
September 29, 2009 - The Loft - Atlanta, GA
September 30, 2009 - The Howlin' Wolf - New Orleans, LA
October 01, 2009 - Chelsea's Cafe Baton - Rouge, LA
October 02, 2009 - Austin City Limits Festival - Austin, TX
October 03, 2009 - Hardly Strictly Blue Grass Festival - San Francisco, CA
October 05, 2009 - The Brookdale Lodge - Brookdale, CA
October 06, 2009 - Henry Fonda Theater - Los Angeles, CA
October 07, 2009 - Club Congress - Tucson, AZ
October 09, 2009 - Urban Lounge - Salt Lake City, UT #
October 10, 2009 - Belly Up - Aspen, CO #
October 11, 2009 - The Fox Theatre - Boulder, CO #
October 12, 2009 - The Bottleneck - Lawrence, KS #
October 13, 2009 - The Gargoyle Club - St. Louis, MO #
October 15, 2009 - Mad Hatter - Covington, KY #
October 16, 2009 - Beachland - Cleveland, OH #
October 17, 2009 - Mass Moca - North Adams, MA
October 20, 2009 - Gravity - Charlottesville, VA $
October 21, 2009 - Cat's Cradle - Chapel Hill, NC #
October 22, 2009 - Ottobar - Baltimore, MD
October 23, 2009 - Theater of Living Arts - Philadelphia, PA
October 24, 2009 - Theater of Living Arts - Philadelphia, PA
# w/ Jeffrey Lewis
$ w/ Jeffrey Gaines
--------------

BETHLEHEM MUSIKFEST LINEUP:
Sands RiverPlace
Jul 31 The Commodores
Aug 01 Chris Isaak / The Wallflowers
Aug 02 Yes with special guest Asia
Aug 03 David Cook with Green River Ordinance
Aug 04 Third Eye Blind with special guest Matt Nathanson
Aug 05 The B52s / Joan Jett & The Blackhearts Pat Benatar & Blondie with The Donnas
Aug 06 Puddle of Mudd with Trapt & special guest Stasis
Aug 07 Pat Benatar & Blondie with The Donnas
Aug 08 George Thorogood and The Destroyers & Jonny Lang
Aug 09 Crosby, Stills and Nash
Performing Arts Series @ Zoellner Arts Center, Lehigh University
Jul 31 Ladysmith Black Mamabazo
Aug 02 Gordon Lightfoot
Aug 07 Rufus Wainwright
PNC Bank Candlelight Concert Series @ Moravian College's Foy Hall
Jul 31 Martin Sexton
Aug 01 Al Stewart
Aug 02 Leon Redbone
Aug 05 Dar Williams
Aug 06 Broadway Boys
Aug 07 Simone
Full Musikfest 2009 Free lineup
3D Ritmo de Vida - 8/7
Acoustic Roadshow - 8/4
The Adlers - 8/9
The Afromotive - 8/8
Alex Meixner Band - 8/9
Alison Brown Quartet - 8/1
All4One Piano Duo - 8/6
Allegro Dance Company - 8/4
Alo Brasil - 8/2
AMLA - 8/1
Andrew Portz - 8/3
Andy Cohen - 8/7
Anne Hills w/ Jay Ansill & Strings - 8/7
Anthony Da Costa - 8/4
Antsy McClain & Trailer Park Troubadours- 8/1 & 8/2
The Arrogant Worms - 8/8 & 8/9
Auerhahn Schuhplattler Verein - 8/1
Barry Hannigan - 8/6
Barynya - 8/6
Bay Street Brassworks - 8/4
Baze & his Silly Friends - 8/5
BC & Company - 8/4
Beaucoup Blue - 8/8
Bearfoot - 8/3 & 8/4
Ben Mauger's Dixieland Jazz Band - 7/31
Best of Godfrey Daniels' Open Mike - 8/5
Bethlehem Music Settlement - 8/3
Bethlehem Area School District Guitar Camp - 8/4
Beyond Barriers - 8/5
Big Bang Boom - 8/6
Bill Toms - 7/31
Billy Bauer Band - 8/7
Black Sheep Poets - 8/3
Blackwater - 8/5
Blue Ribbon Cloggers - 8/2
The Blue Vipers of Brooklyn - 8/8
The Blues Brotherhood - 8/9
Bluzin - 8/6
Bob Carlin & Cheick Hamala Diabate - 8/7
Bob Sima - 8/5
BoyintheShade - 8/7
Brad Litwin - 8/8
Brave Combo - 8/9
Brittany Ann - 8/2
Bronze Radio Return - 8/1
Brother - 7/31 & 8/1
Brownpenny - 7/31 & 8/1
Bud Buckley - 8/5
Burning Bridget Cleary - 8/3
Butterjive - 8/5
Cabinet - 8/1
Capital Road - 8/8
Carrie Rodriguez - 8/6
Cast in Bronze - 7/31-8/9
Catie Curtis - 8/2
The Cat's Pajamas - 8/3
C'est Si Bon - 8/2
Chandler Travis Philharmonic - 8/5
Charter School for the Performing Arts - 8/7
Chino Nunez - 8/1
Chris Smither - 8/5
Christy Jefferson - 8/4
Chuck Mead - 8/9
City Rhythm Orchestra - 8/5
City Winds Trio - 8/3
Coffin Daggers - 8/2
Colorado Quartet - 8/3
Cooper Boone - 8/1
Craig Kastelnik & Friends - 8/6
The Craig Thatcher Band - 7/31
Crawdaddies - 8/9
CrazyHeart - 8/3
Crossing North - 8/8
Crucial - 8/1
Daisy Jug Band - 8/2 & 8/8
Dan DeChellis Trio - 8/7
The Dan May Band - 8/1
Dan Redine - 8/9
Dan Stevens & Chris A'mato- 8/1
Danny Rocco - 7/31
Dave Fry - 8/2 & 8/4
David Jacobs-Strain - 8/6
Davy Knowles & Back Door Slam - 8/3
Deb Callahan Band - 8/4
DelRain - 8/5
Dennis Polisky & the Maestro's Men - 8/1
Die Fahrenbacher - 8/5 & 8/6
The Difference - 8/7
Digney Fignus - 8/2 & 8/3
Dina Hall - 8/5
Dirty Sock Funtime Band - 8/2
Doc Marshalls - 8/6
Don Cunningham & his Cabinet - 8/5
Donovan-Roberts - 7/31 & 8/8
The Doughboys - 8/7
Dr. Dog - 8/3
Dueling Pianos - 8/7
The Duhks - 8/8
Emerald City - 8/3
Eren Cannata - 8/7
Eric Steckel & Friends - 8/1 & 8/2
Fabulous Greaseband - 8/6
Fellswoop - 8/5 & 8/9
Flamin Caucasians - 8/8
Frankie Morales & the Mambo of the Times Orchestra - 8/8
Friar's Point - 8/6
Frog Holler - 8/3
Fusion Jazz Trio - 8/4
Gabriel Chamber Ensemble - 8/6
George Hrab & the Geologic Orchestra - 7/31
Girls, Guns & Glory - 8/9
Grayson Capps & the Stumpknockers - 8/8
The Guitardogs - 8/9
HALA - Salseros - 8/2
The Headers - 8/1
Hector Rosado y su Orchestra Ache - 8/9
Henry & the Versa Js - 8/8
HER & Kings County - 8/1
HillBilly Souls - 8/2
Hoots & Hellmouth - 8/5
Hot Peas N Butter - 8/5
I Paesani - 8/8
Innovata - 8/5
Irish Stars: Parker School of Irish Dance - 8/5
J. D. Malone - 8/9
Jack Murrary - 8/5
The Jamani Drummers - 8/4
Jamnazi Africa Band - 8/2
The Jason Spooner Trio - 8/1
Jeff Umbahuer 8/6
Jerry Haines - 8/7
Jimmy & the Parrots - 8/6
Jimmy Sturr - 8/2
Joe Kroboth - 8/7
Joe Weber - 8/3
John Frinzi - 8/4
John Lee Hooker Jr - 8/8
John Nemeth - 8/8
John Stevens Doubleshot - 8/4
Jolly Joe Timmer - 7/31
Joshua Popejoy - 8/4
Julia Joseph - 8/1
Jump City Jazz - 8/1
Justin Solonynka - 8/3
KEF - 8/5
Kelleigh McKenzie - 8/1
Kira Willey - 8/4
Kristin Diable - 8/8
Kyle Herring - 8/6
The Large Flowerheads - 8/3
Larry Holmes & Marmalade - 8/2
Latin Fiesta - 8/1
Lehigh Valley Cloggers - 8/8
Lehigh Valley Community Music School - 8/4
Lehigh Valley Folk Music Society - 8/2
Lehigh Valley Pennsylvania Music Teachers Assoc. - 8/3
Lenny Gomulka & Chicago Push - 8/1
The Lesson Center - 8/7
Lester Hirsh - 8/2
Li'l Anne & Hot Cayanne - 8/1
Lili Anel - 8/1
The Limits - 8/4
Lisa Bodnar Band - 8/9
Liz Longley - 7/31
Los Straitjackets - 8/2 & 8/3
The Lovell Sisters - 8/3 & 8/4
Lucky 7 - 8/7
Lucy Bonilla - 8/9
Luisito Rosario - 7/31
Magnum - 8/2
Main Street Cruisers - 8/2
Mama Jama - 8/4
The Mango Men - 8/6
Marc Silver & the Stonethrowers - 8/9
Marcia Ball - 8/7
Marlene Gilley Swingtet - 8/9
Martin Family Band - 8/7
Martin Guitar Group - 8/5
Mascaro Newman Duo - 8/4
Matt Praetzel - 8/3
Matt Watroba - 8/7
Miche Fambro - 8/2
Mike Dugan - 8/8
Mingo Fishtrap - 8/4 & 8/5
Miss Amy - 8/7
Missy Raines & the New Hip - 8/8
Monarch Dance Company - 8/4
Mountain Laurel - 8/2 & 8/6
Music from China - 8/5
Nancy Coletti - 8/2
Nate Marks - 8/3
Natural Breakdown - 8/4
Nikki Shannon - 8/6
O'Grady-Quilan Academy - 8/6
Oakhurst - 8/5 & 8/6
The Oasis Band - 8/5
Ogans - 7/31
Pablo Mayor & Folklore Urbano - 8/8
Parrotbeach - 8/6
Patrick Fitzsimmons - 8/5
Paul Green School of Rock Music - 8/4
Paul Rishell & Annie Raines - 8/5
Peripheral Vision - 8/3
Peter Siegel Duo - 8/7
Philadelphia Funk Authority - 8/9
Philadelphia Song Writers' Project - 8/6
Phillybloco - 8/1
Polka Family Band - 8/3
The Polka Quads - 8/6
Princess Katie & Racer Steve - 8/8
Project - 8/4
Radio Free Earth - 8/8 & 8/9
The Ravel Trio - 8/5
Ray Owen - 8/3
Real West - 8/4
Rebel Red - 8/2
The Red Elvises - 8/7 & 8/8
Red Molly - 8/3
Red Rooster - 8/8
Religion & Cash - 8/5 & 8/6
Robin Greenstein - 8/7
Roger Latzgo - 8/4
Ronnie Baker Brooks - 8/4
Rosie Flores - 8/2
Russell Howard - 8/7
Sabroso Video Showcase - 8/9
Salsa Celtica - 8/4 & 8/5
Sandlot Heroes - 8/3
Santa Mamba - 8/7
Sarah Ayers Band - 7/31 & 8/7
Scott Marshall & Marshall's Highway - 8/9
Scott McKenna - 8/7
Scott Paul - 7/31 & 8/1
Scythian - 8/5 & 8/6
Seamus Kennedy - 8/3
The Sensational Soul Cruisers - 8/4
Sergio Rivera & Friends - 8/8
Sharon Plessl School of Dance - 8/9
Shelly Clark & Friends - 8/6
The Slicked Up 9's - 8/5
Spiritual Rez - 8/6
Splintered Sunlight - 8/5
Steve Brosky & Jimmy Meyer - 8/4
Steve Meisner - 8/7
Steve Pullara - 8/1
StoneDixie - 8/9
Super Haki Haki with Dola Kabarry - 8/7
Susie Hall - 8/3
SUYA - 8/1 & 8/8
Suzi Shelton - 8/8
Suzie Brown - 8/9
SWiM - 8/1 & 8/5
Sybarite Chamber Players - 8/7
Syncopatin Six - 8/7
Talking Heads Tribute: Start Making Sense - 8/4
Tania Alexandra - 8/9
The Tartan Terrors - 8/2 & 8/3
Tempest - 8/6
Thaddeus Rex - 8/1
Three Legged Fox - 7/31
Tim Miller - 7/31
Todd Wolfe - 8/6
Toga Party - 8/6
Tommy Zito - 8/3
Trombone Shorty & Orleans Avenue - 8/1
Trombosis - 8/2
The Trophy Husbands - 7/31
The Two Man Gentleman Band - 8/2
Two of a Kind - 8/6
Uncle Rock - 8/9
Up the Chain - 8/9
The Uptown Band - 7/31
Urban Fetch - 8/9
UUU - 8/8
Wahoo Skiffle Crazies - 8/8
Walt Groller Orchestra - 8/2
Webb Wilder - 8/1
West Philadelphia Orchestra - 8/7
Witches in Bikinis - 8/8
Women's Blues Alliance Showcase - 8/5
Women in docs - 8/8 & 8/9
Yancarlos Sanchez - 8/3
Yosi & the Superdads - 8/9
The Young Werewolves - 8/2
The Youngers - 8/6
Zen for Primates - 7/31
Zydeco-A-Go-Go - 8/3