dredg performing 'El Cielo' and 'Catch Without Arms'
by Andrew Sacher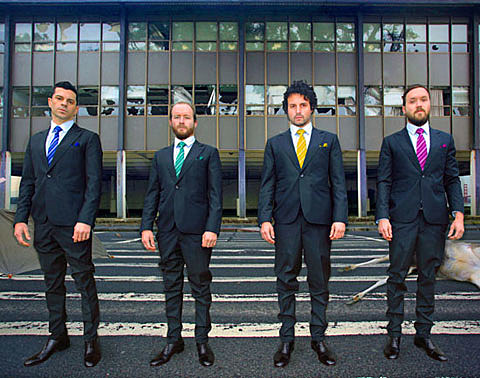 It's been a while since I've thought about progressive alt rockers dredg (though they've still been at it, having most recently released the album, Chuckles and Mr. Squeezy, last year), but when their name popped up multiple times as a sonic reference point for Baroness' excellent new album, Yellow & Green, I had a bit of an "oh yeah!" moment and threw them on a few times. In reproaching the band, I began with my best memories of them, which were 2002's El Cielo and 2005's Catch Without Arms. So it comes as a rather pleasant surprise that those are the two albums they'll be performing when they come to NYC for two shows at Bowery Ballroom in November. Whether these shows are part of a larger tour is still TBA.
dredg will perform El Cielo at Bowery Ballroom on November 9 and Catch Without Arms at the same venue on November 10. Tickets for both of those shows go on sale Friday (9/14) at noon. As I said, they haven't revealed a full tour yet, but a list of all currently known dates, plus some videos from both of those albums are below...

---
dredg - "Bug Eyes"

dredg - "Same Ol' Road"

dredg - "Of the Room"

dredg -- 2012 Tour Dates
11/8 Theatre of Living Arts Philadelphia, PA
11/9 Bowery Ballroom New York, NY (performing 'El Cielo')
11/10 Bowery Ballroom New York, NY (performing 'Catch Without Arms')
12/20 Great American Music Hall San Francisco, CA
12/21 The Catalyst Santa Cruz, CA