D.R.I. – 2009 Tour Dates (NYC cancelled??) & FFF Fest pics
We already posted these tour dates in more than one Week in Metal post, but after seeing D.R.I. over the weekend at Fun Fun Fun Fest in Austin I wanted to make sure they got full attention.
The thrash band formed all the way back in 1982, and though I never actually saw them live back in the day (or even in 2004), they were just as brutal at FFF Fest as I imagine they were in their youth. The very large crowd responded appropriately, circle pits and all.
It has been a while since Texas' own Dirty Rotten Imbeciles have appeared live. Guitarist Spike Cassidy was diagnosed with cancer in 2006, but thankfully he has since recovered and the band is back in action. This show was the first since their reactivation, and anticipation was high amongst the scrappy ensemble of punkers, hipsters, and handful of errant metalheads. Once the band hit the stage the crowd erupted into a gigantic tangle of bodies crushed towards the front barricade by the force of a large mosh pit. It seems like people haven't forgotten what crossover thrash is all about, but DRI was here to remind everyone just in case. They commenced appropriately with "Who Am I?", and then followed with a scorching selection of favorites primarily from the essential Dealing With It, along with choice cuts from Crossover, Four of a Kind and Thrashzone. [Examiner]
Don't hesitate checking them out if you already considered it. One slight problem for New Yorkers though. I was about to write that "Tickets are still on sale for a January 17th NYC show at Gramercy Theatre", except that show has disappeared from Live Nation's site (though I'm told it's still "on hold" whatever that means). Tickets are actually still on sale for the show at Starland Ballroom in Jersey one day earlier though (With The Zombie Mafia, Ash Monday, the Stun Gunz and Ganto Barn). All dates and more pictures from FFFFest below...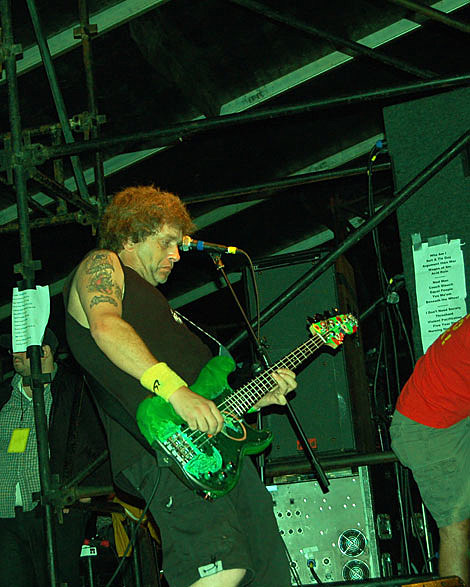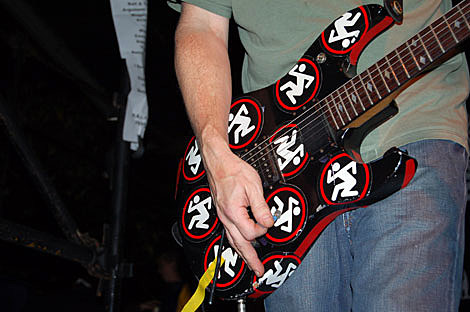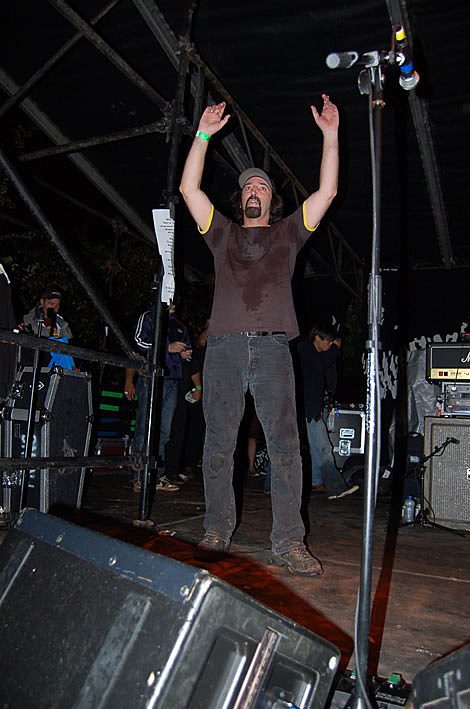 mud

DRI - 2009/2010 TOUR DATES
Nov 27 WA - SEATTLE - El Corazon
Nov 28 OR - PORTLAND - Satyricon
Dec 04 OH - CLEVELAND - Peabody's Down Under
Dec 05 MI - DETROIT - Blondies
Dec 11 VA - VIRGINIA BEACH - Peppermint Beach Club
Dec 12 VA - SPRINGFIELD - Jaxx
Dec 13 MD - BALTIMORE - Sonar
Dec 19 CA - ANNAHEIM - Chain Reaction
Dec 20 CA - HOLLYWOOD - Key Club
Jan 08 CO - DENVER - Bluebird Theater
Jan 09 CA - SAN FRANCISCO - Slim's
Jan 15 PA - PHILADELPHIA - Trocadero
Jan 16 NJ - SAYREVILLE - Starland Ballroom
Jan 17 NY - MANHATTAN - Blender at Grammercy Theatre ????
Jan 22 OK - TULSA - Marquee
Jan 23 OK - OKLAHOMA CITY - The Conservatory