Drive-By Truckers played Stubb's, Patterson Hood cut his hand, Will Johnson filling in on guitar (pics & more dates)
Drive-By Truckers @ Stubb's

Y'ALL:
Last Wednesday, I fell down and cut my hand.
Fifteen stitches in my left palm.
Wish I had a cool story, but I don't.
The movie version would have me getting cut by a bottle of rot-gut whiskey in a bar fight.
No doubt defending the honor of someone or another.
My heroics bookended by a scene of me carrying my hand for reattachment by a disgraced former surgeon in the back of a grimy tattoo shop because lack of insurance would preclude being seen by a real doctor.
I would be brave and not cry or complain.

Hurling would be out of the question.

Ahh, the movie version.

Unfortunately, the truth is kind of tame, lame even.
I was picking my daughter up at first grade, carrying a bottle of water.
I tripped and fell (in front of her entire class).
I fell, shattering the glass which I then duly landed upon, pushing shards up into my hand.
My fucking left hand.
Fifteen stitches in my palm.
No biggie. No cut tendons or damaged muscle. Missed that artery (bled like a stuck pig though).
Hurts like hell, but it won't long and I will be as good as new in a month or less.
Unfortunately, I can't play guitar for a few weeks and we have a tour beginning this week.

In the words of Three Dog Night, "The show must go on".
My friend Kevin told me, as I was bleeding all over the playground, awaiting my ride to the Emergency Room, "You guys have too many guitar players anyway."
Nonetheless, to insure everyone's Premium Rock and Roll Experience, we have recruited our friend Will Johnson, from Centro-matic to fill in on guitar, covering the SG through a Fender Vibro-King parts.
I will be in full front man mode, on other words, it's dancing shoes time.
I always wanted to be Phil Mogg, and for the next couple of weeks...

We only have Will Johnson through New Orleans, then we will have to improvise, but that's one of the things we do best, so STAY TUNED.

So come out to this, hopefully once in a lifetime DBT Show.
We guarantee you a great time and a Premiere Go-Go Extravaganza that you'll be telling your Grandkids about (maybe sooner than later).

Oh and Bob, the 9th is my son's birthday and it's GO TIME.

Long Live Rock and Roll and Country Soul.
Captain Hook
(Patterson Hood)
(or is it Dr. Hook?)
An injured Drive By Truckers played a headlining show at Stubb's in Austin on 9/1 with Will Johnson on guitar and with Will Johnson's band Centro-Matic opening. The New Orleans date has now also passed, but the show goes on and DBT continue their tour on 9/7 in Tuscaloosa AL (a benefit for tornado relief).
The current trek never comes east, but in October DBT play a string of shows with Those Darlins not long after Those Darlins play The Bell House in Brooklyn with The Beets and Brothers. Tickets are still on sale for that show. Centro-Matic play MusicFestNW this coming weekend in Portland.
All dates and more pictures from the Austin show, below...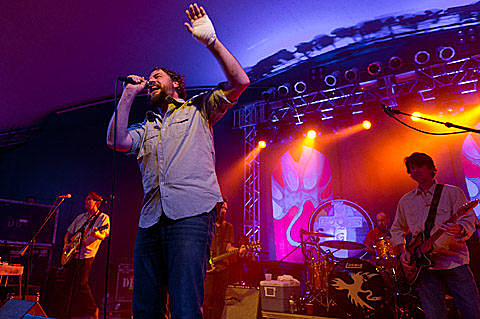 Centro-Matic -- 2011 Tour Dates
SEP 9 - MusicFest NW, Bunker Bar Portland, OR
SEP 11 - Tractor Tavern, Seattle WA
Drive By Truckers -- 2011 Tour Dates
Wed Sep 07 Tuscaloosa AL BAMA THEATER w/ The Alabama Shakes
A portion of each ticket sold will be donated to a charity for Tornado relief
Thu Sep 08 Savannah GA TRUSTEES THEATER w/ The Alabama Shakes
Fri Sep 09 Raleigh NC HOPSCOTCH
Sat Sep 10 Chattanooga TN TRACK 29 w/ The Alabama Shakes
Fri Sep 23 Huntsville AL Big Spring Jam
Thu Oct 20 Cincinnati OH 20th CENTURY THEATRE TBA
Fri Oct 21 Detroit MI ST ANDREWS HALL Those Darlins
Sat Oct 22 Milwaukee WI TURNER THEATER Those Darlins
Sun Oct 23 Madison WI MAJESTIC THEATER Those Darlins
Tue Oct 25 Minneapolis MN FIRST AVENUE Those Darlins
Wed Oct 26 Omaha, NE SLOWDOWN Those Darlins
Thu Oct 27 Columbia, MO MISSOURI THEATER FOR THE ARTS Those Darlins
Fri Oct 28 St Louis, MO PAGEANT Those Darlins
Sat Oct 29 Memphis TN NEW DAISY THEATER Those Darlins
Sat Nov 12 Orlando FL ORLANDO CALLING TBA
Those Darlins -- 2011 Tour Dates
Fri Sep 9 '11 (9pm) Louisville, KY , Headliners Music Hall Ladybirds, DR Country, DJ Woody
Thu Sep 15 '11 (10PM) Carbondale, IL , Hangar 9 Wagons, The Dirt Daubers
Fri Sep 16 '11 (9PM) St. Louis, MO , Off Broadway Nightclub Wagons, Bunnygrunt
Sat Sep 17 '11 (10:15PM) Memphis, TN , Hi-Tone Cafe Wagons
Wed Sep 21 '11 (10pm) Athens, OH , The Union Lydia Loveless
Thu Sep 22 '11 (8 PM) Cincinnati, OH , Midpoint Music Festival
Fri Sep 23 '11 (8:30 PM) Lexington, KY , BoomSlang Fest Scott Carney of Wax Fang, Onward Pilgrim
Sat Sep 24 '11 (TBD) Nashville, TN , Neuhoff Building
Sun Oct 2 '11 (11 AM) San Francisco, CA , Hardly Strictly Bluegrass in Golden Gate Park
Wed Oct 5 '11 (9:30pm) Chicago, IL , The Empty Bottle Peelander-Z, Young Buffalo
Thu Oct 6 '11 (7pm) Chicago, IL , Schubas Tavern Peelander-Z, Young Buffalo
Fri Oct 7 '11 (8pm) Minneapolis, MN , University of Minnesota: Weisman Art Museum
Sat Oct 8 '11 (9PM) Ames, IA , The Maintenance Shop Peelander-Z, So Much Fun
Sun Oct 9 '11 (7:30pm) Champaign, IL , High Dive Peelander-Z, The Dirty Feathers
Tue Oct 11 '11 (Per Advance) Columbus, OH , The Basement Peelander-Z
Wed Oct 12 '11 (8PM) Cleveland Heights, OH , Grog Shop Peelander-Z
Thu Oct 13 '11 (9PM) Ithaca, NY , Castaways Peelander-Z
Fri Oct 14 '11 (9PM) Brooklyn, NY , The Bell House The Beets
Sat Oct 15 '11 (9pm) Cambridge, MA , Middle East Club Downstairs Movers and Shakers, Atlantic Thrills
Sun Oct 16 '11 (8:30pm) New Haven, CT , Cafe Nine Great Caesar, Elison Jackson
Tue Oct 18 '11 (10:45pm) Baltimore, MD , Golden West Cafe Matrimonials
Wed Oct 19 '11 (9pm) Charlottesville, VA , The Southern Cafe and Music Hall
Sat Oct 22 '11 (8:30pm) Milwaukee, WI , Turner Hall Drive-By Truckers
Sun Oct 23 '11 (8pm) Madison, WI , Majestic Theatre Drive-By Truckers
Tue Oct 25 '11 (9pm) Minneapolis, MN , First Avenue Drive-By Truckers
Wed Oct 26 '11 (9pm) Omaha, NE , Slowdown: Main Room Drive-By Truckers
Thu Oct 27 '11 (7pm) Columbia, MO , Missouri Theatre Center for the Arts Drive-By Truckers
Fri Nov 18 '11 Birmingham, AL , Bottletree
Sat Nov 19 '11 (10:30PM) Atlanta, GA , The Earl King Louie's Missing Monuments, Vera Lynn
Wed Feb 1 '12 Augusta, GA , Sky City