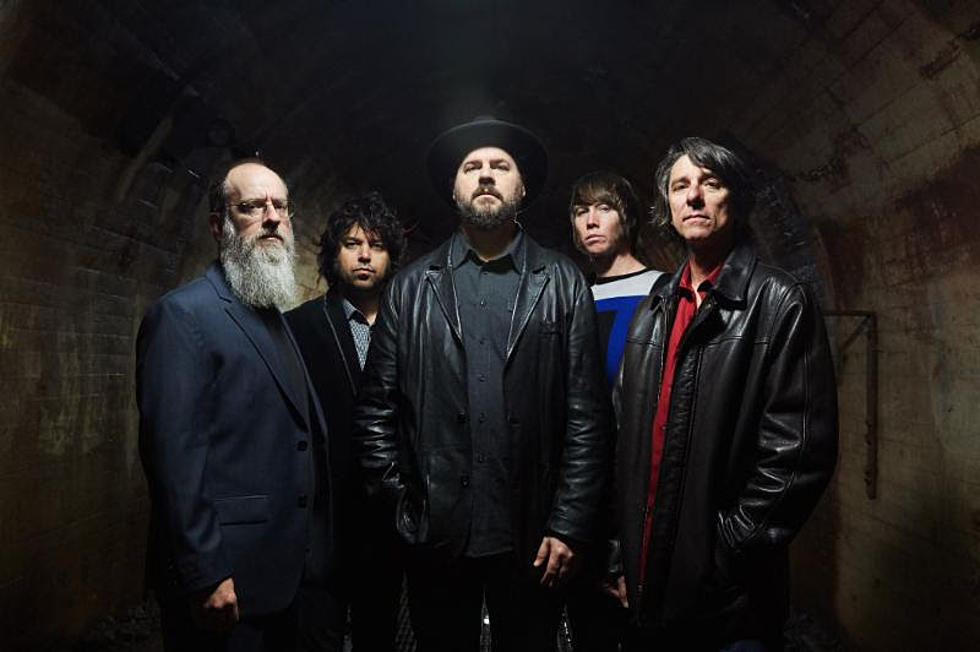 Drive-by Truckers share new single, touring (so are its members)
Drive-by Truckers are set to release a new single, "The Perilous Night," which is a politically charged number that picks right up from where their 2016 album American Band left off. "I began writing it on the day the Electoral College met in December 2016 and completed it in the wake of the horrific events in Charlottesville, VA last summer," says singer-songwriter Patterson Hood. "We recorded it in Athens, GA during a break in our fall tour and mixed it on the day Tom Petty passed away. It may be the darkest song I've ever written, but it's also a dance song. Turn it up!" It's out digitally and as a 7" on December 15 and all proceeds go to the Southern Poverty Law Center.
The band have just announced 2018 tour dates which do not include any East Coast shows. Individual members of Drive-by Truckers will be playing solo shows this year as well. Patterson Hood's solo tour includes a stop at NYC's Rockwood Music Hall Stage 2 on December 1 (tickets).
Meanwhile, Jay Gonzalez's band Jay & The Guilty Pleasures are on tour now with Eyelids and have two NYC-area shows: Jersey City's WFMU Monty Hall on Wednesday (11/15) with Low Doses (tickets) at WFMU Monty Hall in Jersey City and Friday (11/17) at The Cape House in Brooklyn with Early Riser and Other Houses (tickets).
Mike Cooley also has solo dates coming up but none in the Northeast. Those dates, along with Patterson Hood, Jay & The Guilty Pleasures and Drive-by Truckers are listed below.
DRIVE-BY TRUCKERS - 2018 TOUR DATES
1/26 - Kansas City, MO - The Truman#
1/27 - Minneapolis, MN - First Avenue#
1/28 - Sioux Falls, SD - Orpheum Theatre#
1/31 - Missoula, MT - The Wilma#
2/1 - Portland, OR - Roseland Theater#
2/2 - Vancouver, BC - Imperial#
2/3 - Seattle, WA - Moore Theatre#
2/5 - Boise, ID - Knitting Factory#
2/7 - San Francisco, CA - Great American Music Hall#
2/8 - San Francisco, CA - Great American Music Hall#
2/9 - Los Angeles, CA - El Rey#
2/10 - Phoenix, AZ - The Van Buren#
2/15 - Athens, GA - 40 Watt with T. Hardy Morris
2/16 - Athens, GA - 40 Watt with David Barbe and Inward Dream Ebb / Camp Amped
2/17 - Athens, GA - 40 Watt#
# - with Lilly Hiatt
MIKE COOLEY - 2017 SOLO Tour Dates
11/29 - Athens, GA - The Foundry
11/30 - Atlanta, GA - City Winery Atlanta
12/1 - Birmingham, AL - Saturn
12/2 - Pensacola, FL - Pensacola State University
12/6 - San Francisco, CA - Swedish American Hall
12/7 - Mill Valley, CA - Sweetwater Music Hall
12/8 - Los Angeles, CA - Moroccan Lounge
12/9 - Los Angeles, CA - Moroccan Lounge
12/21 - Florence, AL - 116 Mobile
PATTERSON HOOD - 2017 SOLO TOUR DATES
11/30 - Sellersville, PA - Sellersville Theater
12/1 - New York, NY - Rockwood Music Hall Stage 2
12/2 - Washington DC - Pearl Street Warehouse
12/3 - Washington DC - Pearl Street Warehouse
12/4 - Richmond, VA - The Broadberry
12/8 - Vancouver, BC - The Fox Cabaret
12/9 - Seattle, WA - Sunset Tavern - EARLY SHOW
12/9 - Seattle, WA - Sunset Tavern - LATE SHOW
12/10 - Portland, OR - Doug Fir Lounge
12/13 - Atlanta, GA - Eddie's Attic
12/14 - Huntsville, AL - Tangled String Studios - EARLY SHOW
12/14 - Huntsville, AL - Tangled String Studios - LATE SHOW
12/15 - Birmingham, AL - WorkPlay Theater
JAY GONZALEZ - 2017 SOLO TOUR DATES (Jay & The Guilty Pleasures w/ Eyelids)
11/15 - Jersey City, NJ - WFMU Monty Hall
11/16 - Boston, MA - Once Somerville
11/17 - Brooklyn, NY - Cape House
11/18 - Philadelphia, PA - Kung Fu Necktie
11/19 - Washington, DC - Black Cat