Drone Activity in Progress (Pharmakon, KTL, Prurient & more) announce set times for tonight
Pharmakon at Saint Vitus earlier this year(more by Fred Pessaro)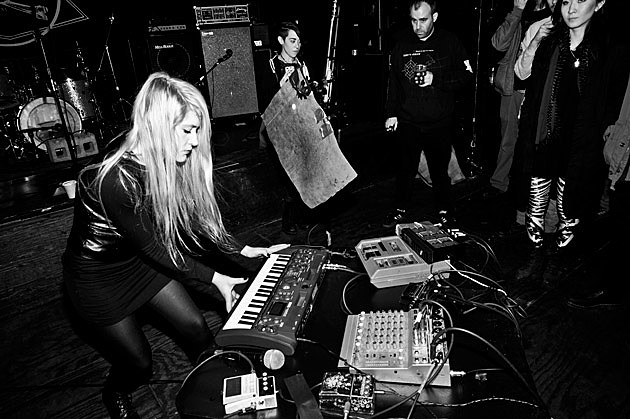 Set times for the Red Bull Music Academy's noise/drone extravaganza tonight (May 2) at the Knockdown Center in Queens have been announced. Drone Activity in Progress, which will feature sets from KTL, Vatican Shadow, Body/Head (Kim Gordon of Sonic Youth, who also performed last night), Prurient, Grassmas, Mick Barr, Pharmakon, Alberich and many others, will bring the noise to this show (which appears sold out). UPDATE: Tickets BACK on sale. You can snag a shuttle bus from the Jefferson L if you don't feel like making the walk, though it promises to be a lovely evening.
Flyer and set times are below.

---
DRONE ACTIVITY IN PROGRESS
GRAND HALL
Stephen O'Malley 9 - 9:30PM
Kid Millions/Jim Sauter 10 - 10:35PM
Oen Ambarchi 11 - 11:45PM
Body/Head 12 - 12:45AM
KTL 1:15 - 2AM
RED ROOM
Prurient 9:30 - 10PM
Alberich 10:30 - 11PM
Pharmakon 11:30 - 12AM
Pete Swanson 12:30 - 1AM
Vatican Shadow 2 - 3AM
WEST WING
Hiram Martinez 8 - 8:40PM
Hunter Hunt-Hendrix 9 - 9:30PM
Alan Licht 9:45 - 10:30PM
Noveller 10:50 - 11:25PM
Mick Barr 11:45 - 12:25AM
Grassmas 12:45 - 1:45AM
"Screenings of Andy Warhol's Empire, Sleep, Kiss and Screen Test; video projections from Gast Bouschet, Nadine Hilbert, Richard Kern and Peter Hutton; and live video art performance from E.S.P. TV.
Plus pizza from Roberta's all night long, and the shuttle buses from the Jefferson L."