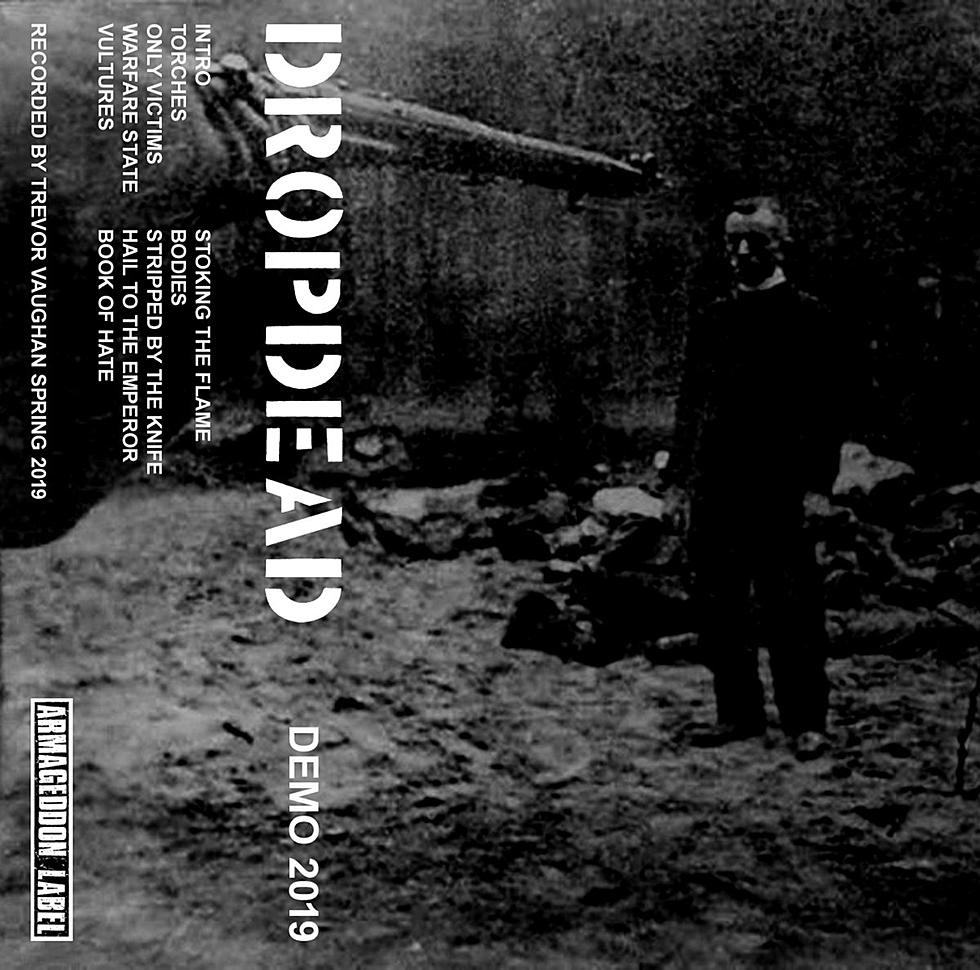 Dropdead release new album demos to raise money for stolen van
Dropdead's van was stolen in Montreal earlier this year, and the band have now released a collection of 2019 demos to raise money for a new van. The band says that "these tracks were not intended to be released, these are from a working demo of 28 tracks we recorded this spring," and that they were meant as "a listening tool" for their forthcoming album. That album is expected to be recorded with Converge's Kurt Ballou this August. Stay tuned for more on that, and read the band's full statement and stream the demo compilation below...
These tracks were not intended to be released, these are from a working demo of 28 tracks we recorded this spring. A listening tool for us to fine tune songs for a forthcoming LP to soon be recorded. These may not be the future titles, or finished lyrics, but for now this is where we're at.

We are releasing these ten songs to raise some funds towards replacing our van that was stolen in June. A lot of people asked how they could help out, and this is one of two things people can do that will help us out greatly. You can also go to Deathwishinc.com and buy some merch from the Dropdead merch store. https://deathwishinc.com/collections/dropdead

We appreciate any and all support!

Thanks!
DROPDEAD / JUNE 17, 2019

Here's the story:

Dropdead Van Stolen in Montreal

Saturday June 1st we drove from our home in Providence RI up to Montreal. We were very stoked to play day two of Earslaughter Fest IV at Katacombes for a great crew of people and an amazing audience. We cannot say enough about how awesome all the event and venue staff and helpers were at this fest. We had a great time, the event was absolutely top notch, good energy flying in all directions.

At the very end of the night when all was done and it was time to roll, we went to go get the van to load out. We got to the parking spot about a block away, the van was gone. No broken glass, no nothing. Just an empty spot where the van was. Just straight up gone. It was a real punch to the gut, the van just disappeared into the night.

We walked back to Katacombes to see if the Earslaughter folks would be able to help out with calls to the city, tow companies and eventually, the police, to fill out the stolen vehicle report. David went above and beyond, staying with us until 5am dealing with what needed doing. Absolutely above and beyond the call of duty, but what a really good and solid person does. I cannot say enough, how absolutely appreciated that was, and a true example of an absolutely a top notch human.

While we did lose some of our personal belongings, fortunately we had not left a van full of gear to be stolen. We rented a car Sunday morning and drove back to Providence to sort all this out. We put in an insurance claim Saturday night, unfortunately got the news today that we are out of luck on coverage. No theft coverage on the vehicle. As we had not been doing much the last two years show wise, with Bob being in recovery mode from surgery and a motorcycle accident for most of that time, we had dialed back the coverage a hair to save a little on the insurance. A new policy was due to start June 6th with coverage bumped back up. Sometimes life just gives you a big ass banana peel. On the positive side, no one was hurt, our gear is safe, and we had help from good people when the shit hit the fan. We will live to fight another day, and this shit won't keep us down for too long if we can help it.

There are a lot of awesome memories from travels in "The White Whale".
Besides Dropdead, our friends in Avskum, Amebix, Morne, The Vicious, Gorilla Angreb, Masshysteri, Doom, Tragedy, Forward, Warhead, Systematic Death, Forca Macabra, Kuolema, Fucking Invincible, Loma Prieta, The Mob, Jello Biafra & The Guantanamo School Of Medicine, Gouka, Churchburn, Skitkids, Battle Royale, and many more I can't remember at the moment all went on tours in that van. So much time in that van spent driving bands around on DIY budgets, and helping friends' bands in a pinch when possible. That van was a home on wheels for a long time for a lot of people. We also helped friends and family when people needed to move weird big shit, or just to move in general. "The White Whale" was a part of the family.

We talked a bit and we're not exactly sure what we should do. We're not really sure how we will get the money together for another van. We just got the bad news from the insurance company today, so we're still trying to figure out what options we have. Everyone in the band lives paycheck to paycheck, like most people do, so it's not like we have multiple thousands of dollars sitting around to put into a new or even decent used van. We don't want to do a GoFundMe as it's not a medical or severe personal emergency. Thinking about a Kickstarter or something so at least people can get something in return if they wanted to help us out. Even that still feels weird to us. We aren't really people who feel comfortable to ask publicly for help, we're used to being the people who try to help out if we can when others need it.

That's where we're at currently. No van, and trying to figure out the next step to get back up and running again. We don't want to flake on the shows we have coming up later this summer and in the fall.

Before signing off, one last sending of much love to everyone at Katacombes and the Earslaughter organizers/staff. Some of Montreal's nicest, hard working and hospitable people. Extra thanks as well To Matt Strong for making sure our shirts and merch arrived safely and helping out. Appreciated bud! Thanks!

Ben, Bob, Brian and George / Dropdead
Dropdead have some upcoming shows, including two in NYC: October 12 at Bowery Ballroom with Municipal Waste, Napalm Death, Sick Of It All, and Take Offense (tickets); and The Kingsland on October 18 with Despise You, Killer of Sheep, and Sick Shit (tickets).