Duchess Says and The Blind Shake played Public Assembly (pics, review); The Blind Shake will be back in October
Duchess Says / The Blind Shake at Public Assembly, 8/23/2012

A lot of bands have a frontperson who attracts the lion share of the attention, but there are few groups where "you can't take your eyes off her" is as much a warning as it is a statement. The second or third time Duchess Says singer Annie-Claude went into the audience, she was armed with a Sharpie and I thought, "oh boy here we go." But apart from drawing a couple Xs on our photographer Chris La Putt's arm, she kept the cap on the pen but it served as an audience/band detente. Stay off your phones or else.
I have seen the squelchy Montreal electro-punks Duchess Says play to packed houses with a swarming pit and to half-full rooms full of confused/terrorized audience-members. (Public Assembly leaned toward the latter last night [8/23].) Annie-Claude never lets things get boring either way, whether it's pulling you by the shirt, putting the mic in your face or holding eye contact for an uncomfortable amount of time. Last night, it included a breather. For their most popular song, "Black Flag," she had the whole crowd sit on the floor as she prowled around the room. But it's more mischevious than menacing. And a lot of fun too as long as you're paying attention.
Duchess Says' tourmates for this rare Stateside run are Minneapolis trio The Blind Shake who were really terrific last night. Dressed in matching outfits that had them looking like extras from a post-apocalyptic dystopian b-movie, brothers Mike and Jim Blaha kicked out out ferocious krautpunk with a dose of early '80s Dead Kennedys twang with pile-driving drummer Jim Roper crushing his kit. These guys pack a serious whallop (Also: somebody put them on a tour with METZ, stat!). You can stream their 2011 album Seriousness below.
NYC will have a couple more chances to see The Blind Shake in October: they play Cake Shop on 10/10 and Death By Audio on 10/11. Meanwhile, their tour with Duchess Says rolls on, playing Columbus, OH tonight.
All tour dates are at the bottom of this post, along The Blind Shake album stream and more pictures from last night's Public Assembly show (including openers The Wiccans who were not the Austin punk band of the same name).

---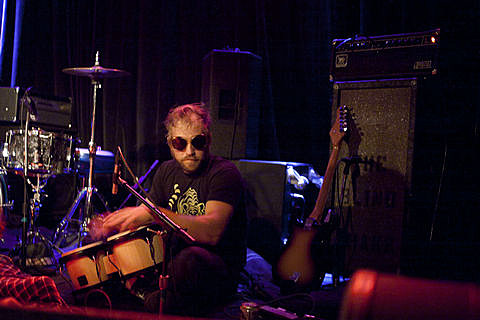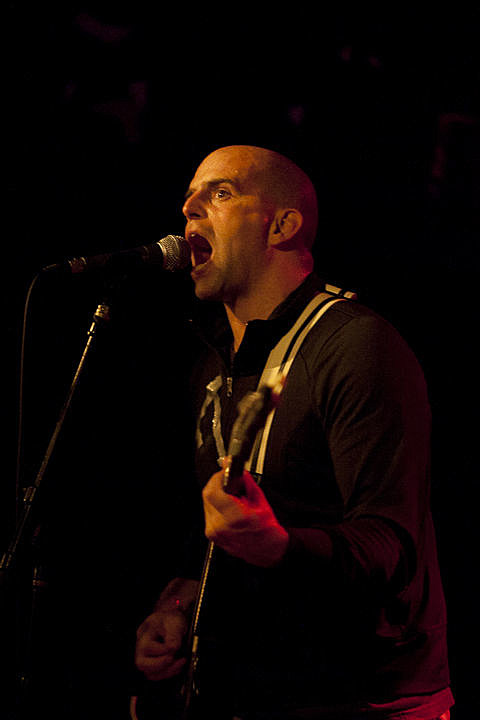 The Blind Shake - 2012 Tour Dates
08/24/2012 Double Happiness Columbus OH#
08/26/2012 Palmer Square Chicago IL#
08/27/2012 Lager House Detroit MI#
08/28/2012 Lee's Palace Toronto ON#
08/29/2012 Dekcuf Ottawa ON
09/22/2012 Ritz Theater Minneapolis MN
09/28/2012 The End Nashville TN
09/30/2012 Siberia New Orleans LA
10/02/2012 Sluggo's Pensacola FL
10/03/2012 Will's Pub Orlando FL
10/04/2012 The Hub Tampa FL
10/05/2012 Club Down Under Tallahassee FL
10/06/2012 E.A.R.L. Atlanta GA
10/07/2012 King's Raleigh NC
10/08/2012 Strange Matter Richmond VA
10/10/2012 Cake Shop New York NY
10/11/2012 Death By Audio Brooklyn NY
10/12/2012 Two Boots Bridgeport CT
10/13/2012 Machines with Magnets Providence RI
10/16/2012 Plan B Moncton NS
10/18/2012 Halifax Pop Explosion Halifax NS
10/19/2012 L'Agitee Quebec City QC
10/20/2012 TBA Ottawa ON
10/21/2012 Parts and Labour Toronto ON
10/22/2012 Lager House Detroit MI
10/23/2012 Cactus Club Milwaukee WI
10/31/2012 Empty Bottle Chicago IL *
11/01/2012 Cicero's St. Louis MO
11/03/2012 TBA Fun Fun Fun After Party Austin TX
# w/ Duchess Says
* = w/ Football, Outerminds, Paul Cary