Dum Dum Girls, Hospitality & TEEN played Prospect Park (pics, DDG setlist ++ updated tour dates for all three bands)
Dum Dum Girls / Hospitality / TEEN @ Prospect Park 6/21/2014

Dum Dum Girls headlined a lovely night of free music on the first day of summer (6/21), part of Celebrate Brooklyn! at Prospect Park Bandshell. Dressing a little more conservatively than she has lately, Dee Dee and the rest the band stuck mainly to DDG's most recent album, Too True, but played a few older songs as well, plus their cover of The Smiths' "There is a Light That Never Goes Out" (from the He Gets Me High EP). The band will be spending the rest of 2014 at select festivals, including Pitchfork and Outside Lands. Tour dates are listed, along with Celebrate Brooklyn! setlist and pics from the show are in this post.
It was a nice bill all around. Hospitality are touring off their terrific second album, Trouble, which expanded their sound quite a bit. The added keyboards have extended to the songs off their debut as well, with older numbers getting radically new arrangements. The band will be on a short East Coast tour in July, so catch them if you can. Dates are listed below.
Speaking of expanded sound, TEEN have transformed from an arty, at times Krauty/proggy outfit, to a much more R&B bent on their new album, The Way and Color. If you missed them in Prospect Park, they're on tour most of the summer, including a September run opening for Islands, including Brooklyn's Baby's All Right on September 17 (tickets). They'll also DJ the annual White Party at New Museum on Wednesday (6/25) with Heavenly Beat. That is open to New Museum members only. All tour dates are listed below.
More pics from the Prospect Park show, plus tour dates, below...

---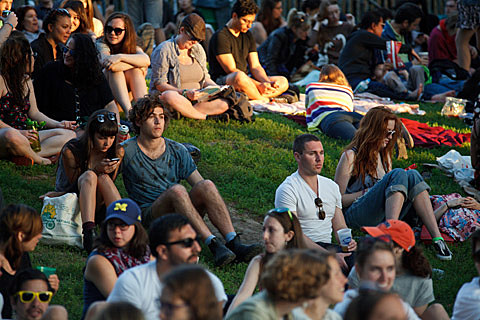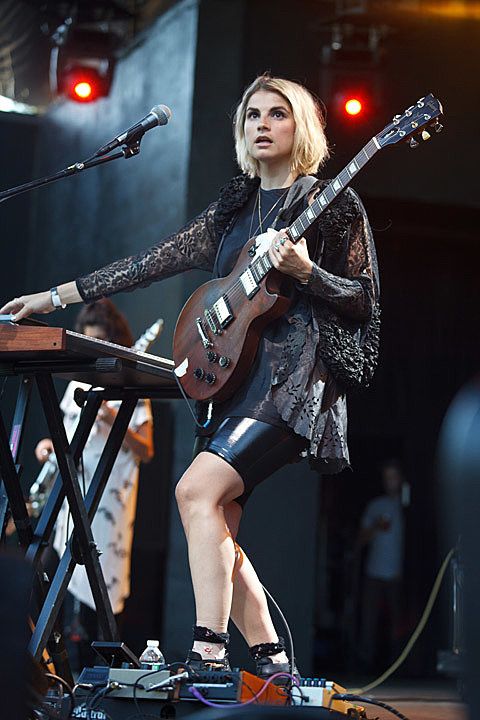 SETLIST: Dum Dum Girls @ Prospect Park 6/21/2014
Cult of Love
I Got Nothing
In the Wake of You
I Will Be
He Gets Me High
Too True to Be Good
Are You Okay?
Rest of Our Lives
Bedroom Eyes
It Only Takes One Night
Under These Hands
Rimbaud Eyes
Lord Knows
There Is a Light That Never Goes Out
(The Smiths cover)
ENCORE
Lost Boys & Girls Club
Coming Down
Dum Dum Girls - 2014 Tour Dates
Jul 19 Official Pitchfork After Party Chicago, IL
Jul 20 Pitchfork Music Festival Chicago, IL
Jul 27 Capitol Hill Block Party Seattle, WA
Aug 02 Burger a-Go-Go! Festival Santa Ana, CA
Aug 09 Outside Lands Music and Arts Festival San Francisco, CA
Sep 19 Riot Fest & Sideshow Byers, CO
Sep 20 Riot Fest & Sideshow Byers, CO
Sep 21 Riot Fest & Sideshow Byers, CO
Nov 09 Fun Fun Fun FestAustin, TX
Hospitality - 2014 Tour Dates
Jul 23 Johnny Brenda's Philadelphia, PA
Jul 24 Rock & Roll Hotel Washington, DC
Jul 25 Merge 25 Festival Carrboro, NC
Jul 27 The Southern Charlottesville, VA
Jul 29 The Space Hamden, CT
Jul 30 The Sinclair Cambridge, MA
Jul 31 Monkey House Burlington, VT
Aug 01 Osheaga Festival Montreal, Canada
Aug 02 Horseshoe Tavern Toronto, Canada
Aug 03 Loving Touch Ferndale, MI
Aug 05 Empty Bottle Chicago, IL
Aug 06 Grog Shop Cleveland, OH
Aug 07 Club Cafe Pittsburgh, PA
TEEN - 2014 Tour Dates
Jun 25 New York, NY @ New Museum (DJ Set/No performance)
Jun 27 Toronto, ON @ Drake
Jun 28 Woodstock, NY @ Colony Club
Jun 29 Montreal, QC @ Il Motore
Jul 01 Boston, MA @ Great Scott
Jul 02 New Haven, CT @ Bar
Jul 17 Nijmegen, NL @ Valkhof Festival
Jul 18 Brighton, UK @ The Hope
Jul 19 Southwold, UK @ L'Attitude Festival
Jul 20 Leeds, UK @ Belgrave Music Hall
Jul 21 Glasgow, UK @ Kings Tuts
Jul 22 London, UK @ The Lexington
Jul 24 Amsterdam, NL @ Paradiso
Jul 25 Hamburg, DE @ Aalhaus
Jul 26 Gent, BE @ Boomtown Festival
Jul 28 Paris, FR @ Nouveau Casino
Jul 29 Luzern, CH @ Radio 3Fach Voliere
Jul 30 Basel, CH @ Hingerhof Club
Jul 31 Rorschach, CH @ Music Uf Dr Gass
Aug 01 Frankfurt, DE @ Das Bett
Aug 02 Koln, DE @ King Georg
Aug 30 St. Louis, MO @ Firebird#
Aug 31 Columbia, MO @ Mojos#
Sep 02 Kansas City, MO @ The Riot Room#
Sep 03 Norman, OK @ Opolis#
Sep 04 Dallas, TX @ Club Dada#
Sep 05 Austin, TX @ The Parish#
Sep 06 Houston, TX @ Walters#
Sep 07 Baton Rouge, LA @ Spanish Moon#
Sep 09 Tallahassee, FL @ Club Downunder#
Sep 10 Gainesville, FL @ High Dive#
Sep 11 Orlando, FL @ The Social#
Sep 12 Atlanta, GA @ The Earl#
Sep 13 West Columbia, SC @ New Brookland Tavern#
Sep 15 Chapel Hill, NC @ Local 506#
Sep 16 Charlottesville, VA @ The Southern#
Sep 18 Pittsburgh, PA @ Altar#
Sep 19 Cleveland Heights, OH @ Grog Shop#
Sep 20 Louisville, KY @ Zanzabar#
#w/ Islands