Dum Dum Girls went sheer in San Fran (no pasties), play big, free NY show Saturday (after pastie-filled Mermaid Parade)
photos by Misha Vladimirskiy
Dum Dum Girls in San Francisco last night - 6/19/2014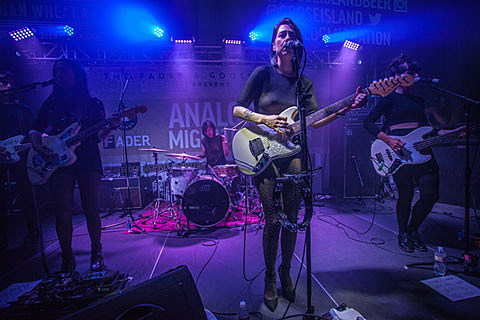 It may feel pasty outside now, and it's going to be be even more "pastie" this Saturday in Brooklyn thanks to the annual Coney Island, pastie-filled Mermaid Parade! Look out for the de Blasios at the beach-side, burlesque extravaganza.
That said, Celebrate Brooklyn is a family friendly environment, so we bet that the Dum Dums will go with a more conservative version of their outfits (we love them no matter what they wear). That was not the case at a Goose Island sponsored FADER party last night at Folsom Street Foundry in San Francisco though. There, Dee Dee did just the opposite and wore a top that is definitely Not Safe For Instagram. We applaud her bravery. NSFW/NSFI pictures from the show are in this post along with their 14 song setlist (Smiths cover included). More below...

-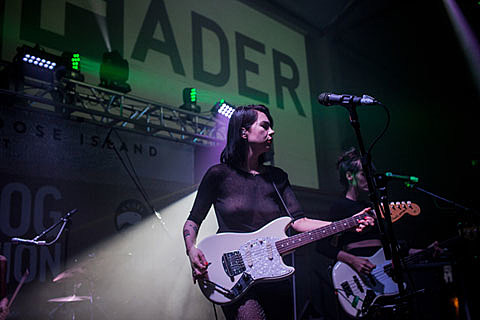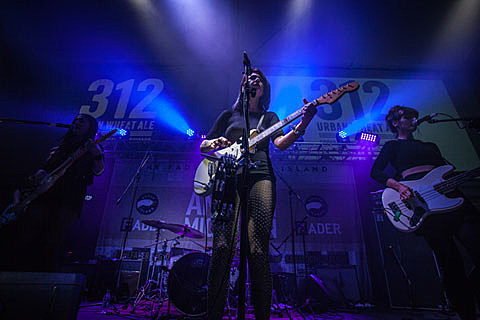 Dum Dum Girls Setlist at Folsom Street Foundry,
Cult of Love
I Got Nothing
In the Wake of You
I Will Be
He Gets Me High
Too True to Be Good
Are You Okay?
Rest of Our Lives
Bedroom Eyes
It Only Takes One Night
Under These Hands
Rimbaud Eyes
Lord Knows
There Is a Light That Never Goes Out (The Smiths cover)
---
The Dum Dum Girls show took place at the Folsom Street Foundry, an "Analog Migration"show presented by The FADER and Goose Island Beer Co a series of events featuring live performances, custom vinyl, and the new 312 Urban Pale Ale. Antwon opened.