Echo & the Bunnymen & Glasvegas @ Radio City, NYC – pics
photos by Zach Dilgard
"Ocean Rain" yielded the alt-radio staples "Silver," and "The Killing Moon," but it also was the band's most cohesive album, with a watery, deep-blue feeling on every track.
Moody and opulent, the music of Echo & the Bunnymen made its way into American dance clubs and onto college radio stations. From 1978 to 1989, McCulloch's melancholy vocals and Will Sergeant's bright, chiming guitar were ably backed by bassist Les Pattinson and drummer Pete De Freitas. The band did not enjoy the commercial success of U2 or The Cure, but Echo & the Bunnymen influenced many other bands, in scenes such as Manchester in the '90s.
De Freitas died in a motorcycle crash in 1989. The band broke up, McCulloch went solo; the band continued without him, then Mac came back.
Echo & the Bunnymen decided to perform "Ocean Rain" in concert as a way to reflect on the band's early days. The band played an acclaimed show at Royal Albert Hall in 1983, so McCulloch was happy to return. [APP]
Echo & The Bunnymen played Radio City Music Hall in NYC last night (October 1) . They performed two sets, one of which was "Ocean Rain" in its entirety, with full orchestra.
Despite visa issues, Glasvegas ended up making it to our country on time to play their opening set. They play another NYC show on Wednesday for which tickets just went back on sale.
Bill thought "bunnymen at radio city was a Wow, especially 'Ocean Rain' itself. Worth it.". Anonymous agreed that, "Echo were awesome", but said "Glasvegas weren't. Their drummer was terrible and the signer didn't seemed like he cared." Another anonymous said, "first set at Echo was spotty at best.. The Cutter, Back of Love were highlights but People are Strange and that awful new song felt out of place. The Ocean Rain set was REALLY fantastic.. and the pictures of the band at their peak was a nice touch... At sea again...."
More pictures from last night below...


Glasvegas...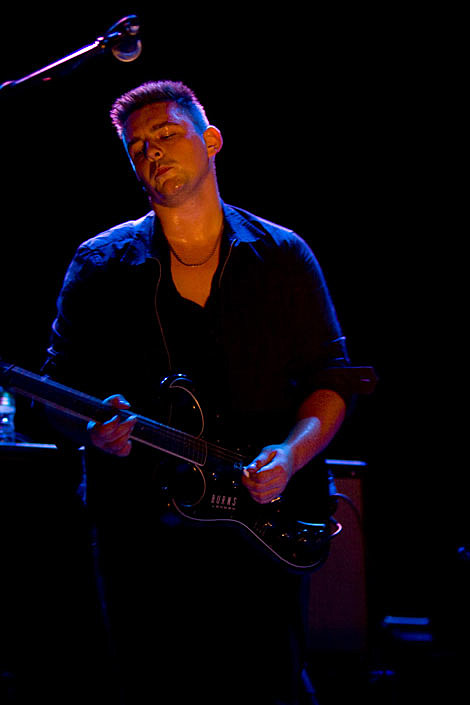 Echo & The Bunnymen...