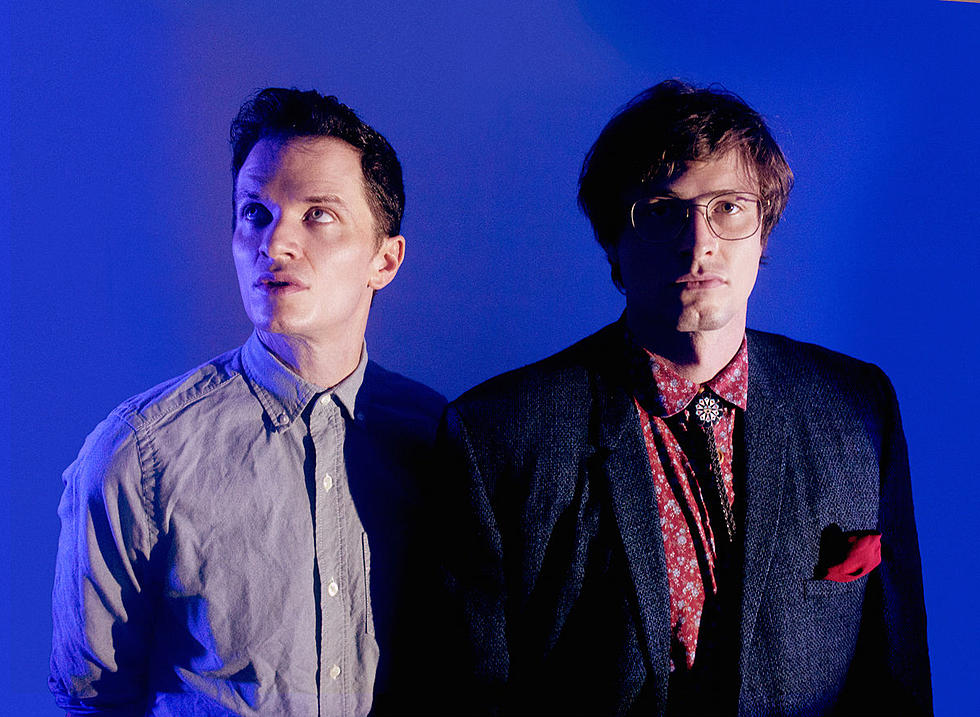 Ed Schrader's Music Beat discuss the inspirations behind new LP 'Nightclub Daydreaming'
Baltimore duo Ed Schrader's Music Beat just released Nightclub Daydreaming which finds them exploring darker sounds that at times recall the height of '80s goth. "The fun thing about this record is that it's all at once informed by our more recent lush productions with Dan Deacon," says Ed, "yet spartan and boiled-down, exuding a coldness wrapped in ecstasy, following our time honored trend of never giving people what they expect, but hopefully what they want." You can listen to the whole album below.
We asked Ed and Devlin Rice to tell us about the influences behind the album and while their list does not include The Cure or The Sisters of Mercy, it does includes Massive Attack, effects pedals, members of KISS and '80s band Haircut 100. Read their list, complete with commentary, below.
Ed Schrader's Music Beat are currently on tour and hit Brooklyn on April 23 at Union Pool with Big Bliss and NOPE (Members of P.E. + Special Guests). Tour dates are listed below.
ED SCHRADER'S MUSIC BEAT - INFLUENCES BEHIND 'NIGHTCLUB DAYDREAMING'
Five from Ed Schrader:
Mezzanine by Massive Attack
I remember living in Utica in 99' -- my friend Bill would pick me up to hang at Carmella's where we'd drink coffee and chain smoke -- and one time he popped on Massive Attack's Mezzanine while we were cruising to said spot and I was struck immediately at how it sounded nothing like anything on the radio -- it drew me I like an infectious chant. "Teardrop" felt like a transmission from another century, another world. The whole album was lush yet sparse -- vulnerable yet brooding. It felt like a watermark -- something to aim for.
New Adventures In Hi Fi by REM
There's an immediacy to this album and a raw unpolished core that makes you feel as though you're sitting with the band listening to the playback -- it's loose, it's fuzzy, it feels like a strung out road diary, it feels like the road. There's also a sense of play on the album that makes it feel open to suggestion and it's all for the better in what was a time of polished buffoonery.
In My Tribe by 10,000 Maniacs
I always loved how tastefully this band could balance nifty hooks with well tethered lines like "the stars were so many there" from "Painted Desert" that just cut with visceral emotional texture exuded from Natalie who's always felt like an old soul who could put weight behind lines in an unpretentious way that make songs feel immediately lived in like a weathered old cap. This album also has so much of a personal connection as it's what I was listening to on my little Walkman on repeat when I took a two day Greyhound from Athens GA to Utica NY in 1996.
Pelican West by Haircut One Hundred
An understated masterpiece that never fails to please no matter how many times I listen. On the surface one hears it as relatively euphoric but as you dive deeper you find its strength comes from the dash of darkness and nervous energy that counters the bright horns to strike a balance that holds up many moons later -- a must have.
Five by Devlin Rice
PAUL STANLEY - "People, Let Me Get This Off My Chest"
Hands down one of the greatest comedy records of all time, albeit unintentional perhaps. KISS' sound people took board recordings of only the stage banter from one tour and, as we are a band that banters a bit, this is a masterclass. I would listen to this to just remind me of being on stage, how a show is about the whole crowd, and how the performer can be be equal parts inspiring and ridiculous. I LUV GLUG!
BOSS CS-5 Chorus pedal
Figuring out what the sound was going to be for this record involved trying to figure out how to try to write happier sounding songs. That obviously took a turn in a different direction but the bridge for me was the chorus effect that I would hear in some of my favorite recordings.
I was always confused about nearly everything related to chorus, like why and what application could it serve, but anyone that has listened to any bachata gets how aggressively crisp and weird it makes guitars sound and that seemed like a fun direction. So, I wrote with the idea that the chorus doesn't come off unless it didn't fit. Cold, glassy, clear... Seemed to fit the mood and mindset. This pedal isn't really that special, my brother gave it to me, mainly about the effect.
'80s ZZ-TOP
Obviously blues-rock champs but listening closer to Eliminator it is full of synth and drum machines hidden in rock and roll clothes. Sorta what my target was to blend those sounds on certain songs. This gave me the idea of relentless, dumb, repetition which all of us felt in the period that we wrote Nightclub Daydreaming. You would hear this in the simple drum patterns over the record along with the guitar work on "Pony in the Night" and others.
Sheet Noise Radio
Seemingly infinite coolness and taste on their monthly "radio" mix. Lo-fi new wave from far and wide is, I guess, the primary sound, but I watch every month for the new mix with an eagerness that is saved for little else. Discovered a lot of amazing music and daring looqs following them.
ED SCHRADER'S MUSIC BEAT - 2022 TOUR DATES
4/8 - San Diego, CA @ Whistle Stop's Bar
4/9/22 - Phoenix, AZ @ Valley Bar
4/10/22 - El Paso, TX @ Lowbrow Palace
4/13/22 - OKC @ Opolis
4/14/22 - St. Louis @ The Sinkhole
4/15 - Madison, WI @ Der Rathskeller (University of Wisconsin)
4/16/22 - Chicago, IL @ Empty Bottle
4/18/22 - Cleveland, OH @ Beachland Tavern
4/20/22 - Columbus, OH @ Spacebar
4/21/22 - Pittsburgh, PA @ Club Cafe
4/22/22 - Philadelphia, PA @ Dave Kiss Presents / Kung Fu Necktie
4/23/22 - Brooklyn, NY @ AdHoc / Union Pool
4/30/22 - Baltimore, MD @ Ottobar (RECORD RELEASE PARTY)