Edwyn Collins, Bajzel, Megaphonic Thrift, King Creosote, Still Corners, Withered Hand & more in This Week in Indie (part 2)
by Bill Pearis
DOWNLOAD: Still Corners - Endless Summer (MP3)
DOWNLOAD: Still Corners - Don't Fall in Love (MP3)
DOWNLOAD: Still Corners - Eyes (MP3)
DOWNLOAD: Withered Hand - Still Dawn (MP3)
DOWNLOAD: Withered Hand - Religious Songs (MP3)
DOWNLOAD: King Creosote - Bootprints (MP3)
DOWNLOAD: King Creosote - My Favourite Girl (MP3)
DOWNLOAD: Edwyn Collins - Losing Sleep (MP3)
DOWNLOAD: Bloodgroup - My Arms (MP3)
DOWNLOAD: The Megaphonic Thrift - Candy Sin (MP3)
DOWNLOAD: The Lines - El Matador (MP3)
Bajzel

I get it, I get it. Many of you do not want to hear about SXSW. It's like other people's dreams, if you're not in it (or at it) you don't care. But New York is lucky in that we reap the rewards of so many bands flying into the U.S. And this week is filthy with foreign bands on their way to Austin for SXSW. As I write this through a flu-induced haze, my eyes glaze over at the sheer number of quality entertainments happening now through Tuesday (3/15). So let's get into it.
I'm sure Poland has a lot of bands, but you don't hear about many of them in America. They don't tend to play here. Tonight (3/11) at Knitting Factory you can check out one of them. Bajzel is a one man band whom Polish Newsweek (I know) said "is our Beck. Only better." I don't know about that, but his music -- all made on loop pedals apparently -- is pretty cool.
For this tour he's cherry-picked some of his more English-friendly songs from his many Polish releases as a name-your-price download from Bandcamp. You can stream it at the bottom of this post. It ranges from rock to Eastern European folk to hip-hop influence dancepop. If you can't go Friday, Bajzel will also play Brooklyn Bowl on Tuesday (3/15) with someone called That 1 Guy.
Also playing the Knitting Factory show are Vancouver's Mother Mother who headline and make melodramatic (bordering on histrionic) pop, and Elijah Bonfire, the new band from Kevin Calaba who used to front Stars of Track & Field. Bajzel will be back after SXSW, playing The Gutter on March 25 (it's like his bowling alley tour) with Plushies and Desert Stars.
Still Corners

Saturday (3/12) is the American debut of UK band Still Corners, who are now, like Memoryhouse and Niki and The Dove (both other recent announcements), officially part of the Sub Pop family. You can download both of their singles to date at the top of this post. The songs typify the band's dreamy, haunting sound. I'm super excited to see these folks. If you're going to Austin and have a SXSW badge, they're also playing the Dot Com Day Stage on Thursday (3/17) with Frankie & the Heartstrings and Erland & the Carnival, a line-up I curated. After Austin, the band are going on tour with labelmates Papercuts and all dates are below.
Withered Hand

We now move to Scotland. Withered Hand is the music project of visual artist Dan Willson, who counts Jarvis Cocker and Frightened Rabbit as fans and is touring in support of his debut LP, Good News, which will be receiving a belated North American release on March 15 via Absolutely Kosher. Says The List of Good News:
Willson is a curious pop disciple: a deadpan bard eternally vexed by the doctrines of God, the inconsequence of life, and the transparent nature of modern swimwear. Good News, his gorgeous debut album, delivers a compendium of warped-rock sermons that variously reference Seventh-day Adventism ('Cornflake'); lyrical post-rationalisation ('For the Maudlin'); and knocking one out on your paramour's couch ('Religious Songs', his signature anthem).

Despite his dedication to a DIY cause that's seen Withered Hand galvanise Edinburgh's live terrain and perform with Jeffrey Lewis and Calvin Johnson, Willson's quavering vocals and acoustic eulogies elicit heavy-hitters Bright Eyes (on woebegone porch-swing opener 'Providence') - and even Neil Young at times.
Check out two tracks at the top of this post (I especially like "Religious Songs."). Withered Hand plays Littlefield on Saturday (3/12) with The Morgues; he'll then play two shows on Monday (3/14), at Rockwood Music Hall (early) and Cake Shop (later).
UPDATE: Due to visa issues, Withered Hand's Brooklyn show is cancelled, and the other shows might not happen either.
King Creosote

The Rockwood show is of special note as Withered Hand will be performing with (like at the same time) Scottish indie folk royalty Kenny Anderson, aka King Creosote. Anderson (whose brother Gordon was a founding member of The Beta Band and now fronts The Aliens) has been cranking out album after album of melancholic, wry songwriting since the late '90s. (Seriously, check out his discography.) Many of these have been self-released, but he's had records on Warner Brothers and Domino too. Monday will be Anderson's first-ever U.S. performance.
Speaking of first-evers, Thrawn, came out on Domino last month, his first U.S. release, and it's a good introduction to what he's about, though it doesn't include "Not One Bit Ashamed" one of Anderson's most moving songs. It's still a good first listen. You can download two tracks from it above. Anderson also runs Fence Records, part label, part collective that has James Yorkston, FOUND and Withered Hand on their roster. Kenny's got a new album, Diamond Mine, due out in May on Domino. The LP is a collaboration with Jon Hopkins that revisits and reworks gems from Anderson's 40-plus releases. You can catch King Creosote at SXSW and in California too, and those dates are at the bottom of this ever-growing post.
Edwyn Collins

The last of our Scotland artists is by no means the least. Edwyn Collins is playing his first American shows in eight years this weekend: Sunday night (3/13) at The Rock Shop (sold out) and Monday night (3/14) at Bowery Ballroom. His great new album Losing Sleep comes out in the U.S. on March 22 and you can download the title track at the top of this post. As I wrote before:
Edwyn Collins' new album, Losing Sleep, is one of the year's best. His first made since two brain haemorrhages nearly took his life in 2005 and left him at first without the ability to walk or talk, let alone write songs. That it exists at all is a miracle, that it's as great as it is a testament to his spirit. Helping him out on the album are a cavalcade of talent -- Johnny Marr, Roddy Frame, The Drums, The Cribs, Franz Ferdinand, The Magic Numbers -- but always in the service of getting Collins' songs on record.
Edwyn actually left a comment on that post (not about hummus), as to whether his band still features former Sex Pistols drummer Paul Cook was still in the band: "Yep, Paul and I are still playing together and we'll be with you soon." I wonder if there will be some special guests at one of these shows? I'm not counting on it, and you don't need any extra reason to go.
Opening both of Edwyn's shows are The Kinbeats, a London quartet made up of three brothers and their cousin who have been protegés of Collins' since his recovery from his two strokes in 2005. Their debut, produced by Collins, is due out sometime this year. The big Bs (Beach Boys, Beatles)  are a clear influence on the band and kind of remind me of early-'00s band Cosmic Rough Riders. They won't be heading to Austin, so do get there early and check them out.
While we're in Scotland, don't forget Trashcan Sinatras are at Joe's Pub on Sunday (3/13).
The Megaphonic Thrift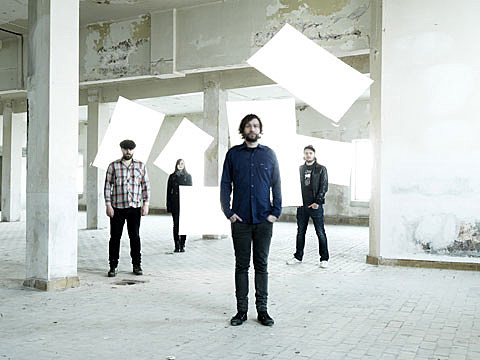 Up next: Nordic bands. Norway's loud and awesome Megaphonic Thrift, who  played in NYC last March on their way to SXSW as their new album, Decay Destroy, had just come out in their home country of Norway. It's taken a year for the album to get an American release -- out next month on Sonic Union -- but it's probably good timing as their sound fits in well with the '90s indie rock resurgence we're experiencing right now.
Check out the "Candy Sin" -- part Sonic Youth, part Swervedriver -- at the top of this post. I've seen them a couple times. If you dig loud, shoegazy rock The Megaphonic Thrift do it very well. They play Saturday Night (3/13) at Mercury Lounge with Endless Boogie and Arboretum. And then they play Monday night (3/14) at The Rock Shop as part of our second-annual BrooklynVegan SXSW Kickoff Party that also features Iceland's Bloodgroup and UK rock combo The Lines. Tickets are only $8, do come out if you can.
Moving South to Denmark we have WhoMadeWho who are playing both Santos Party House ands Mercury Lounge before they head to Texas.
The big news is, I guess, James Blake's first U.S. show on Monday at Music Hall of Williamsburg which is way sold out so if you couldn't get in there, there's no shortage of other stuff going on, as this finally-ending column just showed you. I'd love to see you come out to The Rock Shop, but it's hard to choose no doubt. Go see something, though.
Ok that's it. I'll be in Austin next week so no column but there's lots of post SXSW action in NYC coming up so stay tuned for that. Below are a few more good show options, day-by-day.
FRIDAY, MARCH 11
Villa Venus (ex-Metric Mile/My Teenage Stride) play at Cameo. If you like Low and Galaxie 500, you should download their free EP on Bandcamp. Also playing: Yellow Ostrich and Ex-Cops.
Toronto's Small Sins play the Rock Shop which I wrote about earlier this week.
Robyn Hitchcock and Joe Boyd are at Le Poisson Rouge tonight (3/11), which I wrote about earlier today.
continued below...

--
SATURDAY, MARCH 12
TWII faves Translations, plus proggy Steel Phantoms, and Huntronik are at CoCo66.
More good, new local bands: The Everymen, Gross Relations, McDonalds, and Thomas Francis Takes His Chances at Cake Shop.
SUNDAY, MARCH 13
Bombay Bicycle Club play a sold-out show at Knitting Factory tonight, and they play two sold-out shows at Mercury Lounge on Monday (3/14).
MONDAY, MARCH 14
Just come to the Rock Shop, okay?
TUESDAY, MARCH 15
Swedish duo Johnossi, who I didn't know were still together, play Mercury Lounge with Cristina Black, and Hungry Kids of Hungary (who are actually from Australia).
I can do no more.... except tour dates and videos, which are below....
--
Bajazel For Anglophones

Bajazel - 2011 Tour Dates
Mar 11 Knitting Factory Brooklyn, NY
Mar 15 Brooklyn Bowl Brooklyn, NY
Mar 19 Parish Underground, Austin, TX
Mar 25 The Gutter, Brooklyn, NY
Still Corners - "Endless Summer" live in Berlin

Still Corners - 2011 Tour Dates
Fri 25th Feb @ Debaser Slussen Stockholm, Sweden
Sat 26th Feb @ Jazzhuset Gothenburg, Sweden
Sat 12th March @ Glasslands Brooklyn, NYC
Tues 15th March w/ Obits and Jaill @ The City Tavern Dallas, TX
Wed 16th - 20th March @ SXSW Austin, Texas
Mon 21st March w/ Papercuts @ Off Broadway St Louis, MO
Tues 22nd March w/ Papercuts @ The Bishop Bloomington, IN
Wed 23rd March w/ Papercuts @ Schubas Chicago, II
Thurs 24th March w/ Papercuts @ Wexner Center Columbus, OH
Fri 25th March w/ Papercuts @ Brillobox Pittsburgh, PA
Sat 26th March w/ Papercuts @ Mercury Lounge NYC
Sun 27th March w/ Papercuts @ Brighton Music Hall Boston, MA
--
Withered Hand - Religious Songs

Withered Hand - 2011 Tour Dates
12 March LITTLEFIELD w/The Morgues, Brooklyn, NYC
14 March CAKESHOP NYC w/Simon Says No, Kid Canaveral, Rachel Sermani
14 March ROCKWOOD MUSIC HALL NYC w/King Creosote
16 March SXSW, IODA SXSW OPENING DAY BASH @ EMO'S ANNEX 12pm
16 March SXSW - Official SXSW Showcase @ Maggie Mae's 8pm
17 March SXSW - End of an Ear Records, 1pm, Instore, Austin Texas
17 March SXSW, Waterloo Cycles, 3pm, Austin, Texas
18 March SXSW, Mojitos*
19 March SXSW, Hotdogs*
20 March HEMLOCK TAVERN, San Francisco
22 March HOTEL CAFE w/King Creosote, Los Angeles
--
King Creosote - You've No Clue Do You

King Creosote - 2011 North American Tour Dates
3/14 NYC - Rockwood show
3/17 Austin - Domino Showcase
3/18 Austin - Scottish Arts showcase
3/22 LA - Hotel Café show
--
Edwyn Collins - 2011 North American Tour Dates
03/13 BROOKLYN, NY The Rock Shop
03/14 NEW YORK, NY Bowery Ballroom
03/16 AUSTIN, TX SXSW (French Legation Museum, 6pm)
03/17 AUSTIN, TX SXSW (Nuvelo, midnight)
03/18 AUSTIN, TX SXSW (East Side Drive-In, 4:15pm)
03/19 AUSTIN, TX SXSW (Dot Com Day Stage, 2pm)