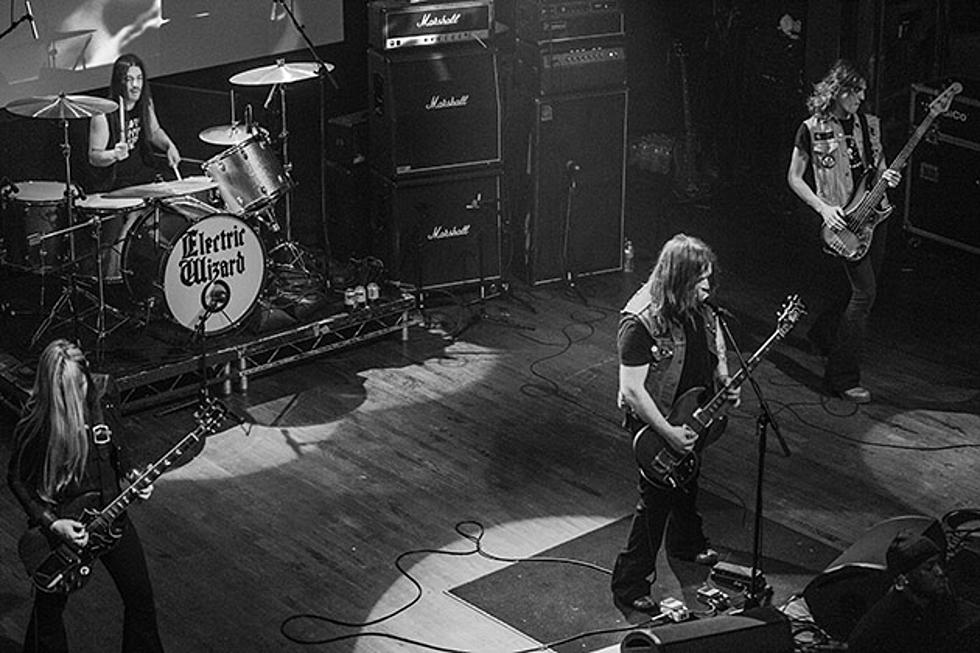 Electric Wizard's Jus Oborn discusses his top 10 LPs of 2017
Electric Wizard at Webster Hall in 2015 (more by PSquared)
Stoner doom legends Electric Wizard returned this year with Wizard Bloody Wizard. They're such a consistently great band, and the new album is no different. It sounds exactly how you'd expect it to, but still manages to be just as killer as its predecessors.
Now that the year is coming to a close, we asked frontman (and only original member) Jus Oborn what music he dug this year, and he sent us a list of his 10 favorite albums with commentary. His list includes Monarch, Kadavar, Ball (swe), Come To Grief, and more. Most of his picks are pretty obscure, and the descriptions do a great job of selling them (especially if you're into psychedelic rock). Check out his list, along with a stream of each album, below.
Electric Wizard were supposed to return to the US in November for Austin-area festival Sound on Sound, before that fest was cancelled. On the bright side, they'll be back to play Austin's Levitation festival in April 2018. No other US dates announced at the moment.
1. Mephistofeles - ( ( ( I ' M H E R O I N ) ) )
Dirty and sleazy heavy psychedelic doom. Great filthy guitar sound and creepy lyrics..this has been on repeat a lot. From Argentina , which seems to have a great scene of raw rock n roll music right now.
2. Monarch - Never Forever
This was a real grower but it has been worth it. Nihilistic and dark with tons of feedback but best of all the vocals are really amazing…scary and unhinged. No tears , just screams from the grave.
3. Wayfaring Strangers: Acid Nightmares compilation
Awesome acid rock compilation that really hits the spot if you like it hard and heavy. All obscure and hard to find 7's that would cost a fortune to find. And don't forget the brilliant mind bending artwork…including a disemboweled Chocolate George (?!).
4. The Judge - Tell it to the Judge
Absolutely solid heavy rock n roll from start to finish. The hard rocking detroit style guitars and confident vocals really set this one apart.
Punky, funky and dirty heavy metal from Sweden. Great sound and demented vocals but yeah kinda funky too in a good way..haha. Worth it for 'satanas' alone…this is what black metal would sound like if it was from Detroit '68.
6. Devil's Witches - Velvet Magic
Weird underground heavy metal psych lounge LP…kinda undefinable. It's definitely heavy but veers into bubble gummy pop and 70's lounge music at the drop of a hat. Inspired by drugs, retro porn and the Vietnam war… an alternative soundtrack to Apocalypse Now?
7. Come To Grief - The Worst Of Times
Classic sound, this is a reincarnation of sorts of the pioneering sludge doomers Grief. Every bit as good and still at the top of their game. Welcome back.
8. Buried Feather - Mind Of The Swarm
Heavy, space rocking psych. It totally captures the sound of my youth…late 80's/early 90's acid rock…Loop, Spacemen 3, My Bloody Valentine etc…with a bit more heaviness in the guitars. Perfect.
Great band, we have played with them many times over the years and they are always getting better. Awesome live and this is a solid new LP.
10. R.I.P. - Street Reaper
Neanderthal fuzz metal? I dunno how to describe this and I wasn't sure about it at first but it's dripping with attitude and sounds 'offensive' which all rock n roll should. They definitely have their own sound and, yeah, somehow it get's under your skin and you are compelled to listen to it again.