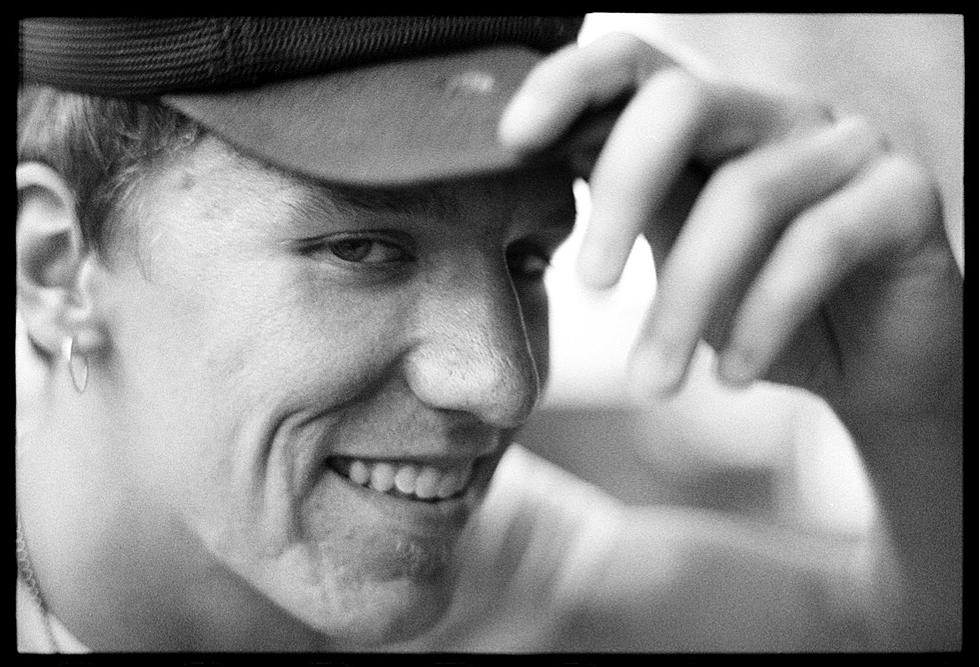 Elliott Smith s/t reissue & live LP coming, unreleased song & Califone cover out now
Elliott Smith, on vacation in BC, 1994, photo by JJ Gonson
The late, great Elliott Smith's 1995 self-titled sophomore album is getting an expanded 25th anniversary reissue, Elliott Smith: Expanded 25th Anniversary Edition, on August 28 via Kill Rock Stars (pre-order). Via press release:
The package includes a revelatory new remastering of the original Elliott Smith record and a bonus disc of the earliest known recording of Smith performing as a solo act, from September 17, 1994 at Portland's café and "art salon" Umbra Penumbra. The albums come encased within a 52-page coffee table book with handwritten lyrics, reminiscences from Smith's friends and colleagues about his life at the time he was writing and recording this album, and two dozen previously unseen photographs from the era by JJ Gonson, who shot the image on the album's cover (the original photo that became the cover is also seen here for the first time).

[...] For this release, producer/engineer Larry Crane, the official archivist for the Smith family, dug through files, reels, cassettes, and DAT tapes to find the closest sources to the original Elliott Smith first-generation mix downs and spent days to carefully transfer and clean up the audio from the Umbra Penumbra high-quality cassette provided by Casey Crynes. "There are fan-traded MP3s out there of this show, but when people hear what I was able to extract from this original tape, they'll be shocked," says Crane.

The Umbra Penumbra show gives a sense of the contrast between Smith's live and studio approaches. "He was goofier on stage, making jokes and messing with his own words," says Gonson. "He worked the words very carefully—he was very admiring of Joni Mitchell and how she wrote. So it was fun, you'd hear a song and then it would change." What emerged from this challenging creative evolution was a set of songs with the intimacy and intensity of an acoustic-based singer-songwriter and the gut-punch power of a rocker.
The first song released from the live bonus disc is "Big Decision," a song from the Elliott Smith sessions that went unreleased until the 2007 compilation New Moon, and it's a treat to hear it in this raw, primitive form. Listen below.
In conjunction with this reissue, a handful artists are releasing covers of songs from Elliott Smith, including Bonny Light Horseman, Califone, Marisa Anderson, MAITA, Prateek Kuhad, and more TBA. The Califone cover of album opener "Needle in the Hay" is out now as an Amazon Music exclusive, and it's a lovely take on the song that captures the charm of the original while adding in a few new twists too. Califone's Tim Rutili says:
We recorded this song right before the quarantine started. It was lovely to work with my friends and be all together in the studio making this thing. I know we appreciated it while it was happening. As soon as it was finished we headed back to LA to hide away. It feels like a million years ago. This song reeks of druggy, weird old Portland in the 90's. A stop on tour and a place I went to visit friends. I remember the smell and feel of the place very well. It feels like yesterday.

There's a spare tension and desperation baked into this song that is unavoidable. We just played it and tried not to reference the original recording outside of the melodies, words and chord progression. We tried to bring our own texture and feel to it. Singing other people's songs can sometimes feel like acting. This is a song I never could have written but I can feel where it comes from. It felt natural to play this character. Elliott Smith was definitely one of the best songwriters of our generation. His voice and his songs always hit me solidly in the heart from the first time I heard his music and saw him play all those years ago. Hope we did this song justice.