Elliott Smith tribute @ Glasslands pics, video, setlist (Cat Power, Marissa Nadler, Sadie Dupuis, Cole Smith, Sky Ferreira, more)
Cat Power / Cole & Sky

[Sadie] Dupuis delivered the night's heaviest alt-rock blast, leading a Nirvana-like performance of "Abused" by dialing up the track's soft-loud-soft dynamics. [Marissa] Nadler offered a mesmerizing lullaby with the gentle strums of "Pitseleh." [Yoni] Wolf played three tracks solo on piano, including "Angeles" and "Say Yes," adding his own spin lyrically and musically, something a "chord guy" like Smith would appreciate, Wolf joked.

...

Cat Power soon walked onstage and raised a glass from behind the piano -- "cheers to Elliott," she said. She played a solo version of her own tune, the haunting "Names," from 2003's You Are Free, before her band joined for a jazz/R&B-flecked "Between the Bars," which hit with extra punch due to Marshall's own history of alcohol abuse and mental illness.

She handed out knit caps, like those Smith so often wore (Marshall sported a yellow-gold beanie over her bleached blonde hair all night), and closed with From a Basement on the Hill's "Pretty (Ugly Before)." Ferreira joined Marshall onstage, and the two traded verses and invited the crowd to join -- "Fucking sing it if you know it!" shouted Marshall -- on the repeated outro: "I was so ugly before didn't know what to do." The jam-packed audience inside the DIY venue all sang in hushed tones together, in unison. [Rolling Stone]
On the tenth anniversary of Elliott Smith's death (10/21), a number of musicians gathered at Brooklyn venue Glasslands for a tribute show. The night's cast included Cat Power, Zachary Cole Smith (DIIV), Sky Ferreira, Yoni Wolf (Why?), The Low Anthem, Luke Temple, Marissa Nadler, Aaron Pfenning, Sadie Dupuis (Speedy Ortiz), Adam Schatz, The Perennials and Tereu Tereu. Pictures of the show, a partial setlist, and a video of Sky Ferreira joining Cat Power for "Pretty (Ugly Before)" are in this post.
For Cat Power, this show was ahead of her upcoming solo tour which brings her back to NYC for two shows on November 14 at Brooklyn Masonic Temple (early and late). The early show is sold out but tickets for the late show are still available.
Sadie Dupuis played this just after her band Speedy Ortiz wrapped up a number of CMJ shows, including our Friday party. Speedy Ortiz returns to NYC tonight (10/23) at The Flat for a Mishka show with J Mascis (of Dinosaur Jr). It's an afterparty for the debut of Mishka's new Dinosaur Jr line, which happens at their store (and J will be there doing an in-store signing).
More pictures, the partial setlist and video below...

---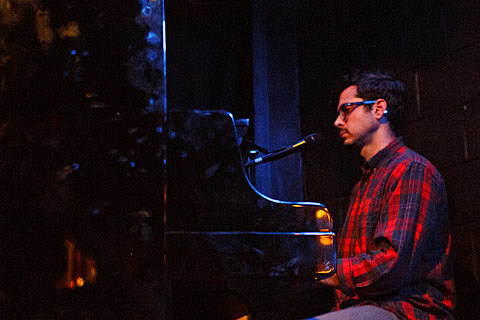 Sky Ferreira & Zachary Cole Smith
Cat Power and Sky Ferreira - "Pretty (Ugly Before)" at Elliott Smith Tribute

Elliot Smith Tribute @ Glasslands - 10/21/13 Setlist (partial)
Ryan Little (Tereu Tereu) and Tommy Siegel (Jukebox the Ghost)-
St. Ides Heaven
The Perennials
Waltz #1
Between the Bars
Adam Schatz (Landlady, ManMan)-
Waltz #2 (XO)
In The Lost & Found
Sadie Dupuis and Michael Falcone (Speedy Ortiz) with Sam Rosenberg (Two Inch Astronaut)
Cupid's Trick
Abused
The Low Anthem
Division Day
Jealous Guy
Twilight
Luke Temple
Thirteen
Needle in the Hay
Aaron Pfenning
Milky Way (Church)
I Used To (original song)
Marissa Nadler
The White Lady Loves You More
Pitseleh
Yoni Wolf
Say Yes
Angeles
The Biggest Lie
Sky Ferreira & Zachary Cole Smith
A Distorted Reality Is Now a Necessity to be Free
Little One
Last Call
Cat Power
Names
Between the Bars
Angeles
Pretty (Ugly Before) (w/Sky Ferreira)