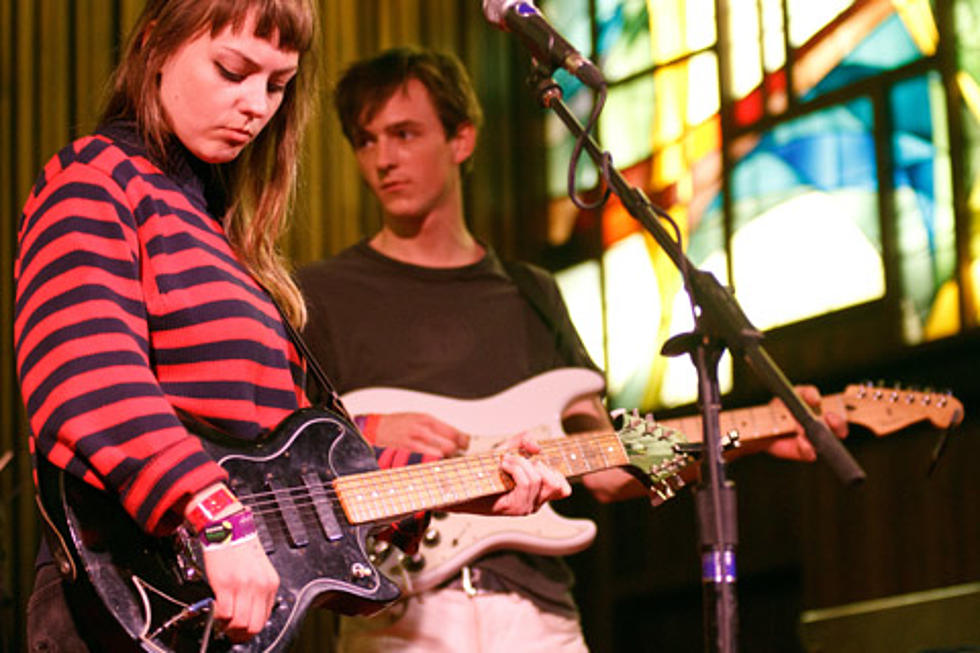 EMA, Angel Olsen, Destruction Unit, Warpaint, more @ SXSW Friday (pics)
Angel Olsen / Warpaint / EMA @ SXSW 3/14/2014

After our Friday BV-SXSW day party at Red 7, Amanda and I headed to Austin's Central Presbyterian Church for the Pitchfork showcase. Opening the show was EMA, whose material from 2011's Past Life Martyred Saints sounded great as always, but most excitingly Erika and her band used the opportunity to preview her upcoming sophomore album, The Future's Void. The new stuff sounds great, and definitely doesn't seem like PLMS pt. 2. They had a good amount of diversity too -- there were grungy parts, one song with a lengthy instrumental jam, electronics and folk. Definitely a record to look forward to.
Then it was Angel Olsen, who others at BV have caught before (like Amanda), but I never had, and was really blown away. Angel's got an intense stare that never falters, and a great band that knows how to keep quiet music on the edgy side, but can get loud when they need to as well. Her voice echoes the cult bedroom folk singers of the '60s/'70s, and even as she ably belts it through a big church, she doesn't lose that eeriness.
After Angel, we headed back to Red 7 to catch Destruction Unit. The Arizona psych punks were one of the best bands I saw at last year's SXSW, and a year later nothing has changed. They never really play the same show twice, so even if you've seen them before you don't necessarily know what you're getting yourself into. They can switch from blisteringly fast punk, like the one-two punch of "The World On Drugs" and "Slow Death Sounds" that they opened the show with, to slower, more atmospheric parts, and complete dissonant noise. It's cerebral music, but it's also something you can mosh to (as many people at this show did). And even in their droniest parts, the band are always a thrill to watch with each member totally in his own zone the whole set.
Then Amanda went to House of Vans/Mohawk for Warpaint and I stayed at Red 7 for Perfect Pussy, who we also caught on a bridge, at NPR and at the Pitchfork day party. No pics of them this time, but I'm happy to report they got a new bass.
Pictures of Warpaint are in this post. More of those, plus more shots of EMA, Angel Olsen and D Unit, below...

---
EMA @ Central Presbyterian Church
Angel Olsen @ Central Presbyterian Church