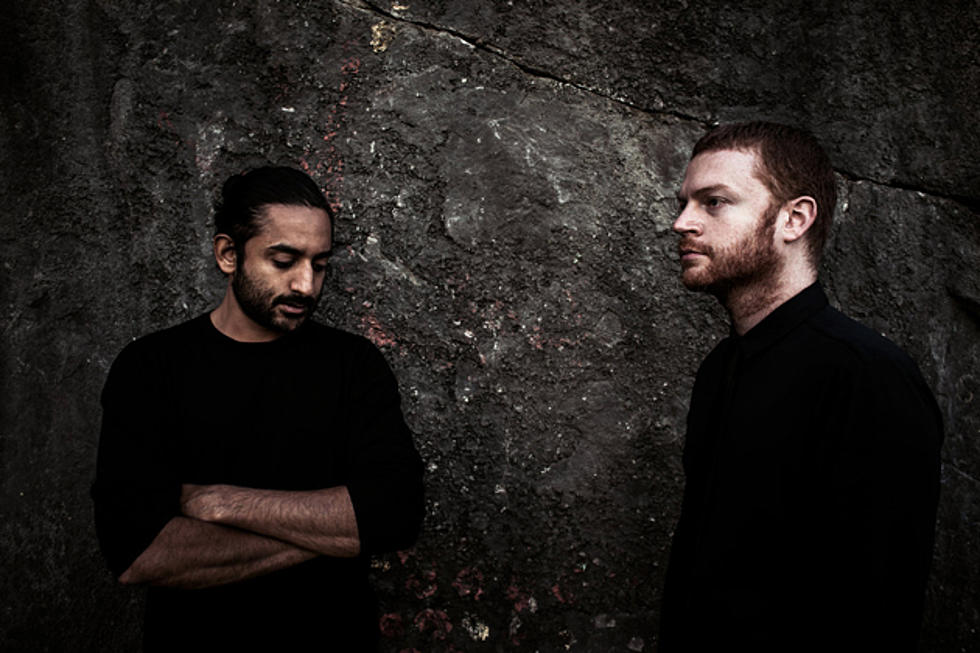 Emptyset released 'Borders' and 'Skin' (listen), playing rare NYC show this week
A relentless exercise in repetition, pattern, and brutality, Recur puts listeners through what I consider an aural obstacle course where the sounds we are presented with hammer away at our ears with slight but noticeable changes and evolutions. It should be experienced at high decibel levels with at least one subwoofer.
Their album Recur is still one of the most important aural assemblages in my library and still gets listened to at least once a week. I'm listening to it as I type this. Mere weeks after I published my list, Emptyset rang in 2017 with their Thrill Jockey debut Borders, an 11-track onslaught of throbbing, spine-shattering bass and static, that takes-off where 2013's Recur left off. Emptyset always comes across less as a 'band' than an academic exercise exploring the outer limits technology, sound, and space and the result is consistently ferocious, challenging, and utterly intriguing. They are often regarded as "minimalists," and perhaps in some pretentious "The Oxford History of Western Music" musicologist-herringbone-sport-coat-with-leather-elbow-pads sort of way they can be boiled down to that. But I can't help but secretly regard them instead as "maximalists" because of how profound the scope of their sonic experimentation is and how shattering the results can be. Get a metallic taste in your mouth and stream the whole album below.
Emptyset followed-up Borders with the October 20 release of their fantastic EP Skin, also via Thrill Jockey. In Skin, Emptyset are still masters of their craft, and the sense of experimentation and boundary-pushing tactics is as evident as ever. Yet, the result is different than previous efforts. This time around, they focus entirely on acoustical compositions and explore the structural aspects of ritual music and non-Western composition. They combine these elements with findings from recent performance work examining microtonal vocalization and acoustic qualities of materials and present us with a smaller body of work using entirely acoustic production methods. The tendency for repetition is still there as is a sense of ferocity, but aurally Skin is stripped of all electronics, low end, and static. The result is astounding. You can listen to the whole EP below.
Emptyset's live project history has generally taken place in the UK and Europe, and for some reason I half assumed I'd never get to see them on my home turf of NYC. Happily that is about to change as Emptyset will be doing a live performance on Friday, November 17 at Pioneer Works with support from Rose Kallal, Timeghost, and Certain Creatures. Billed as Emptyset Live A/V, the full scope of the event, in terms of the aural and visual proceedings, are being kept a bit mum. But expect a site-specific, immersive, challenging, and rare experience. Tickets are on sale now.