ESG finally have 'Closure', announce final NYC show
Bronx disco-punk legends ESG, who have called it quits a couple times throughout their career, most recently in 2007 only to reunite in 2008, are once again announcing their end as a group. They'll be going out with the appropriately titled Closure LP, which according to their website, became available on March 30. Listen to the track, "I Feel Tonight," from the new album at the band's website. The artwork and tracklist are below.
ESG will play their final NYC show at Le Poisson Rouge on June 7 with a new generation of NYC funk punks Ava Luna (who also recently opened for the Rapture). Tickets are on sale now. Stay tuned for more dates to be announced. The band says, "We will still be touring for awhile and will post all our shows on this site. So when we come your way, please come out and see us because it may be the last time we will be coming your way. I thank you for 33 years of fantastic fan support. We love you all!"
ESG artwork, tracklist, and a stream of ESG's influential first album below...

-
ESG at LPR in 2009 (more by Lori Bally)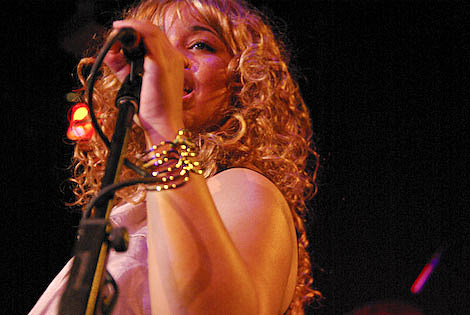 ESG - Come Away With ESG Full Album Stream

ESG - Closure

Closure Tracklist:
1. Thump
2. The Pain
3. S House Blues
4. You Did Me Wrong
5. I Feel Tonight
6. In Town
7. Closure (R-Mix)
8. Closure (Club Mix)