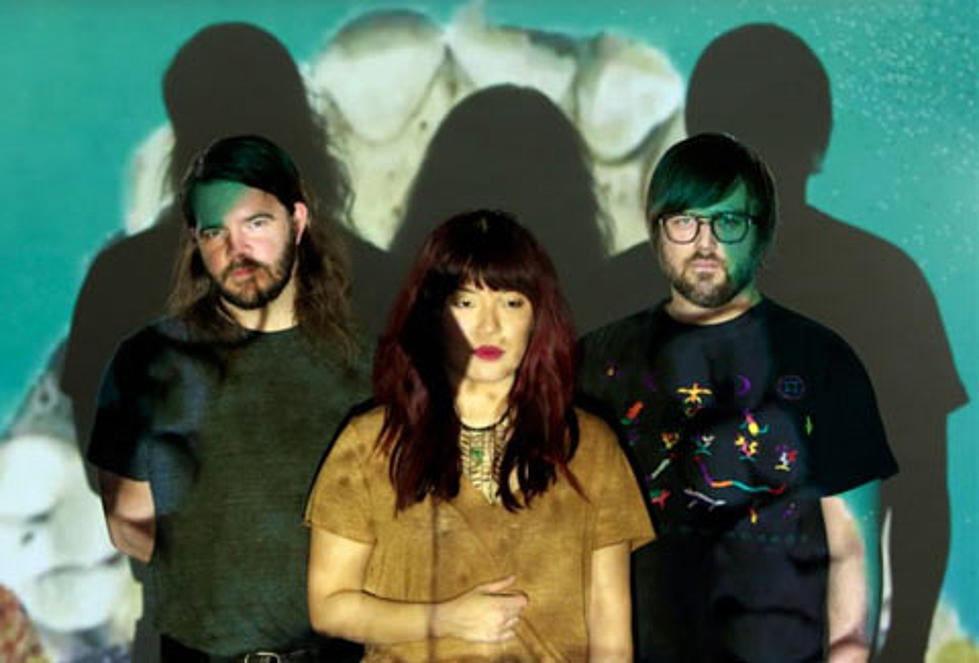 Eternal Summers made an animated video for "The Roses," will be here for CMJ (dates)
Eternal Summers have made a video for "The Roses," one of the prettiest songs on this year's Gold & Stone which I think is their best album yet. Using cloth swatches, animators Japhy Riddle, May Oskan, and Brendan Bellomo tell a charming tale of two lonely archers who meet in a fabric forrest. Eternal Summers consistently have superior music videos and this is no different. As for the song itself, singer/guitarist Nicole Yun tells us about "The Roses" perhaps surprising influences:
This was definitely the guilty pleasure song for us for quite a while, as we had to get comfortable with the fact that it was just so poppy! The working title was called "Jammy 3", the 3 being a reference to the fact that there was a very mild Third Eye Blind 90's radio tone to it that we all secretly enjoyed, and yet felt guilty about. As we worked it out, and especially as we arranged it in the studio, early Pablo Honey Radiohead influences (which I hoped would come through) were truly made a reality! It's definitely one of my favorite tracks on the album!
"The Roses" video makes its premiere in this post and you can watch below.
Like a lot of bands, Eternal Summers will be in NYC this month for CMJ and they've got five shows on their schedule currently:
WED Oct 14 @ Pianos (5:15 PM): Kanine Day party w/ Yung, Car Seat Headrest, Pinact, Oscar, Expert Alterations, Weaves, Beverly, Mercury Girls (Philly), Cheatahs, Wildhoney, Hin Du, Hockey Dad (FREE)
WED Oct 14 @ The Rock Shop (11 PM): International Rescue showcase w/ Chomp, SAVAK, Pinact, Bird Courage (tickets)
FRI Oct 16 - NY, NY @ Pianos (11 PM): The Deli showcase w/ Ohnomoon, Mild High Club, Weaves, Beverly, Diet Cig, Stolen Jars, Controller, The Fluids, Vundabar (tickets)
SAT Oct 17 - NY @ Cake Shop (day): Cake Shop day party w/ Solids, Gemma, Chomp, Expert Alterations, Garden of Elks (FREE)
SAT Oct 17 @ Knitting Factory (12 AM): Flower Booking showcase w/ The Album Leaf, Diet Cig, Stealing Sheep, S, Lyla Foy (tickets)
The band are currently on tour in the UK with Surfer Blood. All dates are listed below.

---
Eternal Summers - 2015 Tour Dates
SEP 30 - London, UK @ Tufnell Park Dome *
OCT 01 - Manchester, UK @ Deaf Institute *
OCT 02 - Leeds, UK @ Brudenell Social Club *
OCT 03 - Southampton, UK @ The Joiners *
OCT 04 - Bristol, UK @ Thekla *
OCT 05 - Brighton, UK @ The Hope & Ruin *
WED Oct 14 - NY, NY @ Pianos 5:15 ^
WED Oct 14 - Brooklyn, NY @ The Rock Shop ^
THU Oct 15 - Philadelphia, PA @ Bourbon & Branch
FRI Oct 16 - NY, NY @ Pianos 11pm ^
SAT Oct 17 - NY @ Cake Shop (day) ^
SAT Oct 17 - Brooklyn, NY @ Knitting Factory 12am ^
SUN Oct 18 Washington, DC @ Comet Ping Pong
MON Oct 19 Richmond, VA @ Strange Matter
* w/ Surfer Blood
^ CMJ