Eternal Summers, Natural Child, Beach Fossils, Regal Degal, North Highlands, Twin Sister & more in This Week in Indie
by Bill Pearis
DOWNLOAD: Eternal Summers - Able To (MP3)
DOWNLOAD: Beach Fossils - Youth (MP3)
DOWNLOAD: North Highlands - Collarbone (MP3)
DOWNLOAD: Regal Degal - I Saw the Smoke (MP3)
DOWNLOAD: Common Loon - Dinosaur Vs. Early Man (MP3)
DOWNLOAD: Natural Child - Dogbite (MP3)
Eternal Summers

Happy Tax Day! This week's column is jam-packed with cheap options for great shows if Uncle Sam left your bank accounts depleted. Let's get to it.
Duo Eternal Summers have been getting blog attention for about a year, and I'll admit I didn't listen at first due to their name, fearing they'd worsen my Beach Music Fatigue (BMF). But then I saw they were from Roanoke, Virgina and my interest was piqued. I grew up 90 minutes West of Roanoke which had the closest good record store to me (The Record Exchange, which closed in 2006).
Back then they didn't have a music scene outside of country and cover bands. (Though I did see Huey Lewis & the News at the Civic Center way back when.) Not sure how thriving it is now, but Eternal Summers have, in my book, put Roanoke on the map. (Their label, Chimney Sweep, shows that Southwest Virgina's doing well musically.) I'm glad I listened. Apart from their name, they don't really have a lot in common with the beach scene (be it Real Estate, Washed Out, Best Coast, etc). The guitars are a little more slashy, the vocals less bathed in reverb. Check out their song "Able To" at the top of this post, which is from their self-titled EP. If anything, to these ears they're more akin to the C-86 inspired pop of San Francisco's Brilliant Colors.  There's a definite Anglo slant to their sound.
Eternal Summers have three shows in three days. Friday (4/16) is at Bruar Falls where they're part of a killer bill that includes Beach Fossils, Total Slacker, Air Waves, and Beachniks. They will also play Saturday (4/17) at Glasslands with The Beets, The Maine Coons, German Measles and Family Trees. And then on Sunday, Eternal Summers play Coco 66 with Marshmallows, Honey Dos, Beachniks, and The Maine Coons. Do check out one of these shows.
Natural Child

Natural Child play an awesome bill at Death By Audio Saturday including , Sisters, Boogie Boarder and Regal Degal.
The trio are Nashville neighbors, pals and labelmates of JEFF the Brotherhood, and play shambly, garagey party rock. I don't mean just that they're fun (and they are), but also that all of their songs are about some aspect of partying. Whether they bring the party to their live shows or not, I have yet to experience. But I'm ready to find out.
Natural Child also play Friday night (4/16) at Lulu's in Greenpoint with Liquor Store and Foster Care, and have dates in New Brunswick, NJ and Philly --  all 201o tour dates are below.
Beach Fossils

That Beach Fossils show Friday night is the only one they've got lined up for a month so you might want to head that way. (Plus the rest of the bands that night, all of which I endorse.) If you haven't  seen them lately, or ever, Beach Fossils have really come into their own I think, not bad for a band that's barely been playing for year. They've worked out a distinctive sound -- almost no strumming, instead spinning interweaving lines of guitar and bass -- and are confident singers now too.
And they're a great live band too. None of the four members stay still longer than they have to, twirling around like tops, with mom-jean-wearing drummer Cole Smith doing as much dancing as banging on his instrument. They were fantastic opening for Love is All at Knitting Factory a few weeks back, video from which is below.
The band's self-titled debut is set for release May 25 on Captured Tracks and you can download the jangly "Youth" from the album at the top of this post. I've heard the whole thing and it will definitely make for great summer listening. After Friday, Beach Fossils' next local show is May 13 at Brooklyn Bowl with Midnight Masses.
Sisters

A little more on the Death by Audio show on Saturday (4/17). Sisters have finished their album for Death by Audio Records which should be out sooner than later. You can hear two of the album's tracks ("The Curse" and "Glue") on their MySpace, both of which I like a lot. Sisters also play tonight (4/15) at Brooklyn Bowl with Darlings. That's a pretty good show too.
The other band on the DBA bill is Regal Degal, who I caught last Friday at newish venue North Fourth.  The trio is fronted by Josh da Costa who you may know as Dinowalrus' drummer. Regal Degal are less psych and more post-punky, drawing influence from post punk's darker side. (I hear a lot of Chairs Missing/154 era Wire in them.) The band doesn't have a MySpace, but they do have an infrequently updated blog. You can check out their song "I Saw the Smoke" at the top of this post, which they describe as sounding like "we're playing from within a beautiful porcelain toilet bowl. This is the result of spending a lot of time on an initial mix, then too much time listening back to it and not enjoying it enough, and then spending very little time on this more enjoyable and questionable mix."
Common Loon

This column is never-ending I know. Champagne, IL duo Common Loon have flown into town for two shows: tonight (4/15) at Union Hall and then Friday night (4/16) at Pianos. Both shows are with Tulsa, OK's Unwed Sailor. Common Loon's debut album, The Long Dream of Birds, came out last week on Hidden Agenda (home of The 1900s and Moonbabies) and it's recommended if you you like hazy 90s-ish indie like Oliva Tremor Control, Grandaddy and The Flaming Lips. You can check out their song "Dinosaur Vs. Early Man" at the top of this post.
Also playing tonight's Union Hall show is North Highlands who I've written about a few times already and were recently named one of the "8 NYC Bands You Need to Hear Now" by The L Magazine. You can hear them, in fact, right now by downloading their lovely track "Collarbone" at the top of this post. They are very good live and I think 2010 will be a big year for them.
In addition to tonight's show you've got two more chances to see them in the next week. They play Sunday (4/18) at Glasslands with Uninhabitable Mansions, Polite Sleeper, and North Carolina's Charming Youngsters. And then they play next Saturday (4/24) at Solar One with Cold Cave, fellow L Mag pick Oberhoffer and a "surprise headliner."
North Highlands

Speaking of L Magazine "8 NYC Bands" issue, Twin Sister play this Saturday at Los Hermanos Tortilleria in Bushwick. The show is being put on by blog Chocolate Bobka and also features Austin, TX's Pure Ecstasy and local band Weed Hounds. Go early (doors at 7pm) for free tacos (while supplies last which probably won't be very long). They've got good tacos (which are cheap even when not free). $7, BYOB. Twin Sister also open for the Morning Benders at Mercury Lounge on April 28 if you're going to that (sold out).
And finally, don't forget, Saturday (4/17) is Record Store Day and local shops participating include Other Music, Etherea, Academy Records Annex, Rebel Rebel, Sound Fix, and loads more. There's tons of cool exclusive releases coming out, and the RSD website has a handy, fairly comprehensive list of what is being released (PDF). Other Music has live performances by The Drums and Pains of Being Pure at Heart, plus indie celeb DJs. There's similar things going on at other stores too - like Generation Records, and we'll be posting more today and tomorrow.
Okay, that's enough for four days. Click through for tour dates, videos and lots and lots of flyers...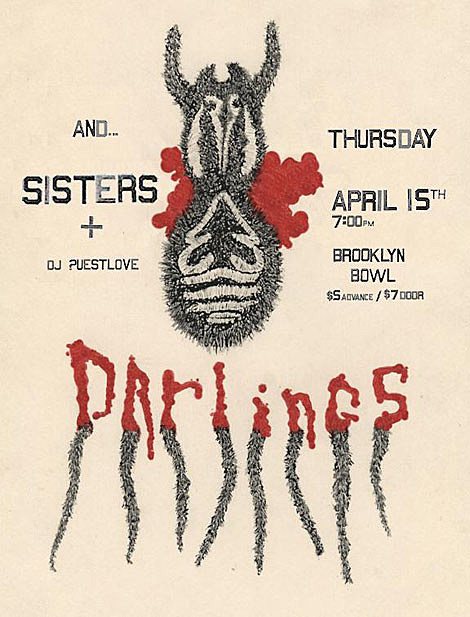 Eternal Summers - Secret Language

Eternal Summers - 2010 Tour Dates
apr 16 bruar falls w/total slacker,beachniks, beach fossils and air waves brooklyn
apr 17 glasslands w/ family trees, maine coons, the beets and german measles!!!!! brooklyn, new york
apr 18 coco66 w/marshmallows, honey dos, and maine coons brooklyn, new york
apr 19 chillin in philly philadelphia, pennsylvania
apr 20 baltimore w/ harlem baltimore, maryland
apr 23 gillie's w/ mark zander blacksburg, virginia
may 4 blue nile w/ idiot glee and the salad days harrisonburg, virginia
jun 18 tea bazaar w/ greenland, family trees, andrew cedermark charlottesville, virginia
jun 25 l magazine festival @ knitting factory brooklyn, new york
jul 24 mountain man festival w/ health, real estate, islands, woods, cults and more! saratoga springs, new york
Natural Child - Dark Side of the Moon

Natural Child - Dark Side of the Moon from Eric Rivera on Vimeo.
Natural Child - 2010 Tour Dates
Apr 15 DENTAL DAM PHILADELPHIA CHEESE STEAK, Pennsylvania
Apr 16 LULU'S W/ LIQUOR STORE, FOSTER CARE BROOKLYN, New York
Apr 17 DEATH BY AUDIO BROOKLYN, New York
Apr 18 PRINCESS PALACE NEW BRUNSWICK, New Jersey
Jun 1 Hi-TONE w/ JEFF THE BROTHERHOOD, HEAVY CREAM MEMPHIS, Tennessee
Jun 6 THE PILOT LIGHT W/ JEFF THE BROTHERHOOD, HEAVY CREAM KNOXVILLE, Tennessee
Jun 20 MAGIC STICK W/ JEFF THE BROTHERHOOD DETROIT, Michigan
Jun 22 TBA W/ JEFF THE BROTHERHOOD CHICAGO, Illinois
Jun 23 THE EAGLES NEST W/ JEFF THE BROTHERHOOD MILWAUKEE, Wisconsin
Jun 24 THE ENTRY W/ JEFF THE BROTHERHOOD MINNEAPOLIS, Minnesota
Jun 25 WISCONSIN UNIVERSITY W/ JEFF THE BROTHERHOOD MADISON, Wisconsin
Beach Fossils - "Lazy Day" @ Knitting Factory, March 29, 2010

Beach Fossils - 2010 Tour Dates
04/16 - Brooklyn, NY - Bruar Falls
05/01 - Ithaca, NY - WildFire Lounge
05/13 - Brooklyn, NY - Brooklyn Bowl $
06/18 - Cambridge, MA - Middle East Upstairs #&
06/19 - New York, NY - The Mercury Lounge #&
06/22 - Philadelphia, PA - Kung Fu Necktie #&
06/23 - Washington, DC - DC9 #&
& = w/ Frog Eyes
# = w/ Pearly Gate Music
$ = w/ Midnight Masses
Common Loon - 2010 Tour Dates
Apr 15 @ Union Hall - Brooklyn NY w/Unwed Sailor
Apr 16 @ Pianos - New York City NY w/Unwed Sailor
Apr 17 @ The M Room - Philadelphia PA w/Unwed Sailor
Apr 18 @ DC9 - Washington DC w/Unwed Sailor
Apr 19 @ The Taphouse - Norfolk VA w/Unwed Sailor
Apr 20 @ Brillobox - Pittsburgh PA w/Unwed Sailor
Apr 21 @ Southgate House - Cincinnati OH w/Unwed Sailor
Apr 22 @ Cicero's - St. Louis MO w/Unwed Sailor