Eugene Mirman Fest 2011 — Day 3 in pics (Rachel Maddow, John Hodgman, Jon Benjamin, Ira Glass & many more)
6 PM @ Bell House: The Archer Variety Hour (and Panel)

9 PM @ Bell House: The Talent Show Presents: The Drunk Show

6:30 PM @ Union Hall: An Evening Of Very Likable Comedians

8:30 PM @ Union Hall: The Rick Jenkins Comedy Studio Showcase
The first show at Union Hall featured Ron Funches, Tom Allen, Craig Baldo, Jena Friedman, Damien Lemon and Greg Johnson. The next was with Rick Jenkins, Ken Reid, Rick Canavan, Erin Judge, Matt D, Mehran Khaghani, Myq Kaplan, and Lamont Price.
The first show at the Bell House was moderated by Eugene and had Jon Benjamin, Aisha Tyler, Jessica Walter, Chris Parnell, Amber Nash, Lucky Yates and executive producer Matt Thompson. That was preceded by a talent show involving the Archer cast. Miss Whitney says, "You guys. The Archer Variety Hour at the Bell House earlier tonight was pretty fucking fantastic... enjoy H. Jon Benjamin's performance of "Non-Dueling Banjos." (video below)" The late show was the 'Drunk Show' hosted by Kevin Townley and Elna Baker featuring John Hodgman, Ira Glass, Rachel Maddow, Eugene Mirman, Jodi Lennon, Leo Allen, Dan St. Germain and Ptolemy Slocum.
The 'Drunk Show' kicked off with Rachel Maddow being interviewed by Hodgman while she made several cocktails from the Savoy Cocktail Book. The show had the participants drinking, arm wrestling "wheelchair style", and ended with a karaoke sing along to "Do They Know Its Christmas."
More pictures from the whole night, both venues, below...

--
Jon Benjamin Performs Non-Dueling Banjos

Jessica Walter and Chris Parnell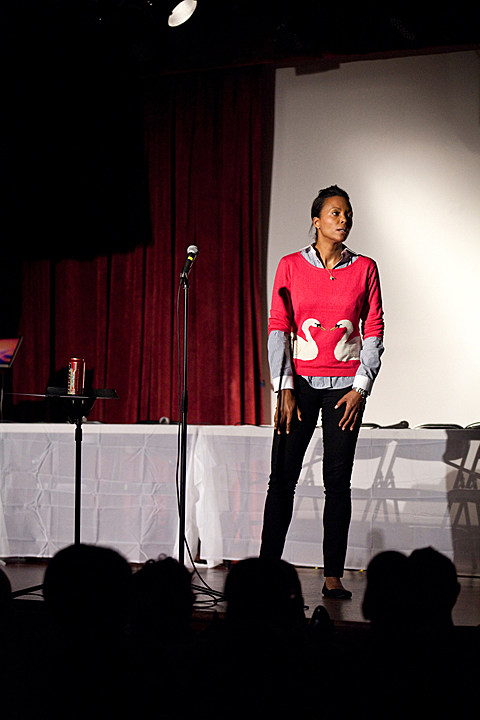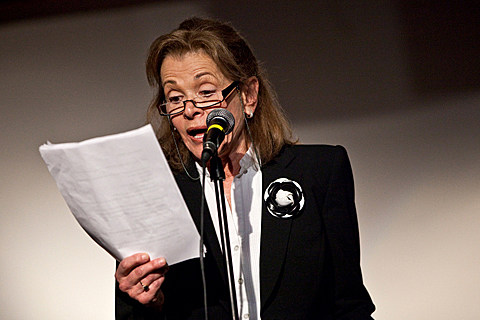 Jessica Walter and Adam Reed
Ira Glass, Eugene Mirman and John Hodgman
Kevin Townley and Elna Baker