Evan Dando & Juliana Hatfield played shows (Jennifer O'Connor reviewed one of them) — pics, video & Maxwell's setlist
photos by Graeme Flegenheimer
Evan & Juliana @ the Bell House

"Thursday night's sold-out Evan Dando and Juliana Hatfield show [at Maxwell's] was a trip down memory lane. Mostly, though, a testament to the timeless power of great songwriting.
Dando and Hatfield, for the uninitiated, were the king and queen of the 1990s alternative rock prom. They were friends--or more than friends, nobody is really sure--who sang and played on each other's records. They made a handful of really great records that still hold up today.
For someone like myself, who saw The Lemonheads' "It's A Shame About Ray" tour in 1992, (I kept the set list as a souvenir until just a few years ago), and had Juliana Hatfield's 1993 classic, "Become What You Are" stuck in my car cd player for at least a couple of years, Thursday night's show was a real treat.
Armed with only microphones and acoustic guitars, the duo swapped songs back and forth. They played songs from the albums that made them famous, as well as more recent compositions and a few cover songs.... [Jennifer O'Connor for Hoboken Patch]
Read the rest of Jennifer's review at Hoboken Patch, and catch Jennifer herself playing music on February 8th at the Rock Shop as part of her new monthly residency there. Maybe she'll land Evan or Juliana to play with her at a future show (in February she'll be joined by Charles Bissell of The Wrens, Kendall Meade of Mascott, and Richard Baluyut of Versus) (meanwhile catch Charles Bissell at Maxwell's with Cymbals Eat Guitars TONIGHT/SUNDAY).
One night after they played Maxwell's, Evan and Juliana headlined a show at the Bell House. Lady Lamb the Beekeeper opened both shows. More pictures from the Brooklyn show, and a bunch of videos and the setlist from the NJ show, below...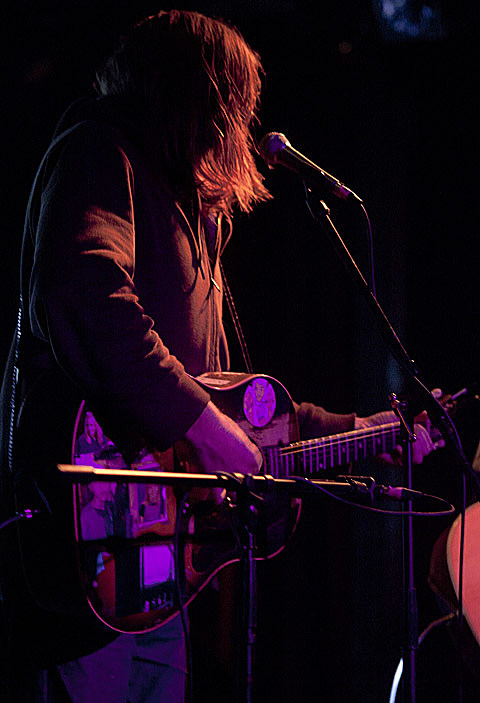 EVAN DANDO & JULIANA HATFIELD outdoor type MAXWELL'S NJ January 20 2011

EVAN DANDO & JULIANA HATFIELD drug buddy MAXWELL'S NJ January 20 2011

EVAN DANDO & JULIANA HATFIELD choose drugs MAXWELL'S NJ January 20 2011

EVAN DANDO & JULIANA HATFIELD bit part MAXWELL'S NJ January 20 2011

Evan Dando & Juliana Hatfield at Maxwell's "It's A Shame About Ray" on 20 Jan 2011

Evan Dando & Juliana Hatfield Concert at Maxwell's, Hoboken, NJ, USA
Setlist on January 20, 2011
All My Life
Butterflies
Bit Part
Brain Damage
Cells (Teenage Fanclub)
Choose Drugs
Down About It
What Is Wrong
Hospital
It's About Time
My Darling
Paid To Smile
Rain
Ride With Me
It's a Shame About Ray
Somebody Is Waiting For Me
So Alone
The Outdoor Type
$1,000 Wedding
Waiting For Heaven
My Drug Buddy