Evillive (Black Cobra, Saint Vitus, Ulcerate, Pallbearer, Oathbreaker, Pulling Teeth & more)
DOWNLOAD: Warning//Warning - "Ghosts" (MP3)
Black Cobra at The Studio at Webster Hall (more by BBG)

In addition to their tour with Kyuss Lives! and The Sword that includes 12/9 at the Paramount in Long Island and 12/10 at the Wellmont Theatre in NJ, Black Cobra have added a round of dates that include Saint Vitus (the venue) on 12/11 with Zoroaster and The Body. Tickets are on sale. The full slate of dates are below. Black Cobra recently released Invernal.
France's Warning//Warning are touring the US and will hit Acheron on 11/20 with Nomad and more TBA. Check out a song from the bands new record There's Nothing Left above and look for them on the road at the dates below.
Saint Vitus (the band) have signed to Season of Mist and will release a new album.
Relapse signed the great New Zealand band Ulcerate. If you havent heard of them, make sure to check out their LP Destroyers of All which dropped this year, not to mention their highly recommended 2009 album Everything is Fire. It's great to see this band's audience growing in the US.
It seems that Seein Red/Larm cancelled their Chaos in Tejas 2011 appearance for a damn good reason... hearing damage. And now Seein Red have called it quits! R.I.P. Seein Red, I posted a live video in tribute below.
That video, a stream of the Pallbearer demo, a stream of a new Rise & Fall song, a new Pulling Teeth video, a new Oathbreaker video, and a live Monarch! video is below along with more suggested NYC shows...

--

RISE AND FALL "Deceiver" by deathwishinc
Seein Red

Pulling Teeth - Whispers

OATHBREAKER-Glimpse of the unseen

Monarch! (Live at Nottingham)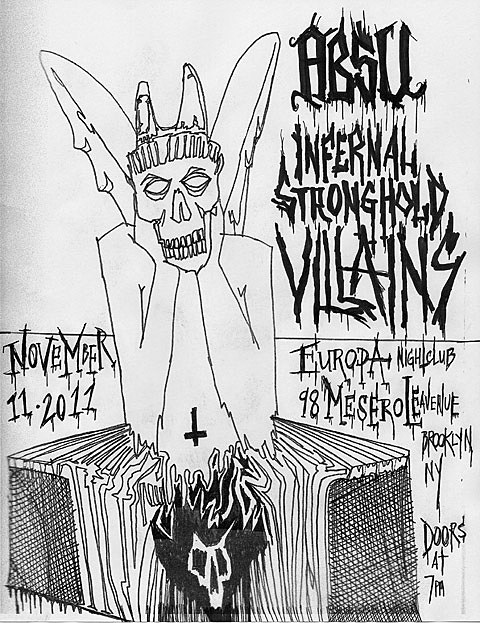 EVILLIVE
11/11 - Absu, Infernal Stronghold, Villains @ Europa
11/12 - Juggs, Marching Teeth, Soon @ Saint Vitus
11/12 - Religious War, Perdition, Stockpile, No Fucker @ Tommy's Tavern
11/12 - Gaza, Defeatist, Tiger Flowers, Don't Give a Fuck @ Acheron
11/13 - Eternal Decay, Hak-ed Damm, Fin Amour, TBA @ Saint Vitus
11/13 - Stats, Multitudes, Noxious Foxes, Zyoov @ Union Pool
11/14 - Russian Circles, Deafheaven @ Bowery Ballroom
11/14 - Disgruntled, Torturous Inception, Scowl @ Lit Lounge
11/15 - Fu Manchu, Honky, The Shrine @ Santos
11/15 - Russian Circles, Deafheaven @ Maxwells
11/16 - The Men, Total Control, Nude Beach, Kicking Spit @ Saint Vitus
11/17 - Thee Oh Sees, Total Control, The Beets, Doomsday Student @ 285 Kent
11/18 - Thee Oh Sees, Total Control, Paul Cary and the Small Scaries @ LPR
11/17 - Premonition13, Gates of Slumber, Kings Destroy, Mount Olympus @ Saint Vitus
11/18 - Black Anvil, Bloodiest, Mutilation Rites, Grudges @ Saint Vitus
11/19 - Coke Bust, Masakari, Sick Fix, Grudges @ Acheron
11/19 - Mastodon, The Dillinger Espace Plan, Red Fang @ Terminal 5
11/19 - Nunslaughter, Mausoleum, Vile Vindiction, Hypoxia, Demized @ Saint Vitus
11/19 - Obituary, Denial Fiend @ Santos Party House
11/20 - Kevin Hufnagel, Feast of the Epiphany, Frankzig @ Vaudeville Park
11/20 - Nashville Pussy, The Supersuckers @ The Bell House
11/21 - Cousin Sleaze, Eyes of The Sun, Bushwhack @ Lit Lounge
11/23 - Thursday @ Irving Plaza
11/23 - Hatebreed @ Best Buy Theater
11/25 - Puscifer, Carina Round @ BAM
WARNING//WARNING - 2011 TOUR DATES
11/11 Fri - Baltimore, MD @ Bell Foundry 8 PM $9
11/12 Sat - Washington DC @ Asefu's, 1920 9th St NW Washington DC 20001
11/13 Sun - Columbus, OH @ The Legion Of Doom, 1579 Indianola Ave. Columbus, OH 43201
11/14 Mon - Cincinnati, OH @ The Witler House, 4114 Witler St. Cincinnati, OH
11/15 Tues - Pittsburgh, PA
11/16 Wed - Buffalo, NY @ The Vault, 702 Main Street Buffalo, NY 14202
11/17 Thurs - Albany, NY
11/18 Fri - Boston, MA @ 68 Murdoch
11/19 Sat - Hartford, CT @ The Whitney House
11/20 Sun - Philadelphia, PA @ Emoda Warehouse, 3rd and Moore
11/21 Mon - NYC, NY @ The Acheron
BLACK COBRA - 2011 TOUR DATES
11/17/11 House of Blues, San Diego CA w/Kyuss Lives!, The Sword
11/18/11 Wiltern Theater, Los Angeles CA w/Kyuss Lives!, The Sword
11/19/11 The Regency Ballroom, San Francisco CA w/Kyuss Lives!, The Sword
11/21/11 Roseland Theater, Portland OR w/Kyuss Lives!, The Sword, YOB
11/22/11 Showbox SODO, Seattle WA w/Kyuss Lives!, The Sword, YOB
11/23/11 Commodore Ballroom, Vancouver BC w/Kyuss Lives!, The Sword
11/24/11 Pogue Mahone Pub, Kamloops BC w/The Sword
11/25/11 The Northern, Fernie BC w/The Sword
11/26/11 Flames Central, Calgary AB w/Kyuss Lives!, The Sword
11/27/11 Edmonton Event Centre, Edmonton AB w/Kyuss Lives!, The Sword
11/29/11 Garrick Centre, Winnipeg MB w/Kyuss Lives!, The Sword
11/30/11 First Avenue, Minneapolis MN w/Kyuss Lives!, The Sword
12/01/11 Turner Ballroom, Milwaukee WI w/Kyuss Lives!, The Sword
12/02/11 Vic Theatre, Chicago IL w/Kyuss Lives!, The Sword
12/03/11 Crofoot Ballroom, Pontiac MI w/Kyuss Lives!, The Sword
12/04/11 Outland Live, Columbus OH w/The Sword
12/05/11 The Palace Theater, Greensburg PA w/Kyuss Lives!, The Sword
12/06/11 Town Ballroom, Buffalo NY w/Kyuss Lives!, The Sword
12/07/11 Ram's Head Live, Baltimore MD w/Kyuss Lives!, The Sword
12/08/11 Toad's Place, New Haven CT w/Kyuss Lives!, The Sword
12/09/11 The Paramount, Huntington NY w/Kyuss Lives!, The Sword
12/10/11 Wellmont Theatre, Montclair NJ w/Kyuss Lives!, The Sword
12/11/11 Saint Vitus Bar, Brooklyn NY w/Zoroaster, The Body
12/12/11 Johnny Brenda's, Philadelphia PA w/Zoroaster, The Body
12/13/11 Great Scott, Allston MA w/Zoroaster, The Body
12/14/11 AS220, Providence RI w/Zoroaster, The Body
12/15/11 Black Cat, Washington DC w/Zoroaster, The Body
12/16/11 Drunken Unicorn, Atlanta GA w/Zoroaster, The Body
12/17/11 Siberia, New Orleans LA w/Zoroaster, The Body
12/19/11 Emo's, Austin TX w/Zoroaster, The Body
12/20/11 The Conservatory, Oklahoma City OK w/Zoroaster, The Body
12/21/11 Launchpad, Albuquerque NM
12/22/11 Rogue, Scottsdale AZ
12/23/11 The Z, San Luis Obispo CA
04/15/12 Roadburn Festival, Tilburg Holland