Evillive (Dead Language, YOB, Kromosom, Craft, more)
Iron Lung at Chaos in Tejas (more by BBG)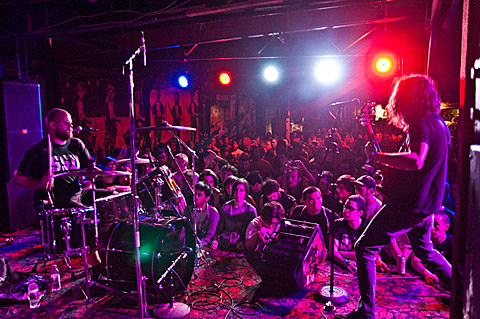 Kromosom (ex-Pisschrist) will bring their furious d-beat to The Charleston on 7/2, with an assist from Mundo Muerto, Porkeria, Perdition, and Gash. $8 gets you in. Then the next day, Porkeria and Mundo Muerto will play NYC again, this time with Deformity and Putrida at Tommy's Tavern.
Dead Language, featuring members of Iron Lung, Walls, Pig Heart Transplant, and No Comment combined into one pummeling supergroup, have released their debut LP which is available via Iron Lung Records. Order one, and check out the blistering first song "Short Straw" streaming below. Bee-rew-tal. Iron Lung will be at Best Friends Day this year.
After six years, Craft have released the new song "Succumb to Sin" from their upcoming VOID, the follow-up to the much loved/hated Fuck The Universe. Released by Southern Lord in the US, the 49 minute LP will be released on August 5th and you can hear the first song below.
All song streams, Kromosom dates and more suggested shows of the week are below.

-
CRAFT - Succumb To Sin

DEAD LANGUAGE- Short Straw

EVILLIVE
6/17 - Origin of [M], Agitator, Brain Slug @ Acheron
6/17 - Deafheaven, Gholas @ Cake Shop
6/17 - Clean Teeth, Colossus, Wizardry @ Acheron
6/18 - Pahaa Verta, Ydinperhe, Miscegenator @ Acheron
6/18 - No Remission, Alekhine's Gun, Arcane Malevolence, Left in Ruins @ The Studio
6/21 - Nu Sensae, White Lung, Pollution, Hunters @ Death By Audio
6/22 - Sleep, Winter, White Hills @ Terminal 5
6/22 - The Bronx @ Rocks Off
6/24 - Title Fight, Touche Amore, The Menzingers, Dead End Path @ Santos
6/25 - Indian, Bloodiest, Hallux @ Union Pool
6/25 - The Body, Assembly of Light Women's Choir @ LPR
6/26 - Uncontrolled, Beasts of No Nation, Lions & Tigers & Whales, Turn It Up @ Acheron
6/27 - Trial, Another Breath, The Saddest Landscape, Powerwolves, Don't Give A Fuck @ The Studio at Webster Hall
6/29 - Dysrhythmia, Pak, Guzzlemug, Xaddax @ Death By Audio
6/30 - Strike Anywhere with Iron Chic, Soul Control @ Santos
7/1 - Cro-Mags @ The Bowery Ballroom
7/1 - Ceremony, Veins @ Death By Audio
7/2 - Kromosom, Mundo Muerto, Porkeria, Perdition, Gash @ The Charleston
7/3 - Porkeria, Mundo Muerto, Deformity, Putrida @ Tommy's Tavern
--
KROMOSOM - 2011 TOUR DATES
JULY 1- Boston
JULY 2- NYC @ Charleston Brooklyn w/Mundo Meurto, Porkeria,Perdition,Cervix, Gash
JULY 3- Philly 3pm @ the Barbary w/ Ceremony 8pm @ the Blockley -- Philly Punx Picnic
JULY 4- Baltimore/dc@ WASTED DREAMS w/ No tomorrow
JULY 5- Richmond @ Strange Matter w/ Aghast, Lost Tribe, Syndrome
JULY 6- Asheville @ The Get Down
JULY 7- Atlanta @ Wonderroot w/ Disable, Disfigure, Mauser
JULY 8- New Orleans @ Siberia
JULY 9- Houston @ the Ponderosa w/ Deadly Reign, Vivisect, Wild//Tribe
JULY 10- Austin @ Mohawk w/ Deadly Reign, Vaaska
JULY 11- Austin @ Club 1808 w/ Criaturas
JULY 12- Day Off
JULY 13- Seattle @ THE MORGUE w/ Warcry, Occult SS
JULY 14- Portland @Blackwater w/ Warcry, Nerveskade, Terokal
JULY 15- Berkley @ Gilman st w/ Warcry
JULY 16- SF @ tba w/ Warcry
JULY 17- Santa Barbara @ tba w/ Warcry, Knife Fight
JULY 18- LA @ BLVD w/ Warcry, Temple of Dagon, Knife Fight
JULY 19- Long Beach @ tba w/ Warcry, The Helpless, Mundo Muerto, Raw Nerve