Evillive (High on Fire, Deviated Instinct, Destruction, Revenge & much more)
High on Fire at Fun Fun Fun (more by BBG)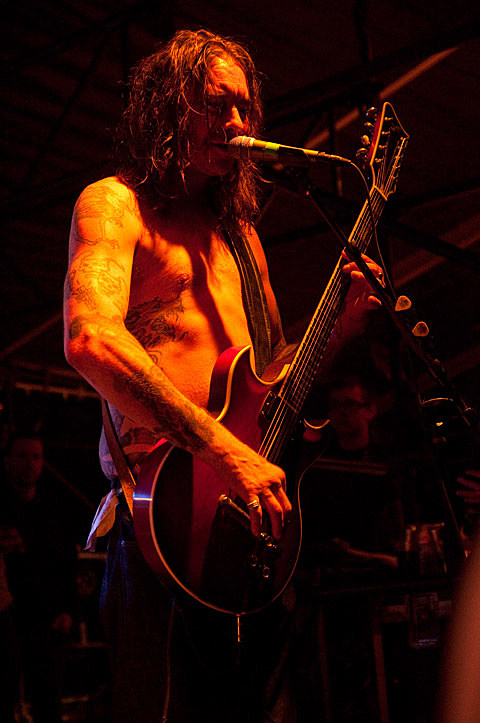 Crusty DM crew Deviated Instinct reunited in 2007 and are hitting the road for a string of US dates surrounding their MDF and Chaos in Tejas dates including a stop at Acheron on May 25th with Dresden, Nomad, and Koward. Nomad will also play tonight at Lulu's as part of their 7" release and tour kickoff party. All Deviated instinct dates are below.
Deicide kicked off their US tour last night and will hit NYC on Saturday (3/3) at Best Buy Theater. Tickets are still available. The band will be joined by Jungle Rot, Abigail Williams, and Lecherous Nocturne on this current trek dubbed "March Of Death 2012".
German thrash crew Destruction will celebrate 30 years as a band with a round of US dates in May. Look for the tour, which also includes Warbringer, Vital Remains and Pathology, to hit NYC at BB King's on May 16th. Tickets are on sale.
Revenge's SCUM.COLLAPSE.ERADICATION is out NOW via Nuclear War Now. Order your copy at their site and stream a song from the record, "Retaliation (Fallout Prayer)", below.
Stream the new Wizard Rifle in full at Invisible Oranges. The LP, entitled Speak Loud Say Nothing, is due via Seventh Rule on March 13th.
Check out some live pics of Lock Up, Goatwhore, Strong Intention & Black September posted at BV Chicago.
More suggested NYC shows, dates and the stream for that Revenge track below.

--

High on Fire "Fertile Green"

Deviated Instinct - Scumfest 2011

EVILLIVE
3/2 - Nomad, Deformity, Zatsuon, Goosebumps, Sad Boys @ Lulu's
3/2 - Immolith, Woe, Dominion, Salo, Mortum @ Saint Vitus
3/3 - Deicide, Jungle Rot, Abigail Williams, Lecherous Nocturne @ Gramercy Theatre
3/3 - Tombs, Argonauts, Psychic Limb, The Year is One @ Union Pool
3/3 - Opposition Rising, Catheter, She Rides, Laughing Dog @ ABC No Rio (3PM Matinee)
3/3 - Catheter, Laughing Dog, Mind As Prison, Misanthropic Noise @ 538 Johnson
3/3 - Pop. 1280, Velvet Condom, Bootblacks at Saint Vitus
3/3 - Drugs of Faith, Radiation Blackbody, Livver, Pyrrhon @ Death By Audio
3/4 - Possessed, Darkness Descends @ B.B. King
3/4 - Scott Kelly, John Baizley, Eugene Robinson, Toby Driver @ The Knitting Factory
3/5 - Gunfire-n-Sodomy @ Lit Lounge
3/6 - Risk, Barrow, Trees of Light, Ashes Forever, Slothrust @ Saint Vitus
3/7 - The Men, American Snakeskin, Nude Beach, Organs @ 285 Kent
3/8 - Colleen Green, Mannequin Pussy, Weird Fantasy Band, Numerators @ Death By Audio
3/8 - Barn Burner, Natur, Spirits of The Dead, Brickeater @ Saint Vitus
3/9 - All Pigs Must Die, Narrows, Cleanteeth @ Knitting Factory
3/9 - Sourvein, Order of the Owl, Family Crushed @ Acheron
3/9 - Pop 1280, Metz, Vaz, Teenager @ Death By Audio
3/9 - Hate Eternal, Cerebral Bore, Pyrrhon, Gang Signs, Humanity Falls @ Saint Vitus
3/9 - Narrows, All Pigs Must Die, Must Clean Teeth @ Knitting Factory
3/9 - Vaz, Metz, Pop. 1280, Teenager @ Death By Audio
3/9 - Hate Eternal, Cerebral Bore, Pyrrhon, Gang Signs, Humanity Falls @ Saint Vitus
3/9 - Zao Bog, Someonelse, Crooked Man, Fear Report, Like A Death @ Trash Bar
3/9 - Freshkills, Kid Savant, Such Hounds @ Pianos
3/10 - Girls Of Porn, Limbs Bin, Ugly Parts, Brain Slug, Herzog Rising @ Brooklyn Fireproof
3/10 - Iced Earth, Symphony X, Warbringer @ Best Buy Theater
3/10 - Reign Supreme, Host, Rattling Cages, Barriers @ ABC No Rio
3/11 - Design the Skyline, The Browning, From Atlantis @ Party XPO
3/11 - State Violence, Skvlt, Death First, Brain Slug @ 538 Johnson
3/12 - Bad Girlfriend, Throwing up, Street Smells, more TBA @ Saint Vitus
3/12 - Weasel Walter/Marc Edwards/Denis Beuret/Elliott Levin, Admiral Grey + Champagne Sequins, Rust Worship, David Buddin, Michael Foster/Kid Millions, White Suns @ Death By Audio
3/14 - Vaura @ Home Sweet Home
3/14 - Eleventh Hour, Skum City, Felony BeBop Club, ATA @ Bar Matchless
3/14 - Rosetta, Kings Destroy, Hollow Leg, Clamfight @ Saint Vitus
3/15 - YOSH, Picastro, Sondra Sun-Odeon @ Saint Vitus
3/16 - The Pilgrim, Slow Bull, La Otracina, Radical Discharge @ Saint Vitus
3/16 - Thanatotic Desire, Desolate, Godamhate, Midnite Hellion, more TBA @ Trash Bar
3/16 - Urban Waste, Bloodbeat, (A)Truth, The Assassins, Bomb Scare, more TBA @ Bar Matchless
3/16 - Cleansing Wave, Nomad @ Home Sweet Home
DEVIATED INSTINCT - 2012 TOUR DATES
May 25- NYC @ Acheron w/ Dresden, Nomad, Koward
May 26- Baltimore @ MDF
May 27- Pittsburgh @ The Shop w/ Dresden, Wrathcobra
May 28- Cleveland @ Now Thats Class
May 29- Detroit @ Corktown Tavern
May 30- Chicago @ Ultra Lounge w/ Dresden, Coelacanth
May 31- Minneapolis @ Medusa w/ Dresden
June 1- Day off
June 2- Austin @Chaos In Tejas at the Mohawk w/ Antisect, Winter
DEICIDE, JUNGLE ROT, ABIGAIL WILLIAMS, LECHEROUS NOCTURNE - 2012 TOUR DATES
3/1/12-West Springfield, VA-Jaxx
3/2/12-Reading, PA-Reverb
3/3/12-New York, NY-The Gramercy Theatre
3/4/12-Montreal, QUE-FouFounes
3/5/12-Quebec City, QUE-Imperial de Quebec
3/6/12-Toronto, ONT-Opera House
3/7/12-Rochester, NY-Montage Music Hall
3/8/12-Cleveland, OH-Peabody's
3/9/12-Detroit, MI-Blondie's
3/10/12-Chicago, IL-Reggie's Rock Club
3/12/12-Winnipeg, MB-The Osbourne Village Inn
3/13/12-Regina, SK-The Exchange
3/14/12-Edmonton, AL-Starlite
3/15/12-Calgary, AL-Dickens
3/16/12-Kelowna , BC-Rutland Centennial Hall
3/17/12-Vancouver, BC-Rickshaw Theater
3/18/12-Seattle, WA-El Corazon
3/19/12-Portland, OR-Hawthorne Theatre
3/20/12-San Francisco, CA-The Grand Ballroom
3/21/12-West Hollywood, CA-House of Blues
3/22/12-Tempe, AZ-Clubhouse
3/23/12-Salt Lake City, UT-The Complex
3/24/12-Denver, CO-Bluebird Theater
3/26/12-Dallas, TX-Trees
3/27/12-Austin, TX-Emo's Alternative Lounging
3/28/12-New Orleans, LA-The Hangar
3/29/12-Orlando, FL-The Club at Firestone
DESTRUCTION, WARBRINGER, VITAL REMAINS, PATHOLOGY - 2012 TOUR DATES
05-04-12 Brick By Brick - San Diego, CA
05-08-12 Casselman's - Denver, CO
05-10-12 Reggie's - Chicago, IL
05-12-12 Blackened Moon Concert Hall - Lansing, MI
05-16-12 B.B. Kings - New York, NY
05-17-12 The Met - Pawtucket, RI
05-18-12 Maverick's - Ottawa, ON - CANADA
05-19-12 Rockpile - Toronto, ON - CANADA
05-22-12 Kim's Pixie Inn - Pueblo, CO
05-24-12 The Coach House - San Juan Capistrano, CA
05-26-12 The Metro - Oakland, CA
05-30-12 Studio Seven - Seattle, WA