Evillive (Nunslaughter, Sulaco, Saviours & much more)
by BBG
Nunslaugher @ the Acheron

Nunslaughter will team with Mausoleum, Vile Vindiction, Hypoxia, and Demized for a show at Saint Vitus on 11/19, the day after the previously discussed Black Anvil/Bloodiest show at the same venue. Check out a very belated set of pictures from Nunslaughter's last appearance in NYC at Acheron below.
The great Sulaco (mem Brutal Truth) combine groovy rhythms and blistering grind on their new LP Build & Burn available for preorder in physical forms via the Handshake Inc imprint. Stream it in full below, download it for free, and buy a copy via Handshake Inc.
Saviours are hitting the road for a string of dates with Ramming Speed, tagging Saint Vitus on 11/30 for a show with Elks and Bad Dream.
If you missed it, we are currently streaming the Trenches/Drainland split, streaming the Total Abuse LP, caught Batillus/Inter Arma/Belus, getting stoked for the return of Nasum, gearing up for our FFF Nites show with Doomriders & From Ashes Rise, streaming some new/old Void, streaming the new Panopticon and Wreck & Reference, and so much more.
Danava & Thrones play their 2nd of two NYC shows together tonight at Union Pool. If you're looking for a Halloween option head to Acheron on Sunday.
More suggested NYC shows, that Sulaco stream, and a Magrudergrind live set from Shea Stadium are below. What did I miss?

---
---
Nunslaughter @ Acheron...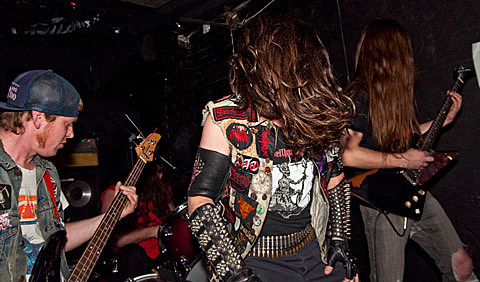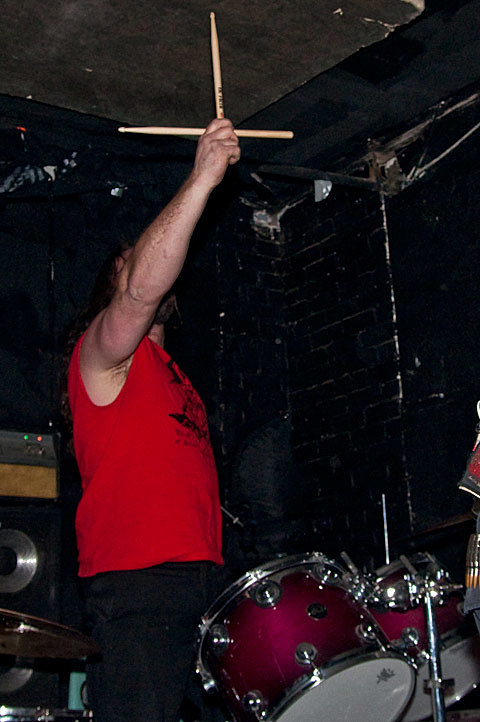 Magrudergrind - Live @ Shea Stadium by LiveatSheaStadium
EVILLIVE
10/28 - Thrones, Danava, La Otracina, Ben von Wildenhaus @ Union Pool
10/28 - Reagan Youth, Too Many Voices, Real Mentality @ Saint Vitus
10/28 - Frank (Just Frank), Bootblacks, Hot Guts @ Saint Vitus
10/28 - Natur, Hessian, Pilgrim @ Acheron
10/29 - Warcry, Ripper, Trenchgrinder, Gas Chamber, Dead Reich @ Acheron
10/29 - Sex Church, The Men, Dead Farmers, Unholy Two, Pop 1280
10/29 - Melt-Banana, Tera Melos @ Santos
10/30 - Motorhead, Blitz, Misfits, White Zombie, K-Rock All-Stars, and more (covers show) @ Acheron
10/31 - Vital Remains, Strong Intention, Prostitution, Gang Signs @ Saint Vitus
10/31 - Pyrrhon, Man's Gin, Cut Youth Teeth, Joey Molinaro, Balance @ Lit Lounge
11/3 - Loma Prieta, Black Kites, Nailed Shut @ Acheron
11/3 - Musk Ox, Ocrilim, Daniel Menche, Kevin Hufnagel @ Saint Vitus
11/3 - Mayhem, Keep Of Kalessin, Hate, Abigail Williams, Woe @ Gramercy Theater
11/4 - Metal Suckfest @ Gramercy Theater
11/4 - Monstro, Grandfather, more @ Acheron
11/4 - Agnostic Front, Setback, Naysayer, Mongoloids, Incendiary @ Santos Party House
11/4 - The Giraffes, Moon Rabbits @ Saint Vitus
11/5 - Metal Suckfest @ Gramercy Theater
11/5 - Unstoppable Death Machines, Lantern, Eola, & Roomrunner @ Shea Stadium
11/5 - Anatomy of Habit, Vaura, Rosenkopf @ Saint Vitus
11/5 - Rival Mob, Young Offenders, Give, Airfix Kits, Hoax @ Acheron
11/5 - Pygmy Lush, Ancient Sky, Ghastly City Sleep, Alex Drewchin @ Death By Audio
11/6 - No Redeeming Social Value, The Krays, Creepout (from Tokyo), Red Eyed Devil, Desensitized @ Saint Vitus
11/7 - The Binary Code, Rivers of Nihil. Torrential Downpour, Brickeater @ Lit Lounge
11/9 - Exhumed, Goatwhore, Cephalic Carnage, Havok @ Europa
11/9 - Torche, Part Chimp @ Mercury Lounge
11/11 - Absu, Infernal Stronghold, Villains @ Europa
11/12 - Juggs, Marching Teeth, Soon @ Saint Vitus
11/13 - Stats, Multitudes, Noxious Foxes, Zyoov @ Union Pool