Evillive (Nunslaughter, Sulaco, Saviours & much more)
Nunslaugher @ the Acheron

The great Sulaco (mem Brutal Truth) combine groovy rhythms and blistering grind on their new LP Build & Burn available for preorder in physical forms via the Handshake Inc imprint. Stream it in full below, download it for free, and buy a copy via Handshake Inc.
Saviours are hitting the road for a string of dates with Ramming Speed, tagging Saint Vitus on 11/30 for a show with Elks and Bad Dream.
More suggested NYC shows, that Sulaco stream, and a Magrudergrind live set from Shea Stadium are below. What did I miss?

---
Nunslaughter @ Acheron...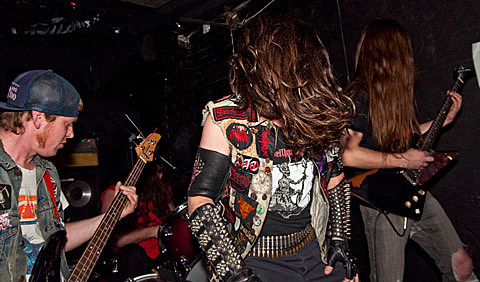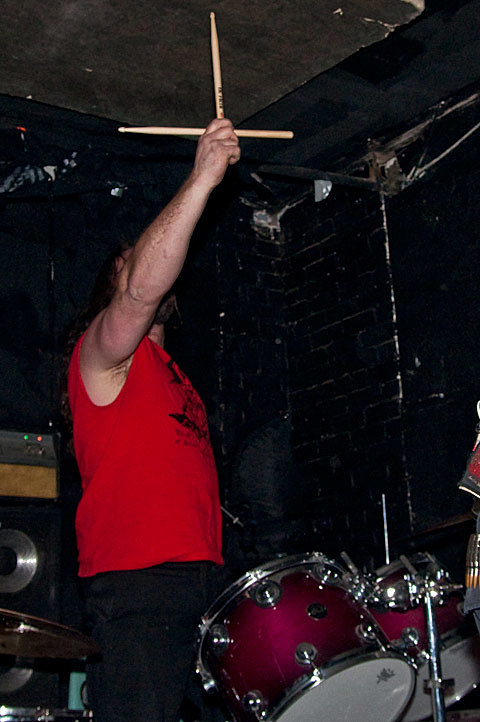 EVILLIVE
10/28 - Thrones, Danava, La Otracina, Ben von Wildenhaus @ Union Pool
10/28 - Reagan Youth, Too Many Voices, Real Mentality @ Saint Vitus
10/28 - Frank (Just Frank), Bootblacks, Hot Guts @ Saint Vitus
10/28 - Natur, Hessian, Pilgrim @ Acheron
10/29 - Warcry, Ripper, Trenchgrinder, Gas Chamber, Dead Reich @ Acheron
10/29 - Sex Church, The Men, Dead Farmers, Unholy Two, Pop 1280
10/29 - Melt-Banana, Tera Melos @ Santos
10/30 - Motorhead, Blitz, Misfits, White Zombie, K-Rock All-Stars, and more (covers show) @ Acheron
10/31 - Vital Remains, Strong Intention, Prostitution, Gang Signs @ Saint Vitus
10/31 - Pyrrhon, Man's Gin, Cut Youth Teeth, Joey Molinaro, Balance @ Lit Lounge
11/3 - Loma Prieta, Black Kites, Nailed Shut @ Acheron
11/3 - Musk Ox, Ocrilim, Daniel Menche, Kevin Hufnagel @ Saint Vitus
11/3 - Mayhem, Keep Of Kalessin, Hate, Abigail Williams, Woe @ Gramercy Theater
11/4 - Metal Suckfest @ Gramercy Theater
11/4 - Monstro, Grandfather, more @ Acheron
11/4 - Agnostic Front, Setback, Naysayer, Mongoloids, Incendiary @ Santos Party House
11/4 - The Giraffes, Moon Rabbits @ Saint Vitus
11/5 - Metal Suckfest @ Gramercy Theater
11/5 - Unstoppable Death Machines, Lantern, Eola, & Roomrunner @ Shea Stadium
11/5 - Anatomy of Habit, Vaura, Rosenkopf @ Saint Vitus
11/5 - Rival Mob, Young Offenders, Give, Airfix Kits, Hoax @ Acheron
11/5 - Pygmy Lush, Ancient Sky, Ghastly City Sleep, Alex Drewchin @ Death By Audio
11/6 - No Redeeming Social Value, The Krays, Creepout (from Tokyo), Red Eyed Devil, Desensitized @ Saint Vitus
11/7 - The Binary Code, Rivers of Nihil. Torrential Downpour, Brickeater @ Lit Lounge
11/9 - Exhumed, Goatwhore, Cephalic Carnage, Havok @ Europa
11/9 - Torche, Part Chimp @ Mercury Lounge
11/11 - Absu, Infernal Stronghold, Villains @ Europa
11/12 - Juggs, Marching Teeth, Soon @ Saint Vitus
11/13 - Stats, Multitudes, Noxious Foxes, Zyoov @ Union Pool