Explosions in the Sky played Radio City Music Hall w/ Low & Eluvium (pics, setlist & other news)
Explosions In The Sky

If it wasn't for BV, I never would have had my first Explosions in the Sky/Eluvium experience on September 2, 2006 at Bowery Ballroom. At that time, a friend told me that the Temporary Residence produced show was absolutely unmissable, and that I should do whatever it took to get my ass into the grotesquely sold out show. Luckily I didn't have to do much because one day a window opened on TicketWeb and BV (the man, not the site) was kind enough to give me a heads up, and I was in. From September 2, 2006 onward, I was officially a batshit crazy fan of Explosions and Eluvium.
Flash-forward to now. I'm a little fatter, a little balder, but I am still that rabid EITS and Eluvium fan that was born on September 2, 2006. When it was announced back in January that EITS would be headlining Radio City Music Hall, I was totally cranked. Best... venue... ever. Then I saw that Eluvium was added as opener, performing solo piano material, and I was beside myself. THEN it was announced that LOW was also going to open the show as well. Trifecta! I am still amazed that people pissed and moaned at the near $60 ticket cost. Three epic bands in New York City's most beautiful venue at that cost is a pittance. I mean, if you saved a dollar a day from when the show was announced, you would have had plenty of dough for a ticket and even a few of RCMH's expensive beers.
From start to finish, the show was an absolute triumph. If you balked at the price and missed the show, I instruct you to immediately be overwhelmed and water-boarded with regret. Matthew Cooper aka Eluvium sidled up to a massive grand piano a hair past 8:00pm. Lit only by two bluish spot lights and accompanied by fog that basically transformed the light beams into textured blue cones, Cooper commanded the piano to a room that was so quiet you could hear a pin drop. And, man, was I proud of the audience for that level of quiet. He relied heavily on his piano-centric 2004 release An Accidental Memory in the Case of Death, which was fine with me as it is one of the most beautiful records in my collection. His set was brief, and said not a single word, and left the stage to rousing applause. It was the perfect start to this show.
Low was up next and brought things up to another sonic tier. Playing as a four piece they unleashed a flawless set that was rife with soaring harmonies, anthemic guitar and keyboard arrangements, and a super-bassy back beat that plodded along like the heartbeat of someone at rest. This was my first experience with Low in person and found it to be a perfect complement to Eluvium's quiet, contemplative piano and EITS's bombastic and uber-loud performance. I will definitely check them out again at Bowery Ballroom on April 27. Join me, won't you? I mean not literally. Go to the show, but not with me. Why would you? Whatever.
For me, Radio City Music Hall is the perfect room for Explosions. Most people prefer to see their favorite bands in intimate rooms. But for sheer sonic projection and immersion, RCMH is the perfect room to see and hear EITS. Radio City's massive scalloped, arched ceilings and the sheer cavernous nature of the room really allows the sounds propelling from the speakers to fill up the room and breathe. Actually, I'd give my right arm to see a band like Mogwai there. Their entire set was a work of perfection, but the highlight for me was the second song in, "Birth and Death of the Day". Epic. They did play a pretty lengthy set, but I was disappointed that there was no encore; a non-core if you will. But I guess it makes sense; an EITS performance works best as a 90-minute onslaught. For them to come out to do another song or two would underwhelm and seem weird.
In other Explosions in the Sky and Eluvium News
The film stars James Mercer (Broken Bells, The Shins) and Carrie Brownstein (Portlandia, Sleater-Kinney) as strangers whose lives occasionally intersect as they navigate their way through the struggles of personal attachment and disconnection.
Check out a track from this album way at the top of the post.
More pictures and the EITS setlist from Radio City, and tour dates, below...


[they wouldn't let us take pictures of Eluvium]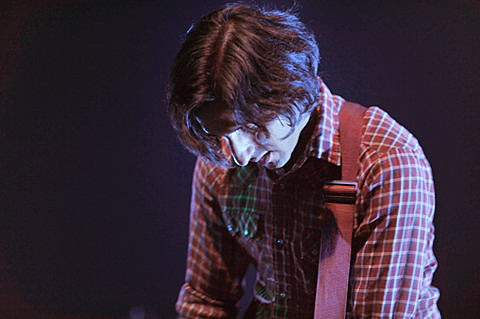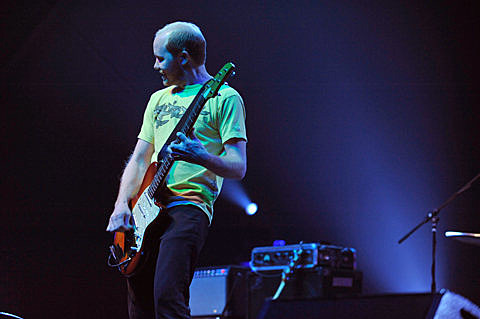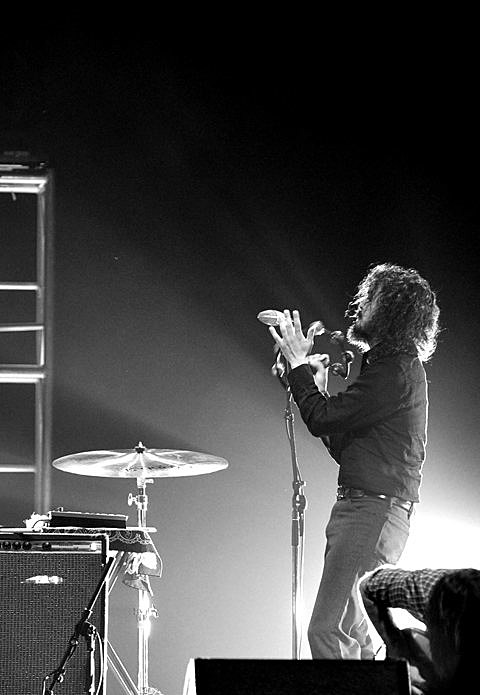 Explosions in the Sky Concert at Radio City Music Hall, New York, NY, USA
Setlist on April 6, 2011
Postcard From 1952
The Birth and Death of the Day
Yasmin the Light
Last Known Surroundings
The Only Moment We Were Alone
Catastrophe and the Cure
Let Me Back In
Your Hand in Mine
Trembling Hands
--
Explosions in the Sky - 2011 Tour Dates
04/08/2011 Pittsburgh, PA Stage AE Octopus Project
04/09/2011 Columbus, OH Outland Live Octopus Project *Tickets are still available at retail outlets Used Kids and Magnolia Thunder
04/10/2011 Columbia, MO The Blue Note Octopus Project
04/30/2011 Los Angeles, CA, USA Hollywood Forever Cemetery
05/01/2011 Oakland, CA Fox Theatre
05/03/2011 Austin, TX The Backyard Arcade Fire
05/04/2011 Houston, TX Cynthia Woods Pavillion Arcade Fire
05/15/2011 Edinburgh, GBR HMV Picture House Lichens
05/16/2011 Dublin, IRL Vicar St. Lichens
05/17/2011 Manchester, GBR Manchester Academy Lichens
05/19/2011 London, GBR Roundhouse Lichens
05/20/2011 Paris, FRA Bataclan Lichens
05/22/2011 Berlin, DEU Postbahnhof Lichens
05/23/2011 Koln, DEU Essigfabrik Lichens
05/24/2011 Brussels, BEL Ancienne Belgique Lichens
05/25/2011 Amsterdam, NLD Paradiso Lichens
05/27/2011 Barcelona, ESP Primavera Festival Belle & Sebastian, The National, Sufjan Stevens
05/29/2011 Bologna, ITA Rocker Festival
06/09/2011 Manchester, TN Bonnaroo Arcade Fire, Buffalo Springfield, the Strokes, lots of others...
06/10/2011 Manchester, TN Bonnaroo Arcade Fire, Buffalo Springfield, the Strokes, lots of others...
06/11/2011 Manchester, TN Bonnaroo Arcade Fire, Buffalo Springfield, the Strokes, lots of others...
06/12/2011 Manchester, TN Bonnaroo Arcade Fire, Buffalo Springfield, the Strokes, lots of others...
08/11/2011 Oslo, NOR Oya Festival Fleet Foxes, Pains of Being Pure At Heart, Warpaint
08/12/2011 Gothenburg, SWE Way Out West Festival Robyn, Fleet Foxes, Twin Shadow
08/13/2011 Gothenburg, SWE Way Out West Festival Robyn, Fleet Foxes, Twin Shadow
08/19/2011 Brecon Beacons, GBR Green Man Festival Fleet Foxes, The Low Anthem, Robyn Hitchcock