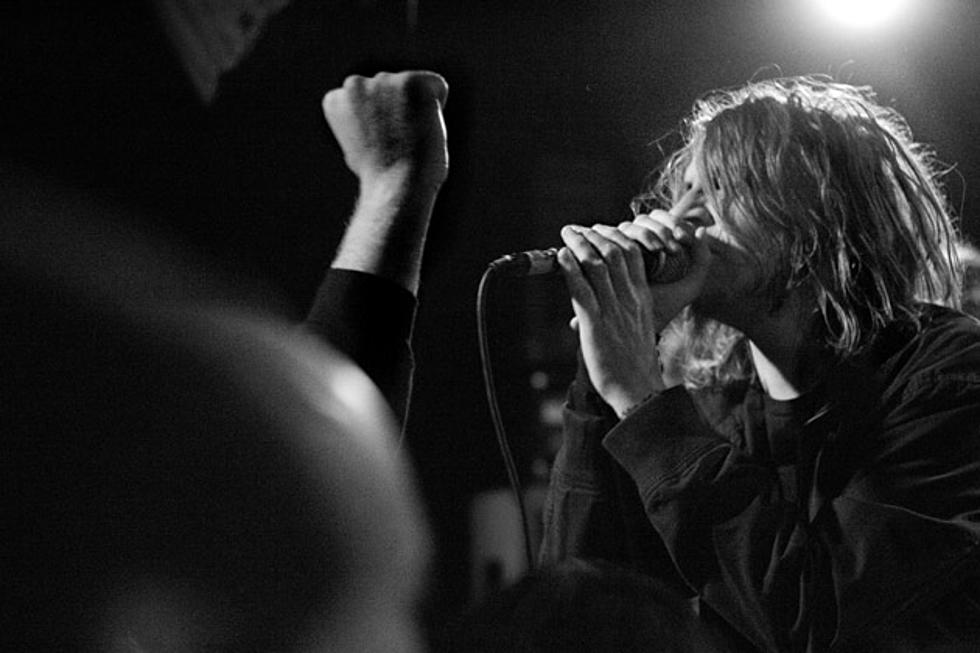 Eyehategod & Enabler streaming new albums, kicking off tour with Ringworm soon
Eyehategod at Saint Vitus, 2013 (more by Caroline Harrison)

Future tour mates Eyehategod and Enabler are currently streaming their new albums in full. Both bands -- along with the raging Ringworm who beat both to the full stream punch by a few months -- will embark on an extensive run through the Eastern half of the US following their appearances at Maryland Deathfest.
For NOLA sludge legends Eyehategod, the eponymous outing that's set to drop on May 27 via Housecore Records (preorder) marks their first album in 14 years and final with drummer Joey LaCaze who passed away in 2013. The Pitchfork-housed stream gets going straight from the gate, setting the pace with "Agitation! Propaganda!" and never letting up over the next ten tracks. For a band known to jam, often riding stretched out riffs and feedback whip-cracks, Eyehategod is rather free of fat. Only two songs eclipse the four minute mark, showcasing a lean, poisoned idea of punk-esque focus.
And that snarl makes Enabler a great fit as a bill companion. The Milwaukee trio's Fin Absolue Du Monde, also due out on May 27 by way of the Compound (preorder), crustily rumbles while dark melodies crash below the tumult. The LP, streaming below, follows two 2013 EPs and continues on with the group's synthesis of Swedish rolling core and the unholy buzz of Clevo killers such as the classic, you guessed it, Ringworm.
Which is why this is a neat-ass tour. There's a definite sonic through-line connecting all three bands, even if they would appear to clash on paper. Of course, the true unifier is everyone's endless stage energy. All of the above have a knack for making shows explode into cathartic releases of pent up fury. From the May 28 Atlanta, Georgia kick-off to the June 25 Pensacola, Florida finale, the troika of terror will certainly lay all stops to waste. It hits NYC on June 7 at Europa with Shitkill and lands in Chicago a few days later. Tickets for the NYC show are still available.
All dates are listed, with the Enabler LP stream, plus song streams from Eyehategod and Ringworm, below...

---
Eyehategod, Enabler, Ringworm -- 2014 Tour Dates
05/28 Atlanta, GA - Masquerade
05/29 Fayetteville, NC - Drunk Horse
05/30 Charlotte, NC - Chop Shop
05/31 Frederick, MD - 611
06/01 Philadelphia, PA - Underground Arts
06/02 Pittsburgh, PA - Rex Theater
06/03 Richmond, VA - Strange Matter
06/04 Binghamton, NY - American Legion Post 80
06/05 Boston, MA - Brighton Music Hall
06/06 Long Island, NY - Even Flow
06/07 Brooklyn, NY - Europa
06/08 Erie, PA - Basement Transmissions
06/09 Rochester, NY - Bug Jar
06/10 Detroit, MI - Loving Touch
06/11 Cleveland, OH - Now That's Class
06/12 Indianapolis, IN - Birdy's
06/13 Chicago, IL - Cobra Lounge
06/14 Grand Rapids, MI - Pyramid Scheme
06/15 Appleton, WI - Bottom End
06/16 Minneapolis, MN - Triple Rock
06/17 Louisville, KY - Diamond Pub
06/18 St. Louis, MO - Fubar
06/19 Memphis, TN - Hi Tone
06/20 New Orleans, LA - Southport Hall
06/21 Savannah, GA - Dollhouse
06/22 Tampa, FL - Orpheum
06/23 Gainesville, FL - Looneys
06/24 Birmingham, AL - Zydeco
06/25 Pensacola, FL - Handlebar
Other Enabler Tour Dates
05/20 Bar Le Megog - Sherbrooke, QC
05/21 Jim's Basement - Burlington, VT
05/22 Geno's Rock Club - Portland, ME
05/23 Even Flow - Bay Shore, NY w/ Maruta
05/25 Baltimore Sound Stage - Baltimore, MD @ Maryland Deathfest
05/27 Longbranch Saloon - Knoxville, TN w/ Ringworm