Fanfarlo & Wildbirds & Peacedrums @ The Bell House – pics
photos by Ryan Muir
Fanfarlo

"Collectively, they have a homespun quality, as if still learning how to make do. Three band members played mandolin over the course of the show. Three played drums. On one song Mr. Balthazar put down his guitar and picked up a clarinet. Glockenspiel was used to dramatic effect. A melodica made an appearance." [NY Times]
And as the NY Times pointed out, not only can you compare Fanfarlo to Beirut, they share a member! At least they did at these recent shows which included Monday night at Bowery Ballroom, and last night (Tuesday, 9/22) at the Bell House in Brooklyn. The Beirut member in question is Jon Natchez who you can see with his shaved head and beard playing a saxophone in the pictures. Also joining Fanfarlo as a member of their band for this tour was Jeremy Warmsley who was my favorite multi-instrumental member to watch on stage last night. Catch him play his own show at Pianos in NYC tonight (9/23)
Arcade Fire are the second most obvious comparison to Fanfarlo. I probably wouldn't have also thrown Neutral Milk Hotel into the mix... if they hadn't chosen to close their 2-song encore with a cover of "In the Aeroplane over the Sea"! I wasn't a huge fan of the choice, which made me biased before it even began, but it got lots of applause. A video Bill took of it is also making the rounds on the Internet today. You can watch that below.
Speaking of closing their set, they wrapped it up a little early due to throat problems, and according to one member who spoke to Bill after the show, technical problems that they didn't really let the crowd know about. Speaking of the crowd, despite it generally being a stand-there-with-arms-crossed kind of night, people got loud when applauding, and while cheering for the encore.
Like at other shows on the tour, they started the encore with audience participation and plastic tubes...

"I sold on the band when they flipped the switch on those lovely, glowing lights after the first song of their set, but when they came back for an encore and handed out instruments to the crowd (no idea what they're called, but the band had purchased a gaggle of those plastic tubes you swing around your head to make noise), I became a devoted follower of the church of Fanfarlo. Ten or so audience members were whipping these tubes around in the air, and the pitch of the tubes was aligned perfectly with "Comets". Arms got tired, tubes were passed onto other audience members, and it felt like everyone in the room was part of the band." [Seattle Weekly]
Wildbirds and Peacedrums opened the show for the second night in a row. It was their 5th show in NYC in a week. Their other three shows were at Bruar Falls, Cake Shop and Le Poisson Rouge.
Fanfarlo's album, Resevoir, is well worth a listen, and as Bill taught me, will be released officially as a CD by Atlantic in October. October is also when they'll be back in NYC to play at least two shows including the BrooklynVegan CMJ showcase at Music Hall of Williamsburg.
More pictures from The Bell House below...

Wildbirds and Peacedrums
Fanfarlo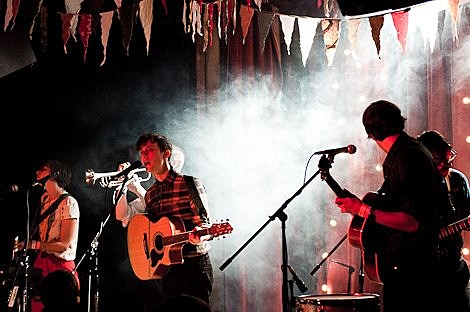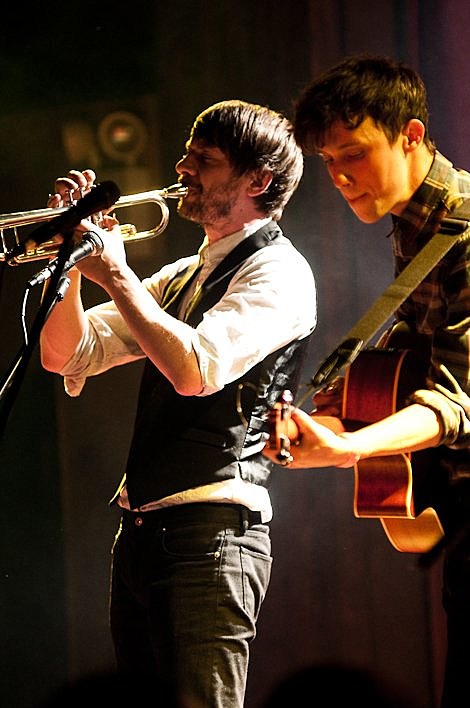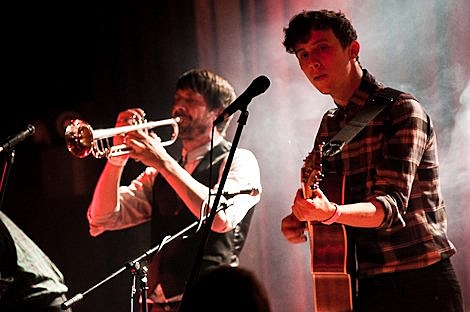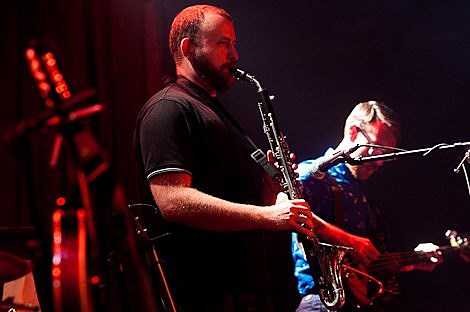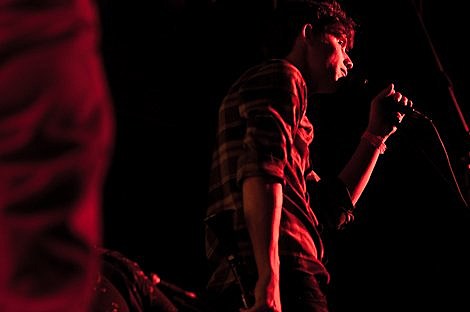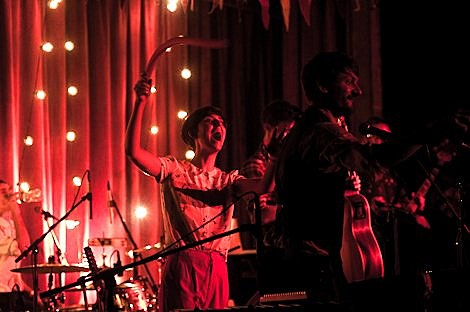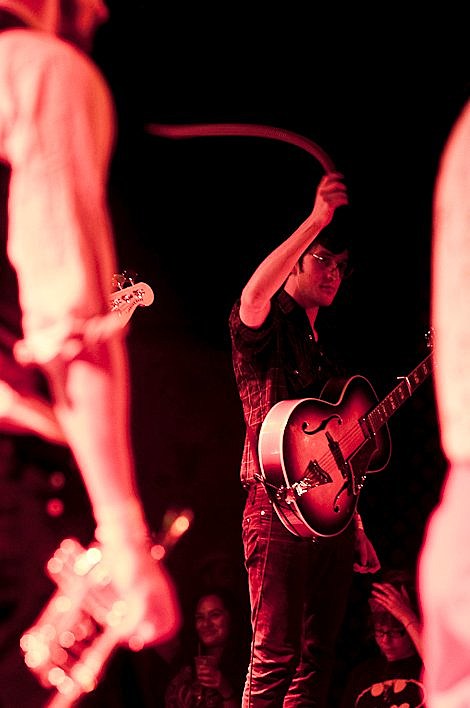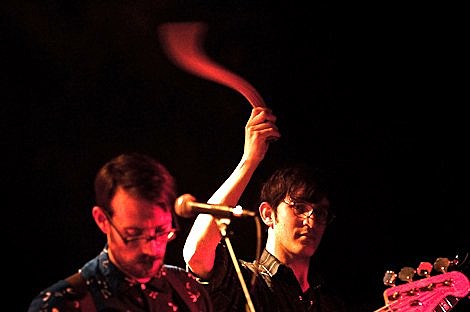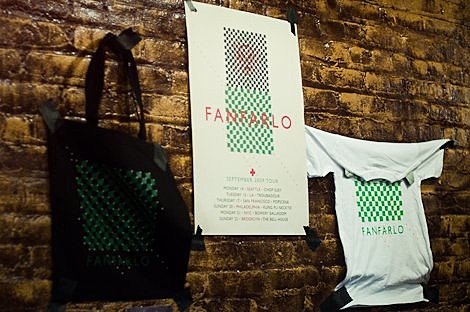 Fanfarlo - "In the Aeroplane Over the Sea" | The Bell House | 9.22.2009