Fat White Family played LPR w/ Dilly Dally ("superfan" Lady Gaga was in the audience) – pics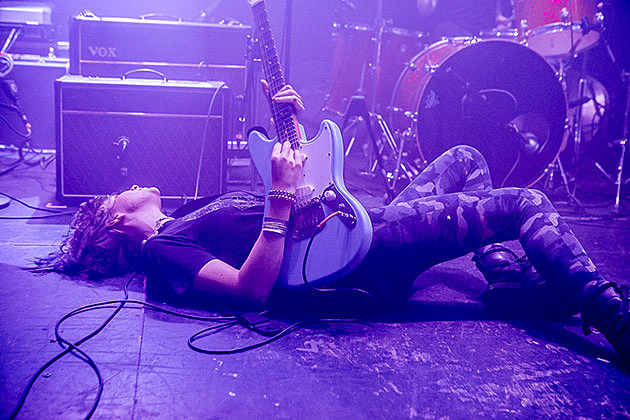 Fat White Family's tour with Dilly Dally bulldozed through NYC for two shows -- May 2 at Baby's All Right and May 3 at Le Poisson Rouge -- both of which were with Brooklyn's Roya. Pics from LPR are in this post. Despite having a new album, Songs For Our Mothers, the Fat Whites' set at Baby's (which I went to) leaned heavily on favorites from their debut album, plus singles "Touch the Leather" and "Mark E. Smith." It was one of the more together shows I've seen them play, with frontman Lias keeping his pants on the whole time and things getting just crazy enough.
Dilly Dally, who I've seen a number of times over the last year, were also in fine form, with singer Katie Monks' coo-to-a-caterwaul delivery and sludgy '90s alt-rock riffs. Roya, meanwhile, have expanded their lineup since I last saw them and are now a six-piece (with a substitute filling in for Hamish Kilgour at these shows). The band played a bunch of songs from their upcoming debut album, all of which sounded pretty good (plus a cover of Television Personalities' "14th Floor").
UPDATE: Fat White Family is making international headlines this week thanks to a very famous audience member at this show. As the NY Post reports:
On Monday night [Lady Gaga] was uptown, wowing high society with her Versace glistening-mosaic look and 10-inch heels at the Met Ball. But on Tuesday night, the New Yorker was roaming her old downtown stomping grounds at a show by British garage rockers Fat White Family.

Gaga and a small entourage descended on Greenwich Village venue Le Poisson Rouge to watch the London band, which is on tour promoting its second album, "Songs for Our Mothers," which came out earlier this year.

The 30-year-old star looked carefree and did away with her denim jacket, wearing just a black bra, jeans and boots while she danced in the elevated VIP section for much of the show. She also attentively filmed some of the songs on her iPhone.

"I f?-?-?king love this band," she told The Post while backstage in the venue's dressing room. "I wanted to keep my cool look together, but once I heard that bass line, I had to take [my jacket] off and just rock. I'm not the kind of person who becomes a superfan easily, but with these guys I was feeling it."
Too bad Lady Gaga apparently missed the great Dilly Dally's opening set.
Here are the Instagrams Gaga posted from/after the show:
Lots more pics from LPR below.