Father John Misty played Rough Trade with Guy Blakeslee (pics, setlist, review)
Father John Misty @ Rough Trade 2/12/2014

"I imagine that song being listened to by white women with Chardonay on a cruise ship -- 'Chip, we have to do this every year!'" Josh Tillman is a funny guy, in a self-deprecating, self-aware kind of way. At his I Love You Honeybear record release show at Rough Trade last night (2/12), someone yelled "You're a rock star!" Tillman shook his head, replying "More like emotional cripple."
Thing is, though, as Father John Misty he is a rock star -- in a mid-'70s, countryish kind of way. Or at least he really knows how to play one. With a swagger that seems equal parts Jarvis Cocker, Kris Kristofferson and Neil Diamond, Tillman had the crowd in his pocket from the second he was on stage. Before the first song (I Love You Honeybear's title track) was over, he'd dropped to his knees, swung the mike stand, jumped into the crowd, stood on the drum riser, and generally did enough hamming for a whole set. And everyone (Rough Trade was as packed as I've ever seen it) was eating it up. People were singing along and mouthing the words the whole time to his 90-minute or so set that included the entirety of I Love You Honeybear, a good chunk of 2012's Fear Fun and a cover of Leonard Cohen's "I'm Your Man."
Having an ace six-piece backing band more than capable of pulling off the swoony, string-and-harmony-laden, widescreen music on Honeybear helps immeasurably, and they sounded fantastic at Rough Trade. Tillman is known for his mouth and onstage antics but, apart from the quips above and an impromptu Q&A session where the crowd yelled questions like "Will you be the new host of The Daily Show?" and "What color is your underwear?", Tillman let the music do the talking. Great show.
Tonight (2/13) Father John Misty will play a short set at Urban Outfitters Space Ninety 8 and he'll be signing records as well. Space Ninety 8 currently has a FJM "installation," including a teepee (clearly named from the song on Fear Fun, and it seems like an idea dreamed up by UO's marketing department). It's free and goes from 7 - 9 PM. Whether it's with the band or solo has not been announced. He'll then play Bowery Ballroom on Saturday (2/14) which is sold out.
Opening the night was The Entrance Band's Guy Blakeslee, who definitely had fans of his own in attendance, and whose solo set had an almost intense, pentecostal preacher vibe to it. Pictures from his set, plus more of Father John Misty (and his setlist), below...

---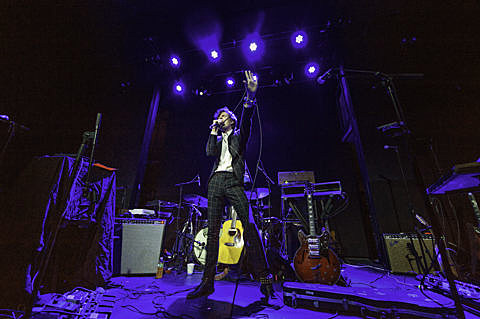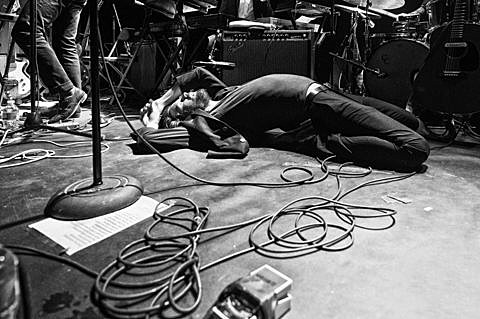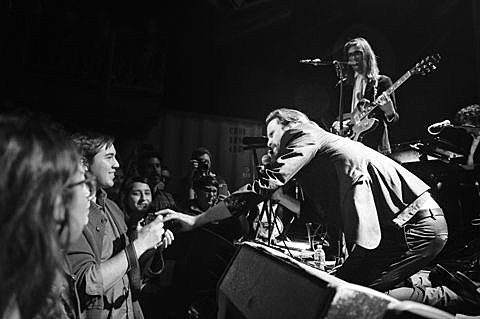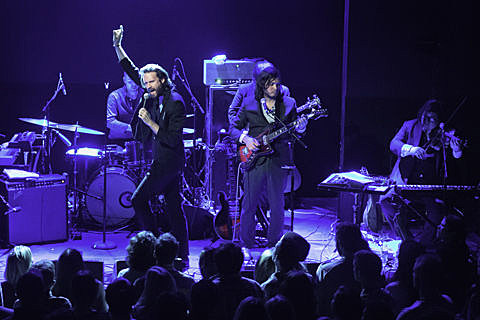 SETLIST: FATHER JOHN MISTY @ ROUGH TRADE 2/12/2014
I Love You, Honeybear
Strange Encounter
True Affection
Only Son of the Ladiesman
When You're Smiling And Astride Me
The Night Josh Tillman Came To Our Apartment
I'm Writing a Novel
Nothing Good Ever Happens At The Goddamn Thirsty Crow
Chateau Lobby #4
Nancy From Now On
This is Sally Hatchet
The Ideal Husband
Hollywood Forever Cemetery Sings
Funtimes in Babylon
Now I'm Learning to Love the War
Holy Shit
Encore:
Bored In The USA
I'm Your Man (Leonard Cohen)
Tee Pees
Everyman Needs a Companion
I Went to the Store One Day