Faust & Cold Cave @ the WFMU Fest @ MHOW, Brooklyn -pics
Village Voice: So who is this band Faust? I don't think I've ever read about them on Stereogum.

WFMU Music Director Brian Turner: Oh wow....well...

I'm just kidding.

Oh (Laughs.) I'm sorry...

But how did you get them? They don't really tour the States that often.

I think they had been wanting to come over for years, but it's fairly involved with them doing a big tour, they drag a lot of stuff around with them, apparently. I think on their last tour they had a sheep as well as tons of heavy industrial stuff.

A sheep?

Yeah, I think they had a sheep on their last tour that they'd bring out as this symbolic thing of peace.

Oh. What did they do with the sheep?

I didn't see those shows, I'm not quite sure. I think it just wandered around or something. I know they had a sheep every night. But they would also go down to railroad tracks and get a lot of broken glass and debris and industrial stuff and bring it in.
Cold Cave member Dominick Fernow, recently released the new Prurient, Rose Pillar via Heartworm. Fernow also runs Hospital Productions.
The rest of the pictures, and tour dates for Cold Cave and Faust, below...

Cold Cave...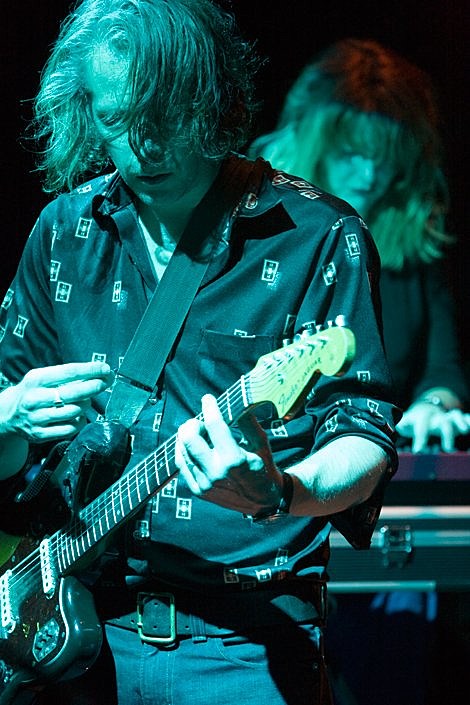 And the Aluk Todolo pics are HERE.
FAUST - 2009 TOUR DATES
Oct 7 2009 Empty Bottle Chicago
Oct 8 2009 Wexner Center for the Arts Columbus, Ohio
Oct 9 2009 Busters - WRFL Annual Festival Lexington, Kentucky
Oct 10 2009 40 Watt Club Athens, Georgia
Oct 11 2009 tba Athens, Georgia
Oct 16 2009 Platform One College of Music Newport, Isle of Wight
Oct 17 2009 Electric Palce of Bridport Dorset, UK
Oct 24 2009 Full of Noise Festival Barrow-in-Furness, UK
Nov 29 2009 KYTTARO LIVE Athen, Greece
COLD CAVE - 2009 TOUR DATES
Oct 29 2009 at Louisiana Bristol
Oct 30 2009 Club Evol @ Korova Liverpool
Oct 31 2009 Playdate @ Sneaky Petes EH1 1JW
Nov 1 2009 Optimo Glasgow
Nov 2 2009 Liars Club @ The Bodega Nottingham
Nov 3 2009 White Heat @ Madame Jo Jo's London
Nov 4 2009 at Barfly London
Nov 5 2009 Now Wave @ Roadhouse Manchester
Nov 6 2009 Moles Bath
Nov 7 2009 Be @ Proud London
Nov 13 2009 at Rock and Roll Hotel WASHINGTON, Washington DC
Nov 21 2009 w/ Sonic Youth & Dinosaur Jr at Terminal 5 NEW YORK
Nov 23 2009 w/ Sonic Youth at the Wilbur Theater BOSTON