Field Music, Spinto Band & The Mugs @ the Bell House – pics
Benjamin Lozovsky
words & photos by Benjamin Lozovsky
Field Music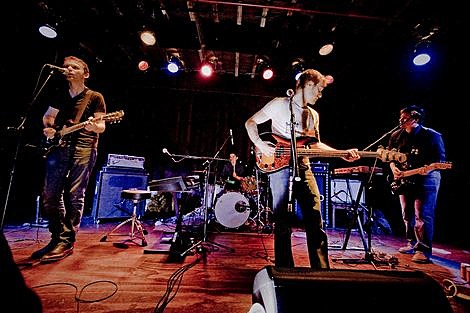 The members of Field Music really wanted to play a gig in the US; so much in fact, that they had a one-off show at The Bell House Saturday (1/30), flying in early that morning and returning to England shortly after their performance. It was more than enough time to make their mark.
The date came after the band canceled performances in New York City and Chicago late in 2009 due to illness, and this occasion was far from ideal circumstances as well. But even with jetlag, horse throats and only a handful of rehearsals together as a new line up under their belts, Field Music played with inspiration and intrepid musical awareness.
Founding member Peter Brewis wasn't sure after the show whether the band sounded fully meshed yet, but as he and brother David calmly swapped out handling guitars and drums throughout then night, they demonstrated their confidence as leaders of a rapidly congealing group. New bassist Ian Black and multi-instrumentalist Kev Dosdale followed the Brewis' assured approach as the group tackled many new numbers from the band's revelatory, soon-to-be-released new album, Field Music (Measure). Powerful songs like "All You Ever Need To Say," and "Clear Water" added darkness and grit to the intelligence and grace that categorized their previous output. "I think we were listening to a lot of Led Zeppelin," said Peter, speaking of the recording of Field Music (Measure).
The Zeppelin flavor was most evident in the sparse but loudly punctuated drumming that frames many of their new creations. But other harder-edged influences abounded, sitting well with the more artsy inspiration they take from bands like Television and Steely Dan. Basically they've added some balls to their brainy youthfulness.
Speaking of youth, openers The Mugs and The Spinto Band were also at their most juvenile this night, to the enjoyment of the crowd. They both cater in a bouncy kind of indie hodge-podge, and there was a lot of bouncing by the two bands during their respective sets. The Mugs brought out a bullhorn for one number, and The Spinto Band brandished kazoos and clanged lots of cowbell. There were good ideas brought forth by both, and each of the two groups played with enough heart to somewhat mitigate their poorly defined musical identities and moments of lackluster songwriting.
It's not easy to balance the adolescent hopefulness of such spirited music with the ability to act well above your age. Field Music seems to have just the right measure of both.
Field Music return in March while on tour with The Clientele. More pictures from the Bell House with Field Music's setlist, below...