Fiona Apple @ Bowery Ballroom (more pics, review, setlist)
A long line of hopefuls extended down the block outside the Bowery Ballroom Monday night for Fiona Apple's second sold-out show in New York. (The first was Friday night at the Music Hall of Williamsburg.) Given Apple's reluctance to perform and the long gap of silence since her last album (7 years), seeing her perform was surreal - especially since she opted to skip Terminal 5 in favor of more moderately sized venues.
Say what you will of her music or her decision to tour and record again, Apple's impact on the alternative scene, and really on an entire generation of female music fans and musicians, should not be downplayed. In a world rife with Sarah Mclachlans and Natalie Merchants, artists like PJ Harvey and Fiona Apple helped to establish a much-needed alternative - something that wasn't quite punk, mainstream, precious, or sugarcoated. Her lyrics were dark, intimate, and deeply personal. Guys wanted to date her. Girls wanted to be her. The pressure was on.
As she approached the mic, Apple visibly shook. "Yes! 1996!" Someone cried out behind me. And as if in on the joke, Apple wore her long, straight hair pulled back with a scrunchie. Accompanied by a competent but low-profile four-piece backing band (which included opener Blake Mills), Apple didn't waste anytime with a slow build, opting instead to open with the punchy "Fast As You Can."
With only a mic stand to hide behind, Apple seemed ready to explode and after giving a few tugs to her scarf, pulled it off, and began to whip it around, sending glittering dust particles into the white spotlight.
After the opening song, she walked over to the piano, took a few gulps from a ceramic mug, then marched back to the mic, shaking her head. "Ok. I was going to say this to myself," she quickly mumbled. "But I thought it'd be interesting for you to hear what I was going to say to myself. Ok. I don't want to go through this whole fucking show where it's like six songs into it, and I'm finally relaxed. I'm just going to skip that part."
Though her voice exuded an aggressive confidence, her wild eyes and stilted speech sent a different message, one of deep vulnerability. But the ecstatic crowd (who sang along to the majority of the set) was quick to forgive her nervous ticks. "THANK YOU FOR COMING BACK, FIONA!" came one cry. "Thank you for wanting me back," Apple replied.
To reward the crowd of long-time fans, Apple's set (which was nearly identical to what she played on Friday night, save for the second to last song) was heavily weighted with crowd pleasers (yes, she played "Criminal" and "Paper Bag"). But she also threw in a couple of new songs and covers, including a lovely rendition of the old Conway Twitty song, "It's Only Make Believe."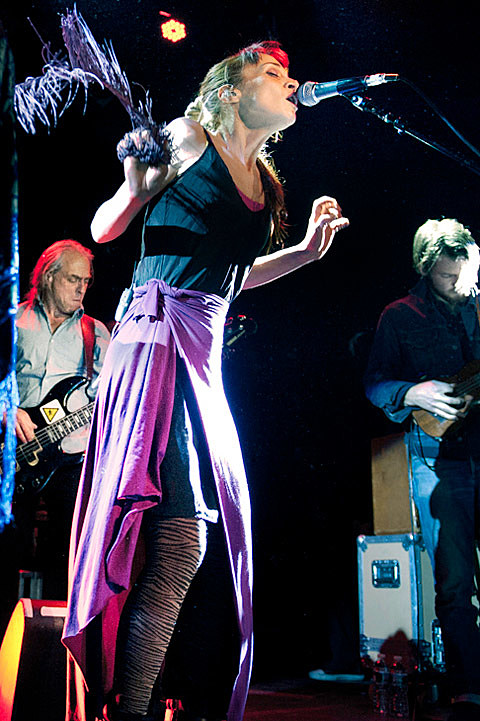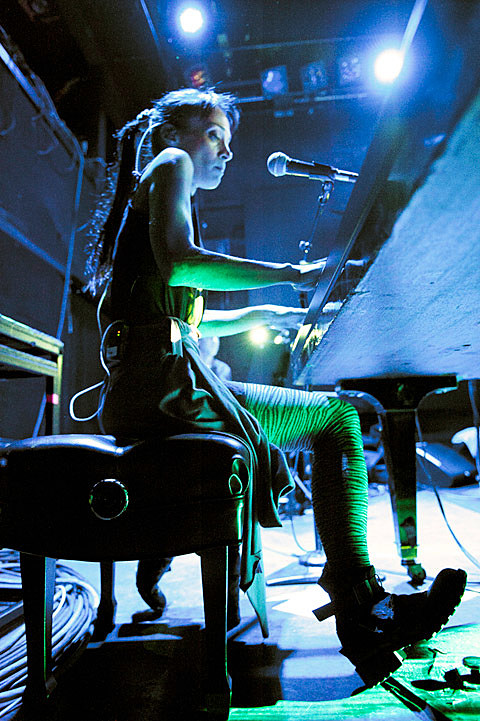 --
Fiona Apple Bowery Ballroom set list
Fast As You Can
On the Bound
Paper Bag
A Mistake
Anything We Want
Valentine
Sleep To Dream
Extraordinary Machine
Every Single Night
Carrion
Criminal
Across the Universe (Beatles cover)
It's Only Make Believe (Conway Twitty cover)