Fiona Apple on tour w/ Blake Mills, played Chicago, heckled in Portland, playing NYC this week (pics, setlist, new songs)
FEI
Fiona Apple at Chicago's Bank of America Theatre - 10/15/13

Fiona Apple has been on her "Anything We Want" tour with Blake Mills, which comes to NYC for shows at Beacon Theatre tonight (10/21) at Tuesday (10/22). Tickets for tonight's show are still available, but Tuesday's is sold out.
The tour recently hit Chicago's Bank of America Theatre (10/15) for a show which saw Fiona and Blake playing some new songs, a cover of Conway Twitty's "It's Only Make Believe," and songs from both of their own albums. Pictures and the setlist from that show are in this post. A review from the Chicago show is at BV Chicago. Streams of a couple of the new songs (from different tour stops) are below.
The tour also included a show at Portland's Newmark Theatre on October 3, which, as Stereogum points out, saw Fiona heckled by a woman in the crowd who yelled out "Fiona, get healthy! We want to see you in 10 years. I saw you 20 years ago and you were beautiful." Fiona then reportedly kicked her out of the show. Pitchfork then caught up with Fiona and asked her about the incident:
Pitchfork: The audience member in Portland who yelled out, "Get healthy, we want to see you in 10 years!"--is that someone who got in your way?

FA: Yeah, it was. She hurt my feelings. I don't think what I look like is relevant. And by the way, this whole "unhealthy" thing has me baffled. It's really confusing to me why anyone would have an opinion about that. And [the heckling] just takes you out of [the live performance]. People around me try to tell me that's not going to happen, but it always happens. It's really disappointing. I can't laugh--I'm an emotional person. And I'm just very sensitive about that. Many people are, not just women. The heckler said, "I saw you 20 years ago, and you were pretty." That's just rude, and I don't want her there anymore because it's my stage, you know? I got very angry. But I'm going to try and be more prepared for that. I'm assuming that people are going to start to say those kinds of things just to egg me on now. Those people are going to have to leave if they interrupt me. I need to be able to do my job.

Pitchfork: Your weight and appearance have been discussed throughout your career. Has it gotten easier to deal with?

FA: No. It's a sensitive subject because it's not something that should be talked about, because there is nothing wrong with me. I'm healthy and I shouldn't even have to say any of that. What makes me unhealthy and puts me in danger is that kind of scrutiny itself. It's the same as being bullied at school, and just because you're getting older, it doesn't mean that you aren't hurt by it. You could make anybody cry if you told them that they're ugly.

I don't even know what I'm being accused of. Do they think I'm on drugs? That I have a life-threatening illness? Do they think that I'm anorexic? At this point, emotionally, it doesn't get easier to hear those criticisms--but it gets easier to be resolute about my reaction to it. Which is just: "Go ahead and call me ugly, call me skinny, call me crazy and speculate as much as you want, but not at a show." I don't think that there's anything meltdown-y about that. I don't have any problem getting angry at someone who insults me in the middle of a show.
Read the rest of the interview here. Check out more pictures and the setlist from the Chicago show, the new song streams, and the list of updated tour dates, below...

---
Fiona Apple - "I Want You To Love Me"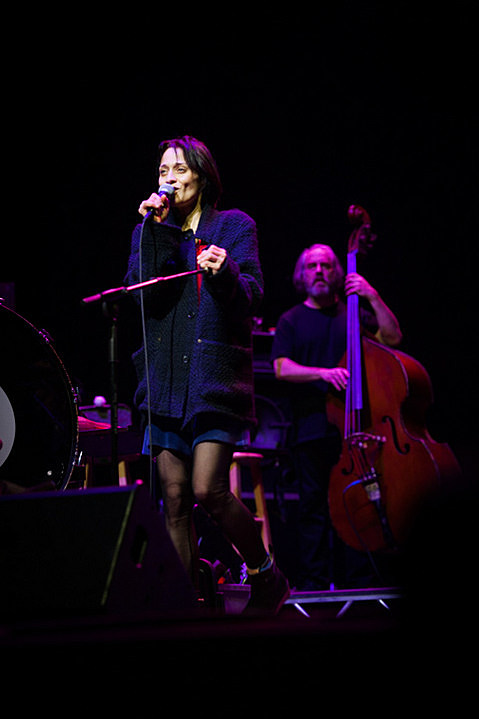 Fiona Apple & Blake Mills at Bank of America Theatre - 10/15/13 Setlist: (via)
Tipple
The First Taste
Every Single Night
Unworthy
Anything We Want
Curable Disease
Regret
It'll All Work Out
I Want You to Love Me
It's Only Make Believe (Conway Twitty cover)
Seven
Dull Tool
Don't Tell Our Friends About Us
Left Alone
I Know
Waltz (Better Than Fine)
--
Fiona Apple & Blake Mills -- 2013 Tour Dates
Oct 21 Beacon Theatre New York, NY
Oct 22 Beacon Theatre New York, NY
Oct 23 Emerson Colonial Theatre Boston, MA
Oct 25 Lincoln Theatre Washington, DC
Oct 26 Lincoln Theatre Washington, DC