Firefly Fest 2013 Day 2 pics (Tom Petty, Kendrick Lamar, CHVRCHES, Heliotropes, Jim James, YYYeahs & more)
photos by Dana (distortion) Yavin
Tom Petty, Jim James, CHVRCHES, Kendrick Lamar @ Firefly 2013

"I really just play off the crowd. I've good chemistry with my DJ, and there's little things that we do where he knows what song to go to, how much energy to swindle into the next song," Kendrick Lamar explained. "I really just feed off the crowd and what side is rocking the most."
The MC had Firefly bouncing to cuts from his major-label debut, good kid, m.A.A.d city, including "Backseat Freestyle," "Money Trees" and "Poetic Justice."
Lamar went back to 2011's Section.80 for "A.D.H.D." and threw in his guest verses on A$AP Rocky's wildly popular "F---in' Problems" and Young Jeezy's "R.I.P. (Remix)."
"Since the sun is out, I wanna take y'all back to California," he said, presenting his L.A. "Recipe" of "women, weed and weather."
"I go in with a set mind, but sometimes it doesn't go as planned," he told us after the show. "It might get a little too crazy, and I might switch it up -- just to keep it that roller coaster ride. Rather than everybody just moshpitting every song, then they'd be tired out toward the end."
Lamar got the crowd riled up, encouraging them before "m.A.A.d City," "I don't care that it's hot ... when this beat drops, I wanna see you do whatever you have to do to get down." [MTV]
People got down to Kendrick Lamar (who just announced a big Brooklyn show), Tom Petty, MGMT, CHVRCHES, Heliotropes, Alabama Shakes and more on Saturday aka Day 2 of Firefly Music Festival in Dover, Delaware. We were upset to miss Azealia Banks but trust her outfit was as funky as it was at Governors Ball (it was). We also missed Japandroids' early set. Pictures of what we did see on Saturday are in this post.
Like on Day 1 (and Day 3), BrooklynVegan was representing for two hours on the Soundwave stage with our hosts Billy Jones and Dave Hill. Heliotropes, after playing an earlier set on Red Bull's campground stage, came and played an acoustic set for us where we had just talked to CHVURCHES. Jim James was supposed to stop by and talk to us but his golf cart driver took him to the wrong tent and then it was too late because he had a 3pm set to play on the main stage which, though heartbroken, we did still rush to see.
Check out more pictures from the full day and Tom Petty's setlist below...

--

CHVRCHES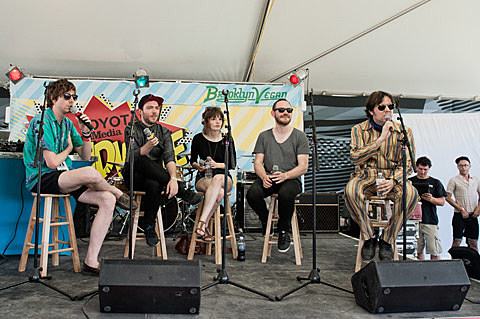 Heliotropes
Jim James
Kendrick Lamar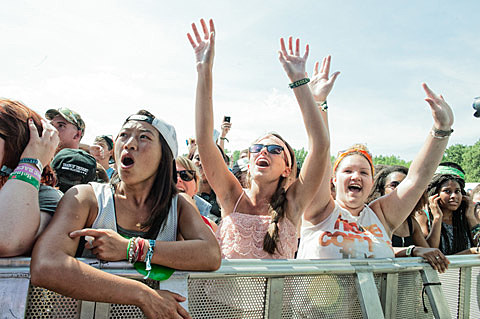 Alabama Shakes
Chvrches
MGMT
More MGMT here.
---
Yeah Yeah Yeahs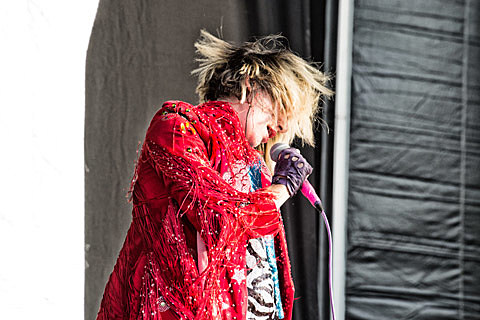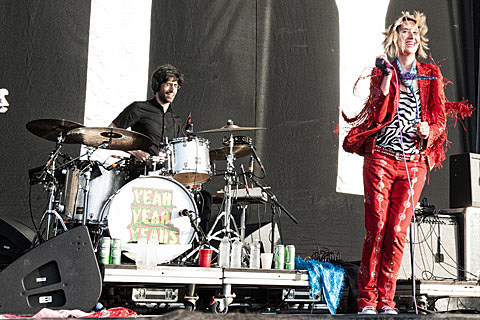 Tom Petty
Tom Petty & the Heartbrakers -- Firefly Fest 2013 setlist
So You Want to Be a Rock 'n' Roll Star (The Byrds cover)
Love Is a Long Road
I Won't Back Down
Baby, Please Don't Go (Big Joe Williams cover)
Mary Jane's Last Dance
Free Fallin'
A Woman in Love (It's Not Me)
Cabin Down Below
Tweeter and the Monkey Man (Traveling Wilburys cover)
Rebels
Melinda
Learning to Fly
Yer So Bad
I Should Have Known It
Refugee
Runnin' Down a Dream
Encore:
You Wreck Me
American Girl
------------