Flaming Lips & Michael Stipe playing Tibet Benefit, Deerhoof playing Europa, Heart Is A Drum Machine score out now
Tibet House US Benefit 2010 (more by Chris La Putt)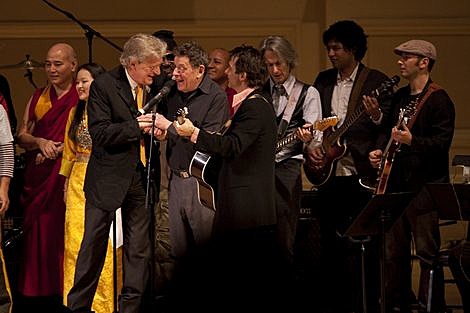 No word on how a giant vagina entrance, a bear suit, Wayne Coyne in an inflatable ball, Hulk hands and similar props will work at Carnegie Hall, but The Flaming Lips will join recent addition Taj Mahal at the 21st Annual Tibet House US Benefit Show on 3/3. The two join a veritable all-star lineup that includes Michael Stipe, The Roots, Patti Smith with Jesse Smith & Michael Campbell, Angelique Kidjo, James McCartney, and of course curator Philip Glass. Tickets for the concert are on sale via Carnegie Hall, while tickets for the concert and a fund-raising dinner are on sale via Tibet House directly. (Note: Do not expect a full set by any band - they usually play 3 songs each at the most, with a few collaborations and group sing-alongs).
In related News, Wayne Coyne recently talked to Spin about some of the Lips' plans for 2011...
First up, the band is heading to New York to cut tracks with synth-pop artist Neon Indian and longtime producer Dave Fridmann, and they're hoping to release the results on the fly. "We're going to do two or three songs with him and that shit should be ready to go pretty quickly," says Coyne, who posted a demo of a potential collaborative track earlier this week. "I have a couple of tunes that he's heard and we'll just do that shit and fix that up and fuck around together."

Coyne adds that he'd love to do similar collaborations with Deerhoof and Ariel Pink's Haunted Graffiti: "I think everybody would be up for doing something. But a lot of it comes down to us fitting into their schedules. I can always sneak in on their thing."
Finally, Steven Drozd of The Flaming Lips recently dropped the score for The Heart Is Drum Machine, a documentary that examines music and human attraction to it. The twelve-track mostly-instrumental LP features tracks like "Born" (downloadable above, streamable below) and a cover of Elton John's "Rocket Man" featuring none other than Maynard James Keenan of Tool/A Perfect Circle. The film also features Drozd, Keenan, & Wayne Coyne, alongside appearances from Jason Schwartzman, Modest Mouse's Isaac Brock, Juliette Lewis, Spoon's Britt Daniel, George Clinton, and many others who all discuss their personal connection to music. The Heart Is A Drum Machine is out now on DVD and the soundtrack is out now on iTunes.
The soundtrack tracklisting, the film trailer, and that song stream are all below.

--
Steven Drozd - Born

The Heart Is A Drum Machine - Official Trailer

The Heart Is a Drum Machine (The Score):
01 Born
02 A Flood of Light
03 Quaalude Youth
04 Bad Mood Rising/Dimensionless
05 Rocket Man [ft. Maynard James Keenan]
06 Requiem for a Dying Star/Ode to a Twinkling New...
07 Last Dose
08 The Great Pleasures (Dedicated to James...)
09 From Forlorn Frequencies
10 After the Mutiny
11 Get On
12 Flowing Home