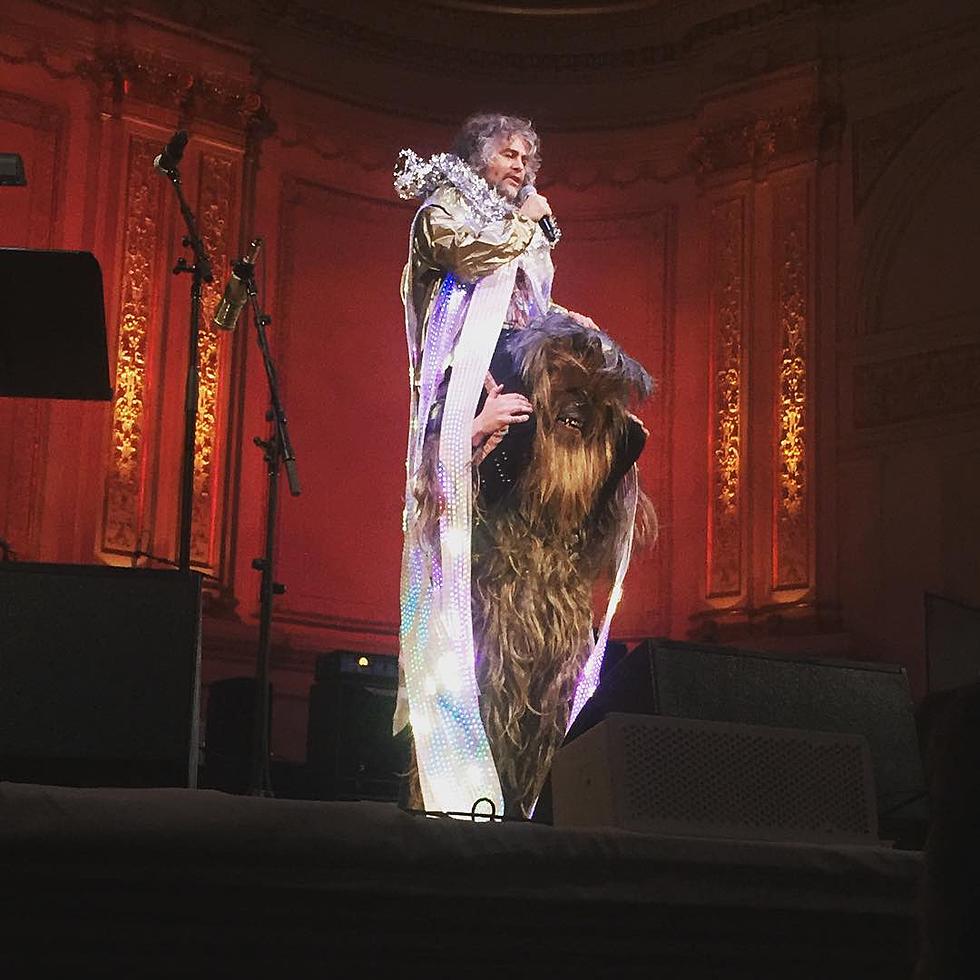 Flaming Lips, Michael Stipe, Pixies, Cat Power & more paid tribute to David Bowie at Carnegie Hall (pics / review / setlist)
Wayne Coyne, with help from Chewie @ Carnegie Hall (via @eobrien724)
The first of two David Bowie tribute benefit concerts happened at Carnegie Hall on Thursday night (3/31). These "Music Of...", produced by Michael Dorff, happen every year but this year, with Bowie's Death being announced mere hours after this show was announced, made it more anticipated than most. Tony Visconti's band Holy Holy backed many of the performers at Carnegie Hall, but not all, and it was a memorable night, though it felt like it really should've been somewhere standing-room-only. The urge to let loose was tempered by the reserved seating. Notes and highlights:
- Michael Dorf started the night with opening remarks, letting the audience know that Patti Smith was sick and would not be playing, and neither would The Roots (for other reasons).
- Cyndi Lauper, with cotton-candy-pink hair, opened the night with a spirited performance of "Suffragette City." A nice kick-off to the show which unfortunately was followed by Holy Holy performing "Width of a Circle" which was fine but no one knew their singer, deflating things a bit.
- Robyn Hitchcock, who has been doing Bowie Covers a lot at his shows, had the crowd from the minute he got near the mic. "Insertion is always the problem," he quipped while the stage hand attemped to plug in his acoustic. "Let's drop the needle on Side One, track two of Ziggy Stardust, shall we" and then he and Holy Holy launched into a great rendition of "Soul Love." Robyn should've MC'd the whole night.
- Gogol Bordello are are like the wild friends of friends of friends who end up at your party and break stuff. Eugene Hutz and violinist Sergey Ryabtsev brought a little mayhem to "Breaking Glass." "That was crazy," Tony Visconti noted afterwards, and it was, in a Carnegie Hall kind of way.
- Debbie Harry was the first performer to get the whole crowd on their feet and sing along, with her rendition of "Starman." The applause was the most thunderous of the night.
- Joseph Arthur and his loop pedal performed "The Man Who Sold the World." He's always kind of a mess, but tonight mostly in a good way, bringing the most dissonance of the night. He also had an American Flag draped around his neck and on his way off-stage he revealed it had "FUCK TRUMP" scrawled across it in paint. Much applause.
- The Mountain Goats, complete with Jon Wurster on drums, performed a lovely, piano-driven take "Word on a Wing." Robyn Hitchcock, yellow carnation in hand, decided to come out and sing backup. Robyn really should have hosted the whole night.
- Michael Stipe and his giant beard played "Ashes to Ashes" accompanied by a pianist and Karen Elson on backing vocals. A lot of it was spoken-sung, and I must admit that William Shatner crossed my mind during it. But when he let his voice ring out, powerful. Stipe did have one of the night's more memorable lines, saying "Whether David Bowie is in this room, he is certainly in this room."
- Dinosaur Jr's J. Mascis did his cover of "Quicksand" with Sean Lennon. Mascis related the story of how in the last '80s he was coming to NYC to possibly sign with Columbia Records and got in an auto accident and took it as a sign not to do it, and rewrote the lyrics of "Quicksand" to be about what happened "crashed the wagon." It was great.
- Bettye LaVette sang "It Aint Easy," noting that she and David Bowie both covered the song in 1972.
- Pixies covered Bowie covering them, performing Surfer Rosa track, "Cactus."
- Heart's Ann Wilson , who wore her red shoes to dance the blues, kind of knocked it out of the park with "Let's Dance" which also, for me, best showcased Holy Holy as a backing band.' The Mountain Goats' Johh Darnielle sang along from the side of the stage.
- Rickie Lee Jones brought lots of attitude to her solo acoustic version of "All the Young Dudes" (written by Bowie but made famous by Mott the Hoople) and had the whole crowd singing along. Terrific.
- The Flaming Lips played "Life on Mars" with singer Wayne Coyne riding on the shoulders of a person dressed as Chewbacca. Not that you'd expect otherwise.
- The night ended with a group sing-a-long of "Space Oddity" led by Choir! Choir! Choir! and the New York City Children's Chorus, and later joined by everyone else from the night, as well as Amanda Palmer who is playing Friday's show at Radio City Music Hall.
- Also playing: Laurie Anderson ("Always Crashing in the Same Car"), Cat Power (in fine vocal form for "Five Years"), Perry Farrell ("Rebel Rebel") and Jakob Dylan ("Heroes") which were all, you know, fine, but somewhat uneventful.
The second Bowie tribute happens tonight (4/1) at Radio City Music Hall and is sold out, but will stream online. A full set of pictures from the Carnegie Hall show are HERE. More Instagrams, below.
SETLIST: David Bowie Tribute @ Carnegie Hall 3/31/2016
Cyndi Lauper - Suffragette City
Holy Holy - Width of a Circle
Robyn Hitchcock - Soul Love
Laurie Anderson Always Crashing in the Same Car
Eurene Hutz - Breaking Glass
Debbie Harry - Starman
Joseph Arthur - The Man Who Sold the World
The Mountain Goats - Worn on a Wing
Michael Stipe & Karen Elison - Ashes to Ashes
J. Mascis & Sean Lennon - Quicksand
Bettye LaVette - It Aint Easy
Perry Farrell - Rebel Rebel
Cat Power - Five Years
Ann Wilson - Let's Dance
Pixies - Cactus
Rickie Lee Jones - All the Young Dudes
Jakob Dylan - Heroes
The Flaming Lips - Life on Mars?
Choir! Choir! Choir! w/ New York City Children's Choir - Space Oddity