Fleet Foxes in NYC tonight!, on tour, played SXSW (pics)
If I had to do it over, I definitely wouldn't have put Fleet Foxes (think Crosby Stills & Nash, Band of Horses, My Morning Jacket) on after Clipd Beaks (think noise) who came after Genghis Tron (think metal). Actually, I wouldn't have done it that way the first time either. Fleet Foxes' set time at my Thursday SXSW day party was more of a last minute necessity, and I wasn't going to pass up the opportunity to have one of the bands I wanted to see the most at SXSW on the bill - even if it meant they went on after Clipd Beaks. It did end up being a little of an awkward transition, and there were a lot more people across the street checking out Holy Fuck at the time (I went back and forth), but ultimately it didn't matter. Fleet Foxes' performance on the stage of Emo's Lounge was great (as were the bits and pieces I caught of some of the other shows they played in Austin that week).
After the show, an employee of Emo's told me that he discovers that "ONE BAND" at SXSW each year, and it looked like Fleet Foxes were filling that slot for him in 2008. Seattle PI had something similar to say...
I didn't even try to see the festivals' buzz bands, which had impossible three-hour lines looping around the block. The only band I waited for was Seattle's Fleet Foxes. They gave what was the most professional-sounding concert I heard all week. Their Crosby, Stills, and Nash vocal harmonies were effortless and blissful, and they had the stage presence of The Band.
The excitement of seeing them for the first time won't be there for me tonight (March 29 at Bowery Ballroom in NYC), but that doesn't change the fact that I'm still looking forward to it. And it's a much more fitting bill for them this time: Fleet Foxes play before Blitzen Trapper and after Ola Podrida. More tour dates HERE. More SXSW pictures below.....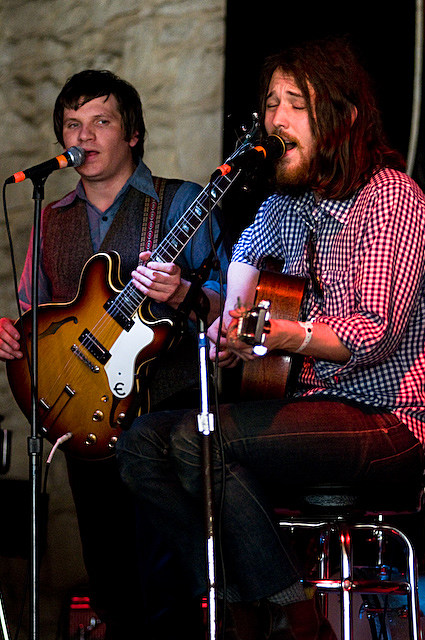 Fleet Foxes are on Sub Pop. Photos of more Sub Pop bands at SXSW HERE, and some photos of Blitzen Trapper (on Sub Pop too) at SXSW, are right over HERE.