Fleetwood Mac played Jones Beach (pics, videos, setlist)
Gregory R. Cristman
Fleetwood Mac @ Jones Beach - 6/22/13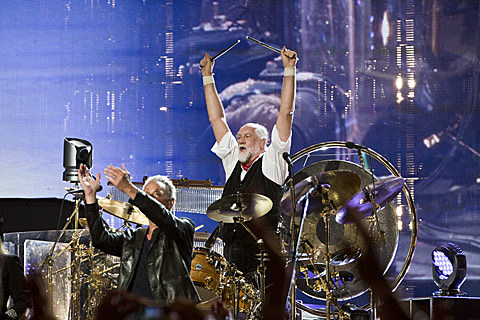 Fleetwood Mac (Lindsey Buckingham, Stevie Nicks, John McVie, and Mick Fleetwood) have been on the road for the past couple months for their first full tour in a few years, which already hit MSG, and returned to the NYC-area for a show at Nikon at Jones Beach Theater on Saturday (6/22). The tour is in celebration of a lot of things. They're supporting a new EP (their first new material in ten years) and the 35th anniversary reissue of Rumours. And as Lindsey mentioned on stage, they're celebrating the fact that when you go against the music industry's formula (in Fleetwood Mac's case, when they released the "difficult" double album, Tusk, as the followup to Rumours), sometimes time can treat the artistic decision well.
The Jones Beach show was my first time seeing Fleetwood Mac, so I can't comment on how it compared to seeing them in their prime, but besides all the retrospective stuff they were talking about on stage, they seemed more like a band hungry to tour again than a nostalgia act. Lindsey is a wildly impressive guitarist to watch, and not only does he still have the stage presence, but he would often put so much into a song that by the end of it, he was panting, stomping the ground, and triumphantly throwing his fist in the air. He practically screamed all of "Not That Funny," pulled off an intricate solo-acoustic rendition of the usually multi-layered "Big Love," and stole the show with his song-ending guitar solo on "Go Your Own Way." Stevie is still great on stage too and her voice is commanding as ever. She had many show-stealing moments too, leading the crowd in sing-alongs with "Dreams," "Landslide," and one of her solo cuts, "Stand Back," but if I had to say, she was most in full force during "Silver Springs," the "Go Your Own Way" b-side that ended up on the new Rumours reissue.
Not only was this my first time at Jones Beach Theater in a long time, it was also my first time this year, which means it was my first time seeing the venue since it re-opened after being severely damaged by Hurricane Sandy. (The only other two shows there this year so far were Rascal Flatts or Pitbull.) The brand new stage and boardwalk look great again, and Stevie mentioned on stage that they've got all new dressing rooms too. Mick also mentioned how happy he was to see the place back in good shape during the speech he gave at the end of the show. The next Jones Beach show is Rush tonight (6/23).
More pictures, videos, and the setlist from Fleetwood Mac's show below...

---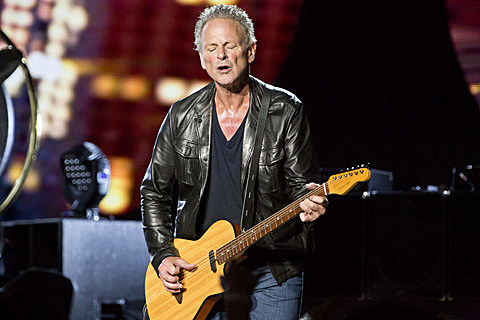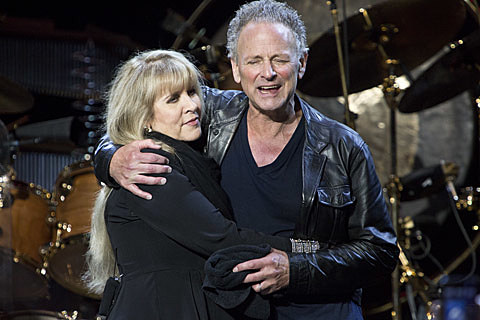 Fleetwood Mac - "The Chain" at Jones Beach - 6/22/13

Fleetwood Mac - "Rhiannon" at Jones Beach - 6/22/13

Fleetwood Mac - "Dreams" at Jones Beach - 6/22/13

Fleetwood Mac at Jones Beach - 6/22/13 Setlist:
Second Hand News
The Chain
Dreams
Sad Angel
Rhiannon
Not That Funny
Tusk
Sisters Of The Moon
Sara
Big Love
Landslide
Never Going Back Again
Without You
Gypsy
Eyes of the World
Gold Dust Woman
I'm So Afraid
Stand Back (Stevie Nicks song)
Go Your Own Way
Encore 1:
World Turning
Don't Stop
Encore 2:
Silver Springs
Say Goodbye